In a file cabinet at the Lawrence Police Department's detectives division sits a binder that lists all of the leads police chased last summer while they were investigating the murders of Pete Wallace and Wyona Chandlee, both 71.
For one uneasy week, police canvassed neighborhoods, followed tips and searched for physical evidence without finding the suspected killer.
Late on the night of July 17, detectives M.T. Brown and Jack Cross went to the Douglas County Jail to investigate what police believed was a good lead: Lead 154, labeled in the detective division's file as "Interview Damien Lewis."
For the past year, a gag order imposed by Douglas County District Judge Michael Malone has prevented police from talking outside of court about how they solved the case.
But the case came to a close June 13 when Lewis, a parole violator from Newton, received a 158-year prison sentence.
Last week, Brown, 35, and Cross, 42, sat down to describe what happened inside the interview room with Lewis -- and how they got him to the point where he told them, "I'll give it all to you."
"There was never a point where he got upset or got angry or, in my opinion, showed any remorse," Brown said.
Brown said he's heard confessions in roughly a dozen murder or attempted-murder cases in his nine years as a detective.
One factor that set the Lewis case apart, he and Cross said, was the amount of work other officers and detectives had done beforehand that helped them prepare for the interview.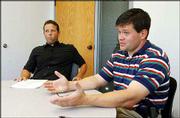 "We really had no pressure on us," Cross said.
Crime-scene investigators spent four days going through the home at 1530 Learnard Ave. Officers canvassed a four-block area, and the department suspended its police academy so recruits could comb for clues in a grassy area nearby.
The work produced a theory that Chandlee and Wallace's home had been burglarized and that the same person had broken into a home in the 1900 block of Learnard a few days before the murders.
At both homes, the burglar had kicked the door with what the detectives call a "mule kick" -- facing away from the door and kicking backwards -- and had left a partial Skechers-brand shoeprint on the door.
When Lewis was arrested on suspicion of an unrelated robbery, his girlfriend had called police to say she was concerned Lewis might have been involved in the murders. Officers went to the home, looked through Lewis' belongings, and found a bank bag with the Chandlee name on it.
They also found similarities between the footprints on the doors and a pair of Lewis' shoes.
Conversation begins
Cross and Brown talked about their interrogation approach on the way out to the jail: because Lewis didn't know police had linked the two burglaries, they would first size up whether he knew anything about the burglary in the 1900 block of Learnard Avenue.
Their objective wasn't to get Lewis to confess. It was to lock him into some kind of story -- what he was doing in town, whether he had ever been in the area of the murders -- using a leisurely, conversational style.
"He commits to a story, and we let the crime-scene guys prove whether he did it or not," Brown said.
They asked about his background and learned that he'd recently been released from prison on parole for an aggravated assault charge. Instead of going to Hutchinson to report to his parole officer, he'd stepped off a bus in Lawrence, where he said he'd been looking for temporary work.
That led them to talk about his criminal history.
He described his skills as a residential burglar -- something that was an apparent source of pride to him, the detectives said.
"We got that out in the open: that he's done this in the past," Cross said.
They asked him if he'd ever been on Learnard Avenue. He denied ever being on the street -- a recollection that, to the detectives, seemed suspiciously clear. He also went out of his way to tell them he never walked down 15th Street because he preferred to walk down smaller side streets.
Still, the detectives didn't confront him.
"Let somebody tell the story," Cross said. "Let them go, and go, and go. Then, go back and show them the contradictions, and refine that."
Up to that point, the subject of the double murders hadn't come up.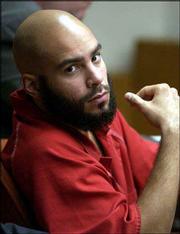 Contradictions and lies
But when Cross and Brown asked if he knew anything about the burglary in the 1900 block of Learnard, Lewis asked whether they were there to talk about the murders.
"He makes that leap, not us," Brown said.
Lewis denied being in Lawrence the day of the murders, and he gave them an alibi for July 10, the day Chandlee and Wallace were killed. The detectives then told him the bodies were found on July 11.
"He goes, 'You mean they laid there all day?'" Brown said. "We said, 'Should we have found them a day earlier?' He doesn't respond to that."
They moved on.
They began asking him about what routes he took as he walked around town looking for work. He told them he occasionally walked on 19th Street.
They asked whether he had ever been to the burglarized home in the 1900 block of Learnard. He said he hadn't, but they told him their crime-scene investigators had been at the home recently.
"We let him wonder what kind of evidence we could have found there," Cross said.
They also told him an eyewitness had seen a stranger there about the time of the burglary, and they asked if it was possible he'd gone to the door to ask for a drink of water. He admitted going to the door one day.
They asked whether there was anything unusual about the door. He told them it had a doorknob in the center of the door -- a detail that proved Lewis actually had been there.
"That validated this whole thing for us," Cross said.
'Desperate situation'
Eventually, Lewis confessed to that burglary and gave a written statement.
After that, Brown told him detectives knew the person who committed the burglary in the 1900 block of Learnard also burglarized the Chandlee residence. They did not, however, tell Lewis that they knew a burglar had killed Chandlee and Wallace.
He eventually confessed to burglarizing the home but still denied having anything to do with the murders. He gave a written statement and described details of the home that he wouldn't have known if he hadn't been there.
"He's getting into kind of a desperate situation," Cross said. "He wasn't thinking quickly enough, when he finally told us he had gone into 1530 Learnard, to make his lies sound real."
After that, the detectives asked Lewis if he knew there was blood on his shoes. He then changed his story, saying he'd left after the initial burglary, gone out to look for a job, come back to burglarize the home again and found Chandlee and Wallace dead.
He said he found a safe and got out some tools in an attempt to open it. The blood got on his shoes, he said, as he carried the safe and the tools over their bodies.
Brown and Cross knew he was lying: crime-scene investigation had revealed blood patterns on some paperwork from inside the safe that proved the safe was open when the couple was killed.
"That's when we had to call his hand," Cross said.
Lewis sat, looking down, and said, "I'll give it all to you." He calmly related how he killed Chandlee and Wallace because they'd walked in on the burglary and he didn't want to get caught.
About six and a half hours had elapsed in the interview.
Lewis complimented Brown and Cross, saying their interview techniques were "suave," and he shook their hands when they returned him to his jail cell.
The investigation into the murders of Wallace and Chandlee didn't stop with Lewis' confession. The case generated another 71 leads -- 225 in all.
"We had to go corroborate everything he said," Cross said.
Copyright 2018 The Lawrence Journal-World. All rights reserved. This material may not be published, broadcast, rewritten or redistributed. We strive to uphold our values for every story published.