Miami — A year ago, Dontrelle Willis was at the lowest level of organized baseball, playing for the Class-A Kane County Cougars.
About half of his teammates from last season still are in the minors. And every fifth day, they're crowding around a TV, watching Willis dominate major league hitters with virtually the same ease he blew fastballs by Single-A hopefuls.
"He was the best pitcher in our league, but we still didn't expect him to go to the big leagues this year," said Steve Phillips, who was Willis' manager at Kane County. "I didn't know if he'd even go to Double-A right out of camp. This is a surprise, but not something we felt he wasn't capable of."
Wins in his last five starts for the Florida Marlins have certainly proven that Willis is capable of big-league success. His last start was the gem of his still-brief stint in the majors, a one-hitter Monday night against the New York Mets.
The 21-year-old rookie left-hander with the unusual first name and even more unusual delivery carries a 6-1 record and 2.61 ERA into his next scheduled start, today at home against Tampa Bay.
His ERA during his current stretch of five straight winning starts is 0.96.
Batters routinely look helpless against Willis, who has a high leg kick and mannerisms on the mound that draw comparisons to the likes of Vida Blue, Juan Marichal and Mark Fidyrich -- although Willis says he hasn't modeled his throwing style after anyone.
"It's very unorthodox, but it's comfortable for me," Willis said. "If you break myself down, I do everything I can to get myself in the direction of the plate. It works for me."
Mets left fielder Cliff Floyd struck out all three times Monday he faced Willis. Afterward, he said Willis was the best pitcher he had ever faced -- and left it to reporters' imaginations to decide if he was kidding.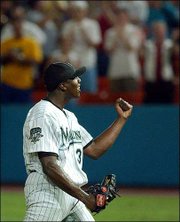 "He's right up there with all the rest of the good young pitchers they have," Floyd said. "When they have everyone back and healthy, teams are going to dread coming down here."
Willis' delivery leaves hitters guessing until the last possible moment. The high leg kick and wild throwing motion -- eerily reminiscent of Blue, whom Willis had never seen, even on tape, until recently -- combine to conceal the ball longer than pitchers with a more-conventional release.
And if hitters are fortunate enough to pick up the ball quickly enough to figure out what's coming, Willis keeps them guessing on speeds. His fastball ranged from 88 mph to 95 mph against the Mets.
"It was like being back in high school and facing a crazy left-hander," Mets first baseman Jason Phillips said. "Before the game, I didn't know who he was. But I do now."
It's hard to find someone in baseball today who doesn't know of Willis. He was generally considered to be an afterthought in the deal last year where the Marlins dealt pitchers Matt Clement and Antonio Alfonseca to the Cubs in return for Julian Tavarez and three minor leaguers, including Willis.
But from the moment he finished off the one-hitter against the Mets, Willis has been thrust -- grudgingly -- into the national spotlight.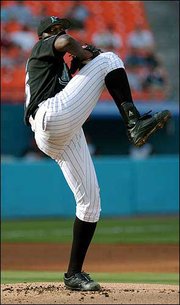 "It's fine and dandy, but you can't get caught up in that. I'm having good success now, but I could easily turn around and be 6-6 and now they'll be talking bad about me," Willis said. "God forbid that happens, but you have to stay levelheaded about everything."
Marlins manager Jack McKeon believes that Willis not only should be National League Rookie of the Year, but an All-Star as well.
"If he can win another game or two, how can baseball not even consider this guy for the All-Star team?" McKeon said.
His Double-A manager, Tracy Woodson of the Southern League's Carolina Mudcats, is nominating Willis for the All-Star game in that league as well, although it's becoming readily apparent Willis may have seen the minors for the last time.
"I didn't think he'd have the success he's had right now so fast," Woodson said. "To put up the numbers he's put up the last five games is unbelievable."
The low numbers Willis was posting at the minor league level -- 23-5 with a 2.42 ERA in 48 appearances -- eventually became impossible for the Marlins to ignore, especially after injuries to A.J. Burnett and Josh Beckett left the team with two gaping holes in the rotation.
"When opportunity knocks, you open up that door and say come on in," McKeon said. "Well, opportunity was knocking when we had a couple of guys injured and we brought him up from Double-A, and he took advantage of Mr. Opportunity."
Copyright 2018 The Associated Press. All rights reserved. This material may not be published, broadcast, rewritten or redistributed. We strive to uphold our values for every story published.