New York — The New York Yankees used some familiar faces to overcome an unfamiliar Mets team.
Andy Pettitte shut down the Mets for seven innings and the Yankees got consecutive home runs from Alfonso Soriano and Derek Jeter to win the opener of the Subway Series, 5-0, Friday night.
Jason Giambi also homered as the Yankees once again got the better of the heated intracity rivalry, beating the Mets for the 19th time in 31 regular-season meetings. The Yankees also won the 2000 World Series against the Mets in five games.
With Mike Piazza sidelined, no one in the Mets' starting lineup played in that Series and three players had never faced the Yankees before.
"It felt different this time because there were so many new guys," Pettitte said. "I hadn't faced a lot of their guys before. I had to talk to the scouts to find out about them."
The Yankees had many Subway Series veterans: Jeter was the MVP of the 2000 Series, Pettitte started the clincher at Shea Stadium and Mariano Rivera, who finished Friday night, saved two games.
Jeter went 3-for-5 in front of a sellout crowd of 55,386, improving his career average against the Mets to .360, including the World Series.
"I enjoy it," he said. "It doesn't mean you're going to be successful, but I enjoy being in big games. Obviously, playing the Mets is a big game."
The Yankees have won seven of eight overall since being no-hit by six Houston pitchers on June 11. They moved 11/2 games in front of Boston and Toronto in the AL East.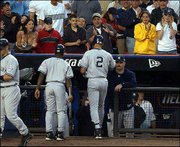 Steve Trachsel (5-5), coming off his second career one-hitter Sunday in Anaheim, held the Yankees in check except for the third inning. He allowed two runs, five hits and five walks in seven innings.
Soriano, coming off a 7-for-39 homestand, hit the second pitch of the third into the left-field bullpen for his 19th homer. Jeter followed with a drive over the center-field fence for his fourth of the season.
"I felt better in the first two innings tonight than I did in Anaheim," Trachsel said. "The Yankees just did a little better job of making me work."
Pettitte (7-6) had his second straight strong start since being knocked out in the second inning against the Chicago Cubs at Wrigley Field June 8.
"It's embarrassing when you go out and throw two innings like in Chicago," he said. "I know I'm not going to dominate guys and throw a shutout every time out. I just want to make quality starts and give us a chance to win."
He had only one perfect inning through five but was able to work out of trouble when he needed to, holding the Mets hitless in six at-bats with runners in scoring position.
Marlins 3, Devil Rays 1
Miami -- Miguel Cabrera, playing in his first major league game, hit a two-run homer in the bottom of the 11th inning to lift the Florida. Alex Gonzalez doubled with one out in the 11th. The 20-year-old Cabrera sent the next pitch from Al Levine over the center-field wall for his first big league hit. Cabrera, the most highly touted prospect in the Marlins' organization, was hitting .365 with 10 homers and 59 RBIs in 68 games at Double-A Carolina when he was called up Thursday. He played primarily at third base in the minor leagues, but started in left field Friday. Armando Almanza (4-4) pitched a scoreless 11th for the win. Levine (2-5) took the loss.
Braves 6, Orioles 3
Atlanta -- Robert Fick hit a grand slam and Greg Maddux pitched no-hit ball into the sixth inning for Atlanta. Fick drove in five runs, matching his career high. His second grand slam of the season came in the fourth against Sidney Ponson (9-4). Maddux (6-6) didn't give up a hit until Brian Roberts doubled into the right-field corner with two outs in the sixth.
White Sox 12, Cubs 3
Chicago -- Miguel Olivo's grand slam capped a six-run first inning as the White Sox routed the crosstown Cubs in the most lopsided game since the Chicago rivals began interleague play in 1997. Former Cubs first-round draft pick Jon Garland (5-6) allowed eight hits and two runs in six innings to get the victory. Chicago starter Shawn Estes (6-6) couldn't find the plate and lasted just one inning.
Astros 12, Rangers 3
Arlington, Texas -- Craig Biggio had four hits and Adam Everett homered as Houston sent Texas to its fifth straight loss. Alex Rodriguez homered for the Rangers, who have dropped 17 of 19 -- their worst stretch since also going 2-17 from Aug. 5-25, 1973. Wade Miller (5-7) allowed two runs on six hits in six innings for the victory.
Blue Jays 8, Expos 4
Montreal -- Vernon Wells, Frank Catalanotto, Orlando Hudson and Greg Myers homered as the Toronto Blue Jays extended their winning streak to four with a victory over the Montreal Expos. Cory Lidle (10-4) allowed three hits in seven innings, joining teammate Roy Halladay to give the Blue Jays the majors' first pair of 10-game winners.
Brewers 3, Twins 2, (10)
Milwaukee -- Royce Clayton scored on a wild pitch by reliever Juan Rincon with one out in the 10th inning. Clayton led off the 10th with a double to right-center off Rincon (1-3) and advanced to third on pinch-hitter Brooks Kieschnick's fly to deep center. Rincon then bounced his second pitch to Eric Young past catcher A.J. Pierzynski, allowing Clayton to score easily.
Tigers 7, Rockies 5
Denver -- Eric Munson, Bobby Higginson and Kevin Witt homered as Detroit snapped a four-game losing streak. Alex Sanchez had three hits for the Tigers. Munson and Witt were among four Detroit players with two hits.
Dodgers 5, Angels 2
Los Angeles -- Shawn Green and Brian Jordan hit two of Los Angeles' four solo homers, and Hideo Nomo pitched into the eighth inning. Nomo (8-6) held the Angels to two runs, one earned, and seven hits -- including Garret Anderson's solo shot. The right-hander struck out six and walked two in 71/3 innings to help the Dodgers win for the ninth time in 10 games. Ron Coomer and David Ross also homered off Jarrod Washburn (6-8), tagged for nine home runs in his last three outings. The Angels lost for the sixth time in eight games.
Athletics 5, Giants 3
Oakland, Calif. -- Miguel Tejada hit a two-run homer and Oakland opened the Bay Bridge Series with its season-best seventh straight victory. Barry Bonds hit his 633rd career home run and 20th of the season for San Francisco. He went 1-for-4 in the 2,500th game of his career. Aaron Harang (1-1) pitched 52/3 solid innings. Oakland improved to 8-2 on its 12-game homestand and sent the defending NL champions to their fifth loss in seven games before a sellout crowd of 47,074 at the Coliseum.
Padres 5, Mariners 3
San Diego -- Rondell White hit a grand slam with two outs in the ninth inning to give San Diego a win over the best team in baseball. White was mobbed at home plate by his ecstatic teammates after hitting his third career slam, on a 2-2 slider from Jeff Nelson (3-1) to left field. White's 12th homer this season capped a five-run rally.
Copyright 2018 The Associated Press. All rights reserved. This material may not be published, broadcast, rewritten or redistributed. We strive to uphold our values for every story published.