Indianapolis — Coretta Brown came off the bench to score a career-high 22 points as the Indiana Fever defeated the Connecticut Sun 84-74 Friday night for their ninth consecutive victory at home.
The Fever, who haven't lost at Conseco Fieldhouse since last July 19, built a 48-34 halftime lead with Tamika Catchings contributing 13 of her 22 points.
Brown hit her first seven shots from the field, including four from behind the arc, and her points were the most by a rookie in the league this season.
Nykesha Sales led Connecticut with a season-high 26, including 17 in the first half.
Indiana trailed briefly and took the lead for good at 15-14 on a 3-pointer by Catchings.
Connecticut, which came into the game with the WBNA's lowest turnover average (11.9), had 11 in the first half and the Fever scored 13 points following turnovers. The Sun finished with 21 turnovers.
The Fever (5-3) pulled away as the Sun (5-4) scored just six points with just one field goal in the final five minutes of the first half. The Sun missed six consecutive shots from the field in that span, ending the streak on a layup by Jessie Hicks with 2.9 seconds left in the half.
A 3-pointer by Sales cut Connecticut's deficit to 33-28 with 5:33 remaining in the period. Indiana responded with eight consecutive points, including five by Natalie Williams.
Williams had 18 points and 11 rebounds for Indiana.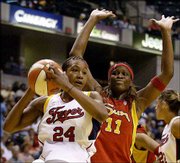 Connecticut fell behind by as many as 17 in the second half and cut its deficit to 79-71 with 3:02 to play on a 3-pointer by Adrienne Johnson. Indiana responded with five straight points on two free throws by Catchings, one by Sonja Henning and two by Williams.
Shannon Johnson had 16 points for Connecticut and Taj McWilliams-Franklin scored 11.
The 48 first half-points tied the franchise record of Indiana, which helped itself by hitting on 12-of-16 free throws while shooting 48 percent from the field.
Shock 88, Liberty 83
Auburn Hills, Mich. - Swin Cash scored 15 points, all in the final nine minutes, and Deanna Nolan matched a career-high with 18 points as Detroit beat New York.
Detroit trailed by as many as 12 points in the second half, but rallied to win its fifth straight game. The Shock have the WNBA's best record at 5-1.
Ruth Riley added a career-high 18 points for Detroit, while Robinson had a season-best 22 and Whitmore added 20 for the Liberty. Robinson had 17 of her points in the first half, when New York (4-4) took a 44-34 lead into the break.
Rockers 79, Mystics 74
Cleveland - LaToya Thomas scored 18 points to lead Cleveland over Washington.
Chamique Holdsclaw had 27 points and 12 rebounds to lead Washington (2-7), which overcame a 19-point deficit but lost its fourth straight and seventh in eight games.
Thomas, a rookie, made 7 of 11 shots and matched her high in points. She also scored 18 against Connecticut on Wednesday.
Betty Lennox finished with 17 points, and center Chasity Melvin had 12 points and 12 rebounds for Cleveland (5-3). Murriel Page and Coco Miller each scored nine for Washington.
Sting 76, Lynx 72
Charlotte, N.C. - Allison Feaster scored 17 points as the Sting built a 17-point lead and then held off the Lynx.
Feaster had three 3-pointers and was 6-for-8 from the field as the Sting (6-4) ended a two-game losing streak. Tammy Sutton-Brown added 13 points and seven rebounds and Andrea Stinson and Dawn Staley each scored 11 points for Charlotte.
Tamika Williams scored 16 points for Minnesota (4-6), which has lost three straight and five of six.
Copyright 2018 The Associated Press. All rights reserved. This material may not be published, broadcast, rewritten or redistributed. We strive to uphold our values for every story published.