Omaha, Neb. — An unlikely power display helped Stanford beat Cal State Fullerton and move into the College World Series championship round.
Three innings after Jonny Ash's first career home run tied the game, Danny Putnam hit a two-run homer in the top of the 10th to give the Cardinal a 7-5 victory Thursday night.
"Jonny's could have been the gamer, and mine fortunately was," Putnam said. "Watching the ball go out there was a lot of adrenaline flowing. It was unbelievable. It's what you dream about."
Putnam, 2-for-5 with three RBIs, hit a 2-2 pitch from Darric Merrell into the right-center field stands after Ryan Garko led off the inning by getting hit by Merrell's first pitch.
The win set up a best-of-three championship matchup, starting Saturday night, between Stanford (50-16) and Rice (55-11), which advanced Wednesday with a victory over defending champion Texas.
The Cardinal, playing for the championship for the third time in four years, are looking for their first CWS title since winning back-to-back titles in 1987-88. The Owls are trying for their first NCAA title in any sport.
It was the first extra-inning CWS game since the Cardinal beat the Titans, 5-2, in 10 innings in 2001.
Ash said associate head coach Dean Stotz predicted he would hit his first homer in the College World Series.
"I was making some good swings in batting practice back at school and he told me 'Jonny, you're going to have a big hit when we get to Omaha,"' Ash said.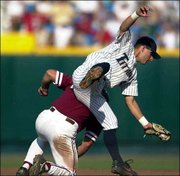 Chris Carter also homered for the Cardinal, and David O'Hagan (7-1) scattered three hits over 41/3 relief innings for the win. The Titans left 15 runners on base.
"We got some clutch hits and clutch performances when we were a little short-handed," Stanford coach Mark Marquess said. "We walked seven, we hit five and there's 12 free base runners, and somehow we found a way to win."
The game-winning homer was Putnam's second of the tournament and 16th of the season. He also drove in five runs with a homer, double and two singles in a 13-6 elimination-game victory over South Carolina Tuesday.
The Titans (50-16) took advantage of a record five hit batsmen by Stanford starter Matt Manship to build a 4-1 lead.
There was a scary moment in the third when Fullerton shortstop Justin Turner was hit in the face by a pitch while attempting to bunt. He turned to avoid the pitch, but the ball hit him in the face. With his face bloodied and swollen, Turner left the game assisted by trainers. X-rays taken at a hospital revealed contusions but no fractures and only a chipped tooth. He also sprained his ankle trying to avoid the pitch.
Turner returned to the dugout in the 10th inning, limping and the left side of his face badly swollen.
"It kind of gave us an emotional boost," starting pitcher Jason Windsor said. "We had something to work off and gave us something else to win the game for. Unfortunately, we just didn't get the job done."
Stanford made it 4-3 on Carter's two-run homer in the sixth, but Cal State Fullerton added a run in the bottom of the inning on an RBI single by Justin Smyres -- Turner's replacement.
Ash tied it in the next inning off Titans star closer Chad Cordero after Sam Fuld hit a one-out double.
Manship hit two batters in the third and both led to runs. Ronnie Prettyman singled in another run in the fourth for the Titans after Danny Dorn became the fifth Titans player hit by a pitch. P.J. Pilittere tripled and scored on a wild pitch in the fifth for the three-run cushion.
Fullerton loaded the bases with two down in the bottom of the eighth but O'Hagan got Kyle Boyer to fly out to center to end the threat.
"I always seem to go out and get other people out of jams, then I go and seem to fall apart," O'Hagan said. "I feel fortunate the coaching staff has stuck with me even though I've been a little erratic."
The Titans stranded 13 runners through eight innings, including nine in scoring position.
Merrell (4-1) allowed two runs and one hit without retiring a batter.
Copyright 2018 The Associated Press. All rights reserved. This material may not be published, broadcast, rewritten or redistributed. We strive to uphold our values for every story published.