Come one tick after midnight, cash registers at Lawrence bookstores instantaneously will begin to fill -- kind of like Harry Potter magic.
Lawrence bookstores will be staying open late and playing host to special parties tonight as part of the much-hyped release of "Harry Potter and the Order of the Phoenix," the latest installment in the series of child-fantasy books about the boy wizard, Harry Potter.
Doug Weaver, store manager at Borders Books & Music, 700 N.H., said the store would play music from the "Harry Potter" soundtrack, and offer a costume contest and face-painting beginning at 9 p.m.
But Weaver said he thought the most popular activity probably would be much simpler.
"My guess is that come 10 or 11 o'clock we'll have lots of people coming in, and what they'll want to do is find a place to stand in line," Weaver said.
Publishing executives are predicting that massive amounts of media attention will attract much more consumer interest for this release than author J.K. Rowling's last one, "Harry Potter and the Goblet of Fire," which sold a record 5.1 million copies in its first weekend of release in summer 2000.
Weaver said the last midnight Harry Potter event attracted about 200 people to the Lawrence store. About five times that many people showed up during the two days following the release, he added.
The Lawrence Borders store is expecting the same if not more people this time, which would produce big sales since the book retails for $29.95. Scholastic Inc., the book's publisher, has printed 8.5 million copies of "Order of the Phoenix" to accommodate first-weekend sales.
"I will tell you that without a doubt it will be the biggest day for a single book that we have ever had in this store," Weaver said. "I've been in this business for 15 years, and this is the biggest thing I've ever seen by far."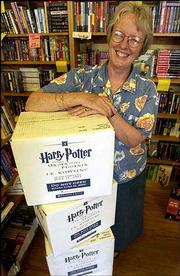 It also may be the most security-conscious event the book industry has endured. Pat Kehde, co-owner of The Raven Bookstore, 8 E. Seventh St., said she had to sign an affidavit swearing to show the book to no one before the June 21 release date. Bookstore owners across the country selling "Order of the Phoenix" had to agree to not open the book themselves before the release date, for fear that the closely-guarded plot would be leaked to the media.
"I've never had to do anything like that before," Kehde said of the affidavit. "With a big book, everybody is usually on the honor system. They're not relying on anyone's honor with this."
The Raven will be open from midnight to 1 a.m. to accommodate early-morning book buyers, as will Hastings Books Music & Video, 1900 W. 23rd St. Spokesmen for the stores said they would have about double the number of staff members on hand to handle the anticipated rush.
"We had a sign-up sheet at the store, and it filled up pretty quickly," said Brian Sanderson, an employee at Hastings. "Surprisingly a lot of people were eager to work on a Friday night. I think people know it will be a fun atmosphere."
Now bookstore managers are just left to wait and wonder whether the book actually will live up to the hype.
"I just really hope it is a good book," Kehde said. "That is always the problem with something like this. It is like the opening of a big movie. It doesn't matter how big the opening is, if it isn't any good, it won't have any legs."
Weaver said he was optimistic that the book would deliver.
"I think the reason that this has been so popular is that it is the perfect mix of great fun and escapist type of reading, and it is really well done," Weaver said. "It is unusual when the hype actually can be matched by the quality of the end product, but these books are just really good. It doesn't become this big if it isn't good."
Copyright 2018 The Lawrence Journal-World. All rights reserved. This material may not be published, broadcast, rewritten or redistributed. We strive to uphold our values for every story published.