In a few days, bird-watchers from around the world will be buzzing about the discovery of a previously unknown population of rare red siskins in Guyana.
They'll be talking about Mark Robbins, manager of the ornithology collection at Kansas University's Natural History Museum, too. He found the birds in the South American country.
"I was out in a field watching a flock of birds when I heard these siskins flew over me; I recognized the call," Robbins said. "I was stunned; I thought I was dreaming because I knew there weren't any siskins known to be in that area. They're endangered."
Robbins' cohorts confirmed the sighting the next day.
The group kept the April 2000 sighting secret to give them time to round up enough grant money for a formal scientific survey of the area. That survey has been completed.
The discovery will be the subject of an article in the upcoming June issue of The Auk, the journal of the American Ornithologists' Union.
"This is huge," Robbins said.
Once widespread in the coastal mountains of Venezuela and Colombia, red siskins were nearly wiped out by trapping after they became popular both in that region and in Europe in the 1800s.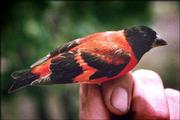 The finch-like bird was particularly valued for its bright red feathers. In Latin America it is known as el cardinalito, or little cardinal.
Breeders eventually discovered that red siskins could mate with canaries.
"They've been hybridized," Robbins said. "Today, if you go to a pet store and you see a canary with red on it, that's the red siskin in them."
Plans call for protecting the new-found population by not revealing its exact location, Robbins said.
---
The Associated Press contributed to this story.
Copyright 2018 The Lawrence Journal-World. All rights reserved. This material may not be published, broadcast, rewritten or redistributed. We strive to uphold our values for every story published.