When he came to Kansas University in the late 1950s, Robert Eaton never imagined the university would someday name a building after him.
In fact, his only life goal after leaving school was to become a staff engineer at Chevrolet, a dream that came from his love of motorcycles and cars. Eaton, a native of Arkansas City, met that goal and exceeded it: He went on to be chairman of Chrysler Corp.
"When I went to work in 1963 after having graduated, I set an objective for my life and passed it at age 29," he said.
Now he'll have the new engineering building at KU named for him -- subject to approval next week by the Kansas Board of Regents. KU officials announced Thursday that Eaton would donate $5 million to the building, which is slated to open this fall.
"I'm a believer that our education system is one of the strongest things in our entire economy," said Eaton, who now lives in Naples, Fla. "I believe KU had a significant impact, obviously, on my life."
The $15 million engineering building, south of Learned Hall at the northwest corner of 15th Street and Naismith Drive, was paid for entirely from private funds.
Eaton, 63, will give $4 million in cash to the KU Endowment Association for the project. The additional $1 million will be paid over the next four years. ChevronTexaco Corp., International Paper Co. and DaimlerChrysler also are donating a total of $130,000 through their corporate donor matching program.
Endowment officials said the $5 million gift was among the top 10 largest gifts they've ever received.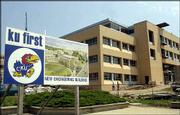 The 80,000-square-foot Eaton Hall will consolidate all engineering programs into one complex. It will include computer laboratories, multimedia classroom and administrative offices.
Construction was supposed to be finished by July 1, but delays pushed back the completion date to around Aug. 1. Stuart Bell, dean of the School of Engineering, said it should be ready for the start of the fall semester, Aug. 21.
"That is the plan," he said. "There's a lot of finish work to be done."
He said Eaton's gift would teach engineering students to think big about their goals.
"Eaton Hall will be a reminder of where he came from," Bell said. "He's a Kansan who's a success story. We have kids who come in every day who are the way Bob Eaton was 50 years ago. They all have dreams and aspirations."
After leaving KU with a degree in mechanical engineering, Eaton held several design and management positions at General Motors Corp. in the Chevrolet Motor Division. He was named president of General Motors Europe in 1988.
He left GM in 1992 to become vice president and chief operating officer of Chrysler Corp. Nine months later, he succeeded Lee Iacocca as chairman and CEO of the company. In 1998, Eaton helped design the $76 billion merger between the company and Daimler-Benz AG.
He retired in 2000 after two years as chairman of that company.
Eaton said he hasn't yet seen the building that will bear his name.
"The last time I was on campus, it was started," he said. "I did drive by it, but I wasn't thinking about it at the time. I'm sure it will happen eventually."
Copyright 2018 The Lawrence Journal-World. All rights reserved. This material may not be published, broadcast, rewritten or redistributed. We strive to uphold our values for every story published.