Cincinnati — The Reds' new home turned into Great American Brawl Park for the second time in a week, with Paul Wilson getting the worst of it.
Wilson held Sammy Sosa to a harmless single in seven strong innings, then was bloodied and ejected during a fight that will have an impact far beyond Cincinnati's 3-1 victory Thursday over the Chicago Cubs.
"I've got a question: Didn't they just get into a fight a couple days ago?" Cubs manager Dusty Baker said. "It looks like they've got some bad blood brewing with some other people.
"All I know is we're not the club to have bad blood with because we've got some guys that can hurt you with that ball. So I don't suggest too many people get into some knockdown war with us."
The Reds and the Phillies squared off last Friday in a much nastier fight. Sean Casey and Adam Dunn were the two Reds ejected, and they await punishment from baseball.
Wilson got into it with reliever Kyle Farnsworth, who threw a fastball inside as he tried to put down a sacrifice bunt with a man on first and the Reds up 2-1 in the seventh inning.
"It's a 2-1 game and he's trying to bunt and make an out," Farnsworth said. "I'm not trying to hit him. He came at me, and I just did what I had to do. It kind of surprised me."
Wilson wheeled after the pitch flew past and yelled at Farnsworth, starting an exchange that escalated as they drifted toward each other. Finally, Farnsworth tossed off his glove and Wilson dropped his bat.
Farnsworth tackled Wilson with a right-shoulder takedown, then threw a wild punch that missed its mark.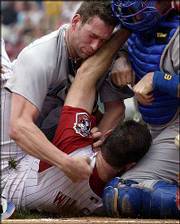 Rockies 10, Padres 5
Denver -- Chris Stynes hit his first career grand slam and Brent Butler and Jay Payton added solo home runs to help Darren Oliver remain undefeated at home as Colorado beat San Diego. Todd Helton and Preston Wilson had four hits apiece for the Rockies, who salvaged a split in the four-game series. Wilson also had three RBIs.
D'backs 4, Astros 2
Houston -- Luis Gonzalez hit a two-run homer and Miguel Batista pitched into the ninth inning, leading Arizona past Houston. Batista (5-3) allowed seven hits, struck out seven and walked one, lowering his ERA to 2.60 -- second in the NL behind Los Angeles Dodgers ace Kevin Brown (1.97). Batista improved to 1-3 in seven career appearances against Houston.
Marlins 5, Mets 1
Miami -- Tommy Phelps pitched seven shutout innings and Mike Lowell hit a three-run homer as Florida defeated New York. Lowell hit his 22nd home run, tying Toronto's Carlos Delgado and Cincinnati's Adam Dunn for the major league lead. Phelps (3-2) allowed three hits in his longest outing of the year. He struck out a season-high six.
Phillies 3, Braves 2
Philadelphia -- Held hitless into the eighth inning by Mike Hampton, Philadelphia rallied late and Jimmy Rollins' RBI single with one out in the ninth inning beat John Smoltz. Marlon Byrd looped a single to right field to end Hampton's no-hit bid after 71/3 innings. Placido Polanco's two-run single off Smoltz tied it. Smoltz (0-1) blew just his second save in 28 opportunities. Pat Burrell opened the ninth with a double and, after David Bell flied out, Rollins singled home pinch-runner Jason Michaels.
Cardinals 8, Brewers 4
Milwaukee -- Albert Pujols hit his 20th homer and Bo Hart doubled and tripled in his major league debut as St. Louis beat Milwaukee. Jason Isringhausen got the final out for his first save of the season. The Cardinals' closer was activated June 10 after missing 61 games as he continued his rehabilitation from shoulder surgery.
Expos 5, Pirates 2
Pittsburgh -- Brad Wilkerson and Edwards Guzman drove in runs in an infrequent multirun inning for Montreal, and the Expos finished their demanding 3 1/2-week trip by beating Pittsburgh.
The Expos stopped a season-worst six-game losing streak, winning for only the eighth time on a 22-game trip that covered 11,310 miles, 25 days and ranged from Seattle to San Juan, their part-time home. They play in Montreal on Friday for the first time since May 25.
Wilkerson had a sacrifice fly and Guzman added an RBI single in a go-ahead, two-run seventh inning against Pittsburgh's bullpen, only the second multirun inning for the Expos in 70 innings, or nearly eight games.
Copyright 2018 The Associated Press. All rights reserved. This material may not be published, broadcast, rewritten or redistributed. We strive to uphold our values for every story published.