New York — David Wells showed foundering teammate Jeff Weaver how it's done.
Wells pitched an economical seven-hitter, and Jason Giambi and Ruben Sierra each had three hits as the New York Yankees rebounded from a nine-run loss with a 10-2 win over the Tampa Bay Devil Rays in the second game of Tuesday's day-night doubleheader.
In the opener, the Devil Rays roughed up Weaver for six runs and 10 hits in an 11-2 win, even while hitting into a team-record six double plays. Jeremi Gonzalez pitched one-hit ball for six innings before a crowd of 14,077 in the makeup of an April 11 rainout.
"A lot of young pitchers can learn from Boomer," Yankees manager Joe Torre said. "You give (Wells) a lead and he's not going to beat himself."
Before a more lively crowd of 47,604 on a crisp spring night, Wells was at his stingy best, walking none. He has walked just four batters in 1002/3 innings this season.
"I take pride in this game," Wells said. "You got to know the hitters, study the reports, go out there and get ahead in the count."
Wells (9-2) allowed both runs -- one earned -- in his 51st complete game and third this year. He needed just 111 pitches -- 81 strikes -- in a game that took 2 hours, 25 minutes.
He might have earned himself a start against the New York Mets on three days rest Saturday.
Before the day game, manager Joe Torre said he would make his decision on the start based on how well Weaver (3-6) and Wells pitched. Moody on the mound, Weaver slumped his shoulders and shook his head as the Devil Rays knocked him out after just five innings. The Yankees have lost each of Weaver's last five starts. He's back in the rotation because Jose Contreras is injured.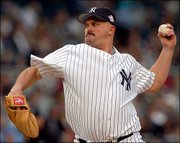 "I want it to be Weaver," Torre said. "But we have to make sure he'll be aggressive.
"He's down, he's not belligerent. He wants to find an answer as much as we do."
The Yankees scored four unearned runs in the fifth to take a 6-1 lead with help from Devil Rays starter Dewon Brazelton's throwing error.
After Todd Zeile walked, John Flaherty attempted a sacrifice. Brazelton fielded it with plenty of time to get Zeile at second but his throw sailed into center field. Alfonso Soriano walked, then Derek Jeter grounded into a force for the first run. Giambi struck out and Hideki Matsui singled before Sierra hit a two-run double into left-center, ending Brazelton's night.
Tampa Bay manager Lou Piniella spoke with his pitcher in the dugout after taking him out.
"We talked about a few things. A couple of walks, throw a bunt away, it opened up the floodgates," Piniella said. "That's exactly what happened. Walked a guy leading off, threw away the bunt, then there's another walk -- he just can't do that stuff."
Sierra drove in three runs and is 11-for-25 with two homers and seven RBIs since joining the Yankees June 6.
Athletics 4, Rangers 3
Oakland, Calif. -- Miguel Tejada homered while playing in his 500th straight game and Mark Ellis and Scott Hatteberg also homered as Oakland won its fourth straight game. The A's winning streak is their longest since a season-best six consecutive from April 24-30.
Tejada's 500 straight games played is the longest active streak in the majors.
Mariners 8, Angels 4
Seattle -- Bret Boone had a grand slam and five RBIs, and Ichiro Suzuki homered twice to lead Seattle past Anaheim. Boone's 19th homer of the season came in the fifth inning and helped improve the Mariners' major league-leading record to 47-22.
Brad Fullmer, Darin Erstad, Garret Anderson and Tim Salmon hit solo homers off Ryan Franklin (6-4), who leads the AL for the most homers allowed at 18. The four homers off Franklin were a career high.
Red Sox 7, White Sox 4
Chicago -- Manny Ramirez hit a three-run homer, and John Burkett recovered from a shaky start to help Boston defeat Chicago. Burkett (5-3) allowed four straight doubles to start the game and was in a 3-0 hole before recording an out. After that he was almost unhittable, retiring 18 straight at one point.
He permitted five hits in 62/3 innings, struck out a season-high nine and walked one. Burkett threw a lot of off-speed pitches, and the White Sox were baffled -- striking out looking eight times.
Indians 7, Tigers 4
Detroit -- Ben Broussard, Casey Blake and Matt Lawton homered in a five-run fourth inning, leading Cleveland past Detroit. The Indians snapped a four-game losing streak and handed the Tigers their 10th loss in 11 games. Cleveland is 6-2 against Detroit this season.
Detroit led 2-1 after three innings, but Adam Bernero (1-9) fell apart in the fourth.
Copyright 2018 The Associated Press. All rights reserved. This material may not be published, broadcast, rewritten or redistributed. We strive to uphold our values for every story published.