Olympia Fields, Ill. — By the end of the week, Olympia Fields wasn't the pushover everyone thought it was.
By the end of the year, Tiger Woods might not be in the slump everyone thinks he is.
One thing to take out of this U.S. Open is a healthy dose of perspective, the need to look at the big picture and not just a snapshot.
True, Vijay Singh missed two short birdie putts down the stretch, had a three-putt bogey from 15 feet on a par 5 and still tied the major championship record with a 63 Friday.
Jim Furyk was on the verge of setting scoring records that would have made the bluecoats at the USGA red in the face.
Years from now, the record books will show Furyk won with an 8-under 272, the same score shot by Lee Janzen in 1993 and by Jack Nicklaus in 1980, both at Baltusrol. Woods' 12-under 272 at Pebble Beach is in a different league. He remains the only player to finish a U.S. Open in double digits under par, and he won by 15 shots.
Only four players broke par at Olympia Fields, typical of most U.S. Opens.
Eleven players broke par when Janzen won in 1993, and eight players broke par when Ernie Els won his first U.S. Open at Oakmont in 1994. Both those courses are in the major championship rotation the next five years.
Whether Olympia Fields gets another chance is uncertain.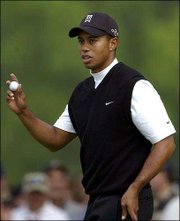 It doesn't have the heritage of Pebble Beach, doesn't induce fear like Shinnecock Hills, doesn't require brute strength like Bethpage Black.
Still, Olympia Fields gave the U.S. Open variety, which is important.
"It's like comparing the old Astrodome to Fenway Park," Woods said when asked the differences between the last two U.S. Opens.
Only the big hitters seriously contended at Bethpage Black, while this U.S. Open gave just about everyone a chance. Furyk hit more greens in regulation than anyone else, and that has proven to be a winning formula no matter where the U.S. Open is played.
The only fault is that it took three days for this to look like a U.S. Open.
Blame that on the weather, over which the USGA grudgingly admits it has no control.
Strong wind gave way to barely a zephyr the first three days, and it came out of the opposite direction typical for June. That explains why so many players belted drives that approached 400 yards on No. 18, leaving a flip sand wedge into the green.
Add to that overcast skies the first two days and cool overnight temperatures, and the greens never got up to speed until the final day.
"If it would have been dry like this an entire week, with the rough the way it was, you would have seen some scores that weren't quite this low," Woods said Sunday. "With the rain, it never looked like a USGA event."
Woods hasn't looked like himself, either.
He is not the defending champion at any of the majors for the first time since winning the 1999 PGA Championship at Medinah. His last victory of any kind was five tournaments and three months ago.
Whether that constitutes a slump is a matter of perspective.
At the start of the week, Woods was asked for his definition of a slump.
"I guess when you completely lose your game," he said.
He could have easily said David Duval -- now that's a slump.
Duval has missed the cut 10 times in 14 tournaments this year, and only a course-record 62 at the Capital Open enabled him to post his best finish, a tie for 28th. Woods' worst finish on the PGA Tour this year is a tie for 20th at the U.S. Open.
Phil Mickelson hasn't won since the Greater Hartford Open last July, and as everyone reminds him, he has never won a major.
Sergio Garcia has made the cut in six of his 12 tour events this year, and he's finished in the top half of the field in only the Masters, U.S. Open and Sony Open in Honolulu.
Slump?
Woods could easily have mentioned Nicklaus.
Coming off his second U.S. Open victory in 1967, Nicklaus proceeded to go 12 majors without winning until he captured the 1970 British Open at St. Andrews. He didn't win anything in 1968 until the Western Open, his 17th tournament of the year.
Woods already has won three times this year.
The problem is Woods no longer is compared with his peers, but with his own standards, especially his 2000 season when he won nine times and three majors.
"Some of the things I did in 2000, obviously I'm not doing now," Woods said. "Some things now are better than 2000. You're always trying to improve, and there's always something going wrong. That's golf."
Copyright 2018 The Associated Press. All rights reserved. This material may not be published, broadcast, rewritten or redistributed. We strive to uphold our values for every story published.