SAN ANTONIO — The San Antonio Spurs have the NBA championship trophy and a considerable amount of money to spend trying to make themselves even stronger next season.
It doesn't get much better than that.
Opinions vary widely about just where the team should do its shopping. Shooting guard Stephen Jackson says that decision is easy -- albeit a bit farfetched.
"Shaq," he said Tuesday when asked who the Spurs should try hardest to get in the offseason. "If it was my choice, it would be Shaq."
Well, don't expect to see Shaquille O'Neal, who grew up in San Antonio, wearing silver and black next season.
Center David Robinson, whose retirement is freeing up most of the salary-cap money, is more realistic about the big men out there. He also has a big name in mind to join Tim Duncan, San Antonio's franchise player.
"I know Tim doesn't like to play (center), but it would be kind of cool to see Tim and Karl Malone playing together," Robinson said a bit wistfully.
Robinson spoke recently to Malone, soon to be a free agent at age 40 after 18 years without a title in Utah.
"He wants to win, and there's no amount of money that's going to get rid of that feeling inside that you have," Robinson said. "He's on every record list in the NBA's history, and the one thing that he wants is that championship."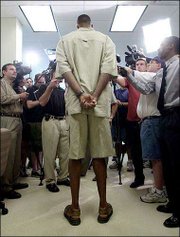 The story line underlying the Spurs-Nets championship series was speculation that San Antonio will strongly pursue New Jersey point guard Jason Kidd, and that Kidd just might be receptive to the idea of partnering with his friend Duncan.
The Kidd questions came up again Tuesday for Tony Parker, the Spurs' incumbent and somewhat-erratic point guard, and his answers were the same.
"I don't care," Parker said. "I know I'll be on the team, that's all I care about. We'll see."
Coach Gregg Popovich, who will have plenty to say about offseason acquisitions, realizes that the Spurs' available money makes them the envy of the NBA. But he says he's a little unnerved about the ramifications of making a choice.
"It's a very, very dicey situation because no matter what you do, you really don't know how people, when you combine them, will react," he said. "I don't care what trade we make, I don't care what acquisition we make ... you have no clue whether it's going to work or not until they arrive, get on the court and play for two, three, four months. That's the scary part about it."
Robinson said Spurs management had had success by finding focused, upstanding players who fit well together.
"They've done a great job of building on the character theme -- a lot of teams don't place a big emphasis on that, but they do here and it's paid off," he said. "For a small-market city, I think there's a remarkable number of people around the country that like our team."
Jackson, who credits Robinson with teaching him how to be more professional as a player, is heading toward free agency in July. But he's hoping to return.
"I pray to God I do come back -- this is where I want to be," said Jackson, who is attracting some interest from other teams. "If I could sign today, I would."
Copyright 2017 The Associated Press. All rights reserved. This material may not be published, broadcast, rewritten or redistributed. We strive to uphold our values for every story published.