Cincinnati — Sammy Sosa spent the final day of his suspension asking fans to forgive and forget that he used a corked bat.
His manager knows it won't be that simple.
Sosa took batting practice with the Chicago Cubs Tuesday, then sat out the seventh and final game of his suspension. He's expected back in the lineup tonight against the Cincinnati Reds.
He received a warm reception from fans during batting practice at Great American Ball Park, where he hit career homer No. 500 April 4. There were no taunts or cork jokes.
"I want to make it clear that hopefully they forget," Sosa said during a five-minute media availability before batting practice. "I have to deal with that for the rest of my life, no question. But I'm only human. I'm not the only guy in this world that made a mistake.
"I'll say it again: Hopefully they'll forget and just let me continue to make people happy."
Some won't be as forgiving as the several hundred who watched batting practice Tuesday and let out a collective "ooh" when he sent a ball arcing toward left field on his second swing.
Fans cheered and applauded when the ball landed high in the upper deck, an area seldom reached even in batting practice.
Cubs manager Dusty Baker expects the reception to be less supportive in other ballparks.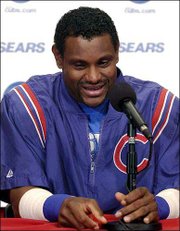 "It's going to be tough, but it comes with the territory," Baker said. "Hopefully it helps him focus even more, and makes him want to beat them even worse and increases his concentration."
Baker is interesting in seeing how Sosa reacts to the scorn that's sure to come.
"This is new territory for him," Baker said.
Sosa received a standing ovation when he hit homer No. 500 to right-center field at Great American, the ballpark's first historic hit. That homer and others came under question when his bat shattered in a game June 3 and cork was found inside.
Sosa explained that he used a corked bat in batting practice to put on a show for fans, but mistakenly took it to the plate during a game. The rest of his bats were tested, and no cork was found.
His original eight-game suspension was shortened to seven, but his reputation took a beating.
"At the beginning, it was very tough for me to see all the things that they put (in the media) about me because of a simple mistake," Sosa said. "I mean, it was a mistake. I haven't killed anybody. They got me up there like I'm a criminal."
Copyright 2018 The Associated Press. All rights reserved. This material may not be published, broadcast, rewritten or redistributed. We strive to uphold our values for every story published.