Eudora — Tuesday's doubleheader matchup between the Lawrence Renegades and Wichita Gators pitted a 6-6 squad against an 11-1 team.
The outcome didn't support those statistics.
The Renegades trounced the Gators, 11-1 and 14-8, improving their winning streak to six games. The Renegades (8-6), who struggled at the plate before routing Olathe East twice Saturday, continued their offensive onslaught with 12 hits in the two games Tuesday.
"We've really come on strong these last couple of weeks," pitcher Ryne Jackson said. "Basically we've met some success lately. People have their heads up and they believe in themselves."
Jackson was strong in the first game, picking up seven strikeouts and allowing just two hits in five innings.
"It felt pretty good," Jackson said. "My pitches were on for the most part. I was fortunate to have a good defense behind me and to be able to get strikes."
His coach was less modest.
"I've coached him for two summers. I can say that was one of his best performances," Renegades boss Lynn Harrod said.
Six Renegades had at least one hit, lead by catcher Cal Heinrich, who was 3-for-4 with two doubles and a single. But Heinrich said it wasn't the big hits that propelled his squad.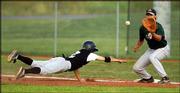 "We're finally playing small ball and understanding how to play it," he said after his team executed numerous sacrifice bunts and stolen bases.
The second game nearly was another blowout, but the Gators cut a 10-run deficit to six after a productive fifth inning buoyed by walks from Lawrence pitcher Spence Chaney.
After a fielding error and a Wichita triple, it seemed the Gators (11-3) were ready to pounce. But relief pitcher John Parker allowed just one run to seal the victory.
The Renegades play Post 199 today at Eisenhower Park in Kansas City, Kan.
Gardner 9, Outlaws 4
Gardner defeated Lawrence's Outlaws in American Legion baseball Tuesday at Free State Field. Zach Puckett went 2-for-4, while Chris Gabriel doubled for the Outlaws. The Outlaws, 5-6, play again at 6 p.m. Thursday in Manhattan.
Copyright 2018 The Lawrence Journal-World. All rights reserved. This material may not be published, broadcast, rewritten or redistributed. We strive to uphold our values for every story published.