Kansas City, Mo — Once the Kansas City Royals finally started hitting, there was no stopping them.
The Royals turned a 3-1 deficit into a 13-3 bulge with a team-record 12-run inning Tuesday night en route to a 14-7 victory over the Minnesota Twins.
"A lot of people think there's not any momentum in baseball, but that inning just carried over," said Ken Harvey, who had two hits and three RBIs in the 12-run sixth. "It's like it became infectious. You want to do the same thing the guy in front of you did, keep it going, not be the one to make it stop."
The outburst broke the team record of 11 runs in an inning, which Kansas City had accomplished three times in its 34-year history. And the win pulled the Royals to within two games of the Twins in the AL Central.
J.C. Romero, one of four Twins pitchers used in the sixth, was ejected along with manager Ron Gardenhire after Aaron Guiel was plunked following the inning's sixth run.
"Ugly ballgame. Got away from us," said Gardenhire, who's been ejected five times this season. "We had a lead. We were cruising, it looked like. Kenny Rogers had only given up two hits. ... It was a snowball effect. We just couldn't stop them."
For the game, Harvey was 4-for-5 with three doubles and five RBIs. Raul Ibanez and Mike Sweeney each had two RBIs in the record-breaking inning that included a team record-tying 16 plate appearances.
Reliever Kris Wilson (3-0) got the win after giving up two runs in the top of the sixth and falling behind 3-1.
"I let us down and then they turn around and put 12 on the board. I never had that happen before," Wilson said.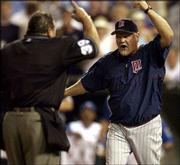 With the bases loaded and nobody out, Carlos Beltran and Ibanez each had RBI singles off Rogers (5-3) before Harvey singled home two runs.
With one out, Brent Mayne had an RBI single, and Carlos Febles brought home a run with a squeeze bunt.
Romero then hit Aaron Guiel with his next pitch to reload the bases, and he was immediately ejected. Gardenhire came out to argue with plate umpire Larry Poncino and was also thrown out.
Michael Nakamura relieved and hit Joe Randa, bringing home the seventh run of the inning.
Sweeney then lashed a double off the fence in center. Torii Hunter misplayed the ball for an error, which cleared the bases and gave Sweeney two RBIs.
With two out, Ibanez had an RBI single, and Harvey added a run-scoring double.
"That was an amazing inning," Sweeney said. "After you score five or six, the crowd gets excited and as hitters we feed off each other."
In the eighth, Twins rookie Justin Morneau hit a 425-foot solo homer, the first of his career. Tom Prince had a two-run homer for the Twins in the seventh and Corey Koskie had a sacrifice fly in the fifth. Dustan Mohr added a solo homer in the ninth to make it 14-7.
Luis Rivas' RBI triple put the Twins ahead in the sixth. Rivas scored on Denny Hocking's single to make it 3-1.
Royals starter Jeremy Affeldt went five innings, allowing five hits and one run, striking out three and walking a career-high five.
Rogers went five innings and gave up six hits and seven runs, with four walks and three strikeouts.
"My luck ran out in the sixth," he said. "I just didn't have any command at all."
Notes: Beltran reached base eight straight plate appearances -- six walks and two hits -- before striking out in the fourth. ... Koskie has hit safely in 11 of 14 games. ... Matt LeCroy stranded six runners, striking out with the bases loaded in the third and flying out with them loaded in the sixth. ... Rogers' 603 career games is the most among active pitchers with at least 100 victories. ... Febles made his first start since going on the disabled list May 28.
When: 7:05 tonight.Where: Kauffman Stadium.Television: RSTN (Sunflower Broadband Channel 6).Pitchers: Chris George (7-4) vs. Rick Reed (3-6).K.C. record: 35-32.
Copyright 2018 The Associated Press. All rights reserved. This material may not be published, broadcast, rewritten or redistributed. We strive to uphold our values for every story published.