People who happen to pass by St. John the Evangelist Catholic Church these days are likely to linger there, lured by an aroma hanging in the air.
That's because a dedicated group of volunteers is hard at work in the basement kitchen of the church, 1234 Ky., cooking up hundreds of pounds of spicy ground beef and pork sausage that will be used as the filling for thousands of tamales, tostadas, tacos, burritos and enchiladas to be served Friday and Saturday at St. John's 22nd Annual Fiesta Mexicana.
The group of volunteers, most of whom have helped to prepare authentic Mexican food for every Fiesta since the first one, have been coming in early each morning this week to take care of another step in the assembly-line process of cooking for the anticipated crowds of people.
An estimated 5,000 participants will attend the Fiesta.
Lines of hungry people typically snake down the block both days.
"It's hard to say how many people will be served. People come and they go," said Loretta Chavez, one of the original Fiesta organizers. "I don't get to see them -- I'm down here in the kitchen all week long."
But back to that aroma cloaking the church.
It's the heady smell of oregano, chile ancho sauce, garlic and cumin, plus the beef-pork mixture cooking away in a huge skillet.
The scent tends to creep into every nook and cranny of the church -- including the usually incense-tinged sanctuary -- during the final days of Fiesta preparation.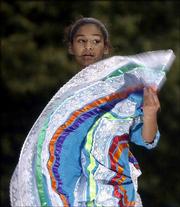 Meanwhile, weddings at St. John proceed as normal, even though you'd think some couples might want to reschedule their ceremonies for another, less fragrant, time.
But nobody ever wants to change dates.
"They love it," said volunteer cook Lori Romero.
Recipes handed down
People love the Fiesta's food, too. That's obvious.
What started as a modest fund-raiser two decades ago has turned into a massive community celebration that extends far beyond St. John's parishioners.
An army of nearly 300 volunteers is required in order to orchestrate a colorful event featuring lots of good food, live music, dancing and carnival games.
Friday's bill of fare will be made up of tamales, tostadas, tacos and rice. That menu will expand Saturday to include enchiladas, meat-and-bean burritos and refried beans.
In addition to Mexican dishes, participants can indulge in nachos, corn dogs, funnel cakes, roasted corn, cotton candy, lemonade, sodas and cold beer.
Year after year, the homemade tamales are the top seller.
"We always sell out of those first. Then the enchiladas," Chavez said.
Volunteers have already prepared about 2,500 of the tamales in anticipation of high demand for them. They have been made in advance and frozen; then they'll be steam cooked starting at 5 a.m. each day of the Fiesta.
The tamales are prepared with masa -- cornmeal -- spread on a corn husk. They're filled with meat and a chile ancho sauce, then folded and readied for cooking.
All of the Mexican foods served at Fiesta are made according to family recipes that have been handed down from grandparents and parents.
Chavez, for instance, was taught how to cook by her grandmother and mother-in-law.
"I learned by observing them. You try it out and see it how it goes," she said.
St. John parishioner Bertha Bermudez has also been volunteering to cook for the Fiesta since the beginning.
"We just started out not knowing what we were doing. The ladies came together and shared the recipes they had from home. We just had to learn to make them in bigger quantities," Bermudez said.
St. John's 22nd Annual Fiesta Mexicana will be from 6 p.m. to 11 p.m. Friday and Saturday at St. John the Evangelist Catholic Church, 1234 Ky.Mexican food will be sold each night of the event. Tamales, tostadas, tacos and rice will be available Friday. Tamales, enchiladas, tostadas, tacos, burritos, rice and refried beans will be sold Saturday.St. John's Fiesta Dancers will perform at 7 p.m. Friday, followed by La Mañana Band from the Kansas City area from 8 p.m. to 11 p.m.The music group Mariachi Habañero will perform at 6 p.m. Saturday, and carnival games will be available from 6 p.m. to 9 p.m.St. John's Fiesta Dancers will perform at 7 p.m. Saturday, followed by the Paradize Band of Topeka from 8 p.m. to 11 p.m.Admission to the event is free.
"We say, 'How did your Mom make it?' And basically, it was all the same. That's why we say that it's authentic, because we use ingredients that our mothers used."
Successful fund-raiser
Maybe it's the Mexican food that draws so many people to Fiesta, or maybe it's the traditional music and dancing. But whatever the attraction is, it's working.
In recent years, the event has raised as much as $40,000. The money not only helps pay for the Fiesta itself, but also goes toward maintaining the Lawrence Catholic School-St. John Campus, creating scholarships and donating funds to local charities.
"It started as a church fund-raiser, and now it's something Lawrence looks forward to every year -- the music, the atmosphere, the games," said Romero, who, along with Linda Anguiano, directs the St. John's Fiesta Dancers.
Romero also is the daughter of Bermudez.
With all the years of accumulated experience among the volunteer women in the church kitchen these days, who's the best cook among them?
"I've got to go with Loretta (Chavez) and my mom," Romero said. "But I still have to put my mom first."
Copyright 2018 The Lawrence Journal-World. All rights reserved. This material may not be published, broadcast, rewritten or redistributed. We strive to uphold our values for every story published.