Florida
Police investigate death at Toughman fight
A woman died Tuesday after being pummeled in an amateur boxing bout, and police opened an investigation into the fight.
"We are trying to determine the criminality of it," police spokesman Jay Frank said.
Stacy Young, 30, suffered swelling and bleeding in the brain during Saturday night's Toughman bout.
She was disconnected from life support Tuesday afternoon after being declared brain dead Monday night at Bayfront Medical Center in St. Petersburg, hospital spokesman Bill Hervey said.
At least three competitors have died in Toughman competitions in the past nine months, and some say the total number of deaths in the circuit's 24-year history is as high as nine. Several states have banned Toughman contests.
Iraq
U.S. soldier killed during weapons hunt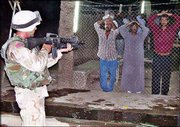 Despite the U.S. military's sweeps against loyalists to stop attacks against Americans, an Army soldier riding in a Humvee with the 1st Armored Division's 1st Brigade was shot and killed late Monday by a sniper in Baghdad. The soldier's name was not released.
The U.S. military said raids that began Sunday on homes and businesses in Baghdad and northern Iraq were meant to "isolate and defeat remaining pockets of resistance."

The operation is stirring deep resentment, with innocent Iraqis rounded up, handcuffed and interrogated, townspeople say.
Liberia
President says he'll step down for cease-fire
Liberia's President Charles Taylor, a war crimes suspect who fueled many of West Africa's bloody conflicts, pledged Tuesday to yield power as part of a cease-fire with rebels. But his government quickly hedged on the resignation.
News of the truce set off dancing in the streets of Liberia's capital, Monrovia, and the United Nations announced it would lend support and troops to a cease-fire observation mission.
But skepticism ran strong that Taylor -- who repeatedly has made and broken deals in 14 years of conflicts and now has the threat of a war crimes trial hanging over his head -- would give up power.
The government signed the truce as insurgents in Liberia's 3-year civil war were at the doorstep of the capital.
Paris
Iranian opposition group raided; 159 detained
Police raided the compound of an Iranian opposition group Tuesday, detaining activists on suspicion of plotting terrorist attacks in France and building a support base for operations abroad.
The raids came a month after U.S forces disarmed the military wing of the group, the Mujahedeen Khalq, in Iraq. The organization, which the United States and European Union classify as a terrorist group, seeks to topple Iran's clerical regime.
French authorities detained 159 people in the raids on the compound north of Paris and 12 other sites outside the city. The authorities seized $1.3 million in U.S. currency along with computers and telecommunications equipment.
London
House of Commons says cheers to 24-hour pubs
Hoping to curtail the funneling of drunks from pubs to the streets -- and in London to the subway -- the House of Commons voted Monday to allow the nonstop serving of alcohol. If approved by the House of Lords, 24-hour pubs could become reality next month.
Opponents of the legislation, proposed by Prime Minister Tony Blair's government, say it could sharply reduce the number of traditional English pubs. The measure is a "quality of life" issue, its backers insist, designed to reduce binge drinking.
"This is not to encourage more drinking but to encourage smarter drinking," said Gail Robinson, a spokeswoman for the Ministry of Culture, Media and Sports
Copyright 2018 The Lawrence Journal-World. All rights reserved. This material may not be published, broadcast, rewritten or redistributed. We strive to uphold our values for every story published.