If Lawrence isn't the golf capital of Kansas, then my name is Tiger Woodsling. The Kansas Golf Assn. office is located here. So is the Golf Course Superintendents Assn. of America. And, of course, Lawrence boasts four estimable 18-hole courses -- two private and two public -- plus an executive nine-hole course.
OK, Lawrence does not have a Putt-Putt Golf layout, but Golf Digest wasn't counting putting through windmills on outdoor carpeting when it ranked Lawrence No. 40 on a list of the 314 best metro areas for golf in the country.
That ranking in the magazine's November 2002 issue is based on number of courses per capita, average greens fees and average quality-value ratio. Even weather was considered.
As you can imagine, the city's Chamber of Commerce Convention and Visitors Bureau jumped all over that news, wasting no time trumpeting the information where it will do the most good to attract tourists who want more to do here than visit Allen Fieldhouse, the gravesites of James Naismith and Phog Allen, the birthplace of Erin Brockovich and the glowering, mesmerizing John Brown Jayhawk.
No doubt about it, Lawrence is a great place to play golf. Not, however, for everyone who lives here and loves the game.
"We're the 40th-best golf city in the country," one long-time resident golfer told me, "and it's sad city events can't garner more support."
The reference was, in part, to last weekend's Lawrence Amateur Golf Assn. Men's Senior tournament which lured only about two dozen contestants, virtually all of them golfers who play solely on the city's two public courses -- Eagle Bend and Alvamar -- because they can't afford to belong to country clubs.
"There are a lot more than 24 senior players in Lawrence," said Jim Hill, a two-time LAGA Men's Senior champion. "It's too bad they won't come out and support this tournament."
Hill says he understands that seniors who belong to country clubs don't necessarily want to have to play on Eagle Bend or Alvamar's public side, but another aspect he does not understand.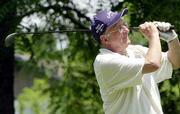 "Why don't they do it for the competition?" he wondered.
While the LAGA tournaments -- including its city championship July 19-20 -- consist of 36 holes, 18 at Eagle Bend and 18 at Alvamar, a true city champion would be determined by playing 72 holes, 18 on each of the city courses. Then again four rounds of golf can be awfully expensive.
In Topeka, a customary format is to play the first 36 holes one weekend on public courses, then cut the field and play the final 18 holes on a country club course the following Saturday or Sunday. Still, it is becoming harder and harder to find country clubs willing to surrender their precious weekend tee times and why should they? Members have a right to be able to play when they want to play, and the majority play on weekends.
If a golfer enters a city tournament because he wants to earn the right to play on a country club course, then he ought to be willing to take a day of vacation or at least jigger his days off in order to play on a Monday when all courses have much less traffic. That includes the municipal golfer, or the Lawrence Country Club member who wants to play at Alvamar CC or vice versa.
I'll bet more than two dozen players would have signed up for the LAGA Men's Senior if they had played qualifying rounds on Saturday at Eagle Bend and Sunday at Alvamar, then had the championship flight tee off Monday at Lawrence CC or Alvamar CC to determine the winner.
Ron Shaver, the man who organized LAGA three years ago, would love it if more country club members joined his organization, and he hopes the 69 shot by Mike DuPree in Saturday's first round at Eagle Bend is more than just a baby step in his march to attain credibility.
"We think its a positive step," Shaver said of DuPree's 69. "It signals we have a high quality of play. We're excited he came out and shot that score."
Maybe Lawrence isn't any different than the 313 other cities listed in the Golf Digest rankings. Perhaps Lawrence isn't the only city with a wide gulf between the public and private golf sector. If so, it's a shame because it shouldn't have to be that way.
Copyright 2018 The Lawrence Journal-World. All rights reserved. This material may not be published, broadcast, rewritten or redistributed. We strive to uphold our values for every story published.