SPRINGFIELD, MO. — For the longest time, glass artist Drew Fritts says as he settles onto a padded stool in front of his custom workbench, he couldn't figure out why the knees of his jeans kept wearing away.
On his right, a tall side table holds a rainbow of thin glass rods that spill color like fragile pickup sticks from tiny cubbies. On the bench in front of him, thicker canes of glass stand tall in a sort of free-form sculpture.
Here, in his small, private Springfield studio, is where Fritts spends his workdays, designing and custom-creating contemporary marbles. In just a few years, he's built a business around the art of oversize orbs, an exploding trend among glass artists that feeds the parallel demand among collectors.
Propping his feet on a footrest attached to the base of the bench, he pushes a pair of goggles onto his nose and lights a stationary torch. Holding a punty -- or metal rod -- in one hand, he draws out a length of black glass with the other.
Planting his elbows firmly on his knees, which steadies his hands and erodes the fabric of his jeans, he begins to work his marble magic.
Decorative spheres
A self-taught craftsman, Fritts signs, dates and numbers his original works, which appear in private collections and galleries around the world, including the Marble Collectors Society of America's permanent collection and the Smithsonian Institution in Washington, D.C. He was also profiled among 100-plus premier marble artists in Mark P. Block's book "Contemporary Marbles and Related Art Glass."
"They're really referred to as spheres," says Block, an art glass expert from Connecticut.
"Marbles by definition are child's play. These are strictly for decoration and ornamental purposes. And there's a real distinction between the high-end collector and the general marble collector."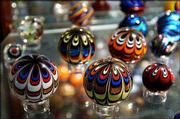 Block estimates at least 300 professional glass artists are creating the spheres nationwide, but only a handful make them exclusively.
"Drew is one of those," Block says. "I have the highest regard for Drew and his work. He really is in the top 10 for quality."
Which is rather amazing, Block says, considering Fritts is relatively new to the art form.
"Most (artists) take a long time to move up in technique and ability. He has that rare natural talent in technique that doesn't come along very often."
Fritts steadies the black rod under the flame of his torch to sever a small chunk. A mirror on the wall across from him allows the artist to see all sides of his work.
He attaches the soft black glob to the punty, which allows him to safely hold the hot glass under flame. Fritts quickly works the glass into a football shape. When molten, the temperature of glass is between 1,800 and 2,200 degrees, he explains as he reaches for the first color he'll use.
Holding the plug steady -- Fritts won't call it a marble until it's actually round -- he begins the process that this time will result in a marble design he calls "Rainbow Back-Twist."
After heating a stick of red until the end is soft, he runs a straight line along the length of black with precision. After repeating the process with five more colors, he paints a stripe of white between each, then layers the whole thing with clear glass.
Before he begins the next step -- twisting the strips into swirls -- Fritts examines the plug that at present resembles a piece of hard candy and nothing like a finished marble of the same design nestled in a nearby box and ready to ship.
Young hobby
Contemporary marbles range widely in price, depending on method, technique and artist. Some go for thousands. Others, in the hundreds. Fritts' orbs generally range from $85 to $150.
That's probably because he's fairly new on the scene, Block says.
Collecting marbles of any kind is a fairly young hobby, he adds, dating back less than 30 years. In fact, Block's father, a marble-collecting pioneer, founded the nationally recognized MCSA in 1975. Back then, the only information on marble collecting was crammed onto a few flimsy brochures, and marbles could be had for mere dollars. Today, the value of some marbles roll into the thousands. Marble clubs are springing up all over the country, and numerous books have been written on the subject.
The pioneers of the contemporary marble movement were artists Richard Marquis and Ro Purser, says Block, who introduced new marble art at a California festival in the mid '80s. The demand for contemporary marbles is less than five years old, he adds. But it's growing.
A few contemporary marbles have doubled in value, depending on the artist, but most people buy them for their beauty, Block says.
Some say the skyrocketing market for traditional marbles may have launched the contemporary-marble trend, but Block contends it's driven by the art glass market on the whole.
"There's a dramatic awareness of contemporary glass, and as part of that, contemporary marbles have been dragged along with it," he says.
Booming business
Until just a few years ago, Fritts didn't know that people collected marbles of any kind. And he never predicted he would eventually develop a full-time business around the art form he began as a hobby.
When he started, the one-time woodworker and self-proclaimed instant-gratification junkie knew only that he wanted to find a creative outlet with more immediate rewards than wood.
First he turned to stained glass. Then he tried glass beads. Finally, he discovered marbles.
Then in 1998, a marble show came to Springfield. Fritts took his kids and gave each a bag of marbles he'd made. "And they were selling and trading my marbles all around the show," he says.
There was a market for marbles, he discovered that day. So he put up a Web site, and in two days sold all he had.
Learning to make marbles has been a trial-and-error process, Fritts says. But he knows his marbles are measurably spherical, and his objective is to achieve perfection.
"That's my perfectionist bucket right there," he says with a smile, pointing to a container full of "trash" marbles.
"I won't sell anything with flaws in it."
Copyright 2018 The Lawrence Journal-World. All rights reserved. This material may not be published, broadcast, rewritten or redistributed. We strive to uphold our values for every story published.