London — Andy Roddick equaled the world record with a 149 mph serve and beat Andre Agassi for the first time, winning 6-1, 6-7 (5), 7-6 (6) Saturday to reach the Queen's Club final.
His victory came a day after the second-seeded Agassi took over the No. 1 ranking on the ATP Tour.
Roddick, seeded third, faces Sebastien Grosjean in today's final of this Wimbledon tuneup. The sixth-seeded Frenchman defeated Tim Henman of England, 6-3, 6-4, in the other semifinal.
Roddick's record serve came early in the second set, matching Greg Rusedski's mark of five years ago. Earlier in the tournament, Roddick cranked one serve of 147 mph.
"I guess Greg has some company now," he said. "It would have been nice to get that 1 more mile an hour, but I didn't even notice it so it's a pleasant surprise."
Roddick had 27 aces against Agassi, who beat him the previous four times they played.
The victory established Roddick as a threat for Wimbledon, which begins June 23. Seedings will be announced Monday, and Agassi or Lleyton Hewitt is expected to be seeded first.
"He's (Agassi) my hero growing up and he's kicked my butt more than a couple times," Roddick said. "I was looking to get a win out here today, and I got a little lucky out there in the end."
Roddick made about 75 percent of his first serves and seemed more focused under new coach Brad Gilbert.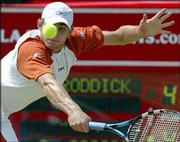 "I tried not to let Andre dictate the play," Roddick said. "If you get in a rally with him, he's going to school you."
Agassi said he deserved to lose, although he thought this was good preparation for Wimbledon.
"Between the way he was serving and playing and the way I was striking the ball, I wasn't very convincing at all," Agassi said.
Agassi is the best returner in tennis, but he was powerless at times against Roddick.
"When you hit the spot with that sort of pace, really, there's not much you can do about it. You just have to hope that someone doesn't hit 140 and also hit the corner on the big point."
Agassi appeared headed for victory when he broke Roddick for the first time to lead 3-2. Roddick was angered by a call that put Agassi ahead 30-15. Roddick knocked the lid off an ice chest with his arm as he walked to the chair for the changeover.
Copyright 2018 The Associated Press. All rights reserved. This material may not be published, broadcast, rewritten or redistributed. We strive to uphold our values for every story published.