The war in Iraq is over for Marine Sgt. Robert Kelm, and Saturday night was his turn to relax and celebrate.
The 1999 Free State High School graduate got plenty of help with that celebration when dozens of friends and family members turned out for an old-fashioned barbecue at the west Lawrence home of his sister, Ann Barone.
"I'm really excited," Kelm said as he sat in a chair in the back yard. "It feels really good. It's a surprise, but I don't put it past my family to have something like this."
His mother, Karen Kelm, also was excited.
"It's just wonderful to have him back -- you can't express it in words," she said.
Robert Kelm, a member of a crash-and-rescue firefighting unit, was stationed from early February through late May at an air base in Kuwait. Although no serious incidents occurred there, Kelm admitted there were times when he was nervous about the possibility of an Iraqi missile loaded with chemicals striking the base.
"You knew the threat was always there," he said.
On May 27, Robert Kelm and his unit returned to their home base in Jacksonville, N.C. He returned to Lawrence the next day.
John Kelm, Robert's older brother, was preparing food for the barbecue, which included hamburgers, hot dogs, corn on the cob and pasta.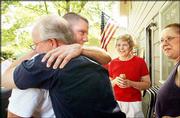 "He makes me proud," John Kelm said of his brother. "Proud of what those guys are doing over there."
Joining in the celebration were some of Karen Kelm's friends from a local support group that was formed earlier this year by relatives of military personnel serving in the Persian Gulf. Among them was Lovetta Cross -- who had two Marine sons, Paul and Peter -- in Iraq. Although Paul has returned to the United States, Peter is still in Iraq, she said.
"I would write to them and tell them there was going to be a hell of a party when they got back," Cross said. "This was our way of getting through the war."
Robert Kelm, who is single, has been a Marine for three years. He returns Tuesday to North Carolina. Kelm recently re-enlisted for four more years and has requested a transfer to a Marine chemical-and-biological response team.
"This is what I like to do," he said.
Copyright 2018 The Lawrence Journal-World. All rights reserved. This material may not be published, broadcast, rewritten or redistributed. We strive to uphold our values for every story published.