Seattle — Mike Hampton stepped into a big setting, shrugged off his recent layoff and came out looking fabulous.
Slowed by a sore groin that kept him from making his last scheduled start, Hampton pitched two-hit ball into the eighth inning for his first victory in more than a month, and the Atlanta Braves beat the Seattle Mariners, 3-1, Saturday.
"He pitched really good," Atlanta manager Bobby Cox said. "He threw a lot of strikes and groundballs, and he had a lot of sinking action on the ball. He had a long layoff with those leg problems, but he threw strikes."
The Braves snapped a seven-game winning streak by Seattle starter Jamie Moyer, who left with one out in the eighth after allowing an RBI double by Andruw Jones that made it 3-0. Gary Sheffield, who hit a one-out double, scored on the play.
Atlanta evened the series between the top teams in the majors at a game apiece. Greg Maddux pitches for the Braves (45-21) today, while Gil Meche goes for the Mariners (44-22).
It's been a fun series for the fans -- and the players.
"They've got a great crowd, incredible fans who have duplicated a World Series or playoff atmosphere," said John Smoltz, who got his major league-leading 26th save in 27 opportunities.
"It's nice to play in June to a sold-out stadium in a big atmosphere with two teams that have the best records."
Hampton (3-3) hadn't won since May 11, beating San Francisco 7-3. After that, he spiraled into a five-game stretch during which he went 0-2 with a 5.79 ERA over 231/3 innings.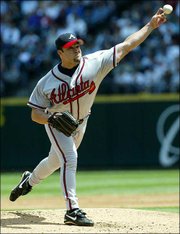 He left his last start June 5 against the Texas Rangers without a decision and missed his next one because of the groin problem. But Hampton was surprised to find the injury helped his mechanics.
"It might have been a blessing in that I was able to slow down a little bit, not rush too much," he said. "Sometimes, I get into a bad habit of rushing, but today I was able to stay in a pretty good rhythm."
Smoltz took over with no outs and the bases loaded in the eighth, only the second time this season he pitched two innings
"It was set up for other guys to get a couple of outs and then for me to come in, but it just didn't work out," Smoltz said.
Hampton was finished after walking Dan Wilson leading off the eighth, the third free pass issued by the left-hander.
White Sox 6, Padres 5
Chicago -- Frank Thomas hit a two-run homer in the eighth inning, rallying Chicago past San Diego. Carlos Lee hit a three-run shot, and Magglio Ordonez also homered for Chicago. Billy Koch retired Ryan Klesko on a flyball with the bases loaded to end it. The Padres, who are 8-25 on the road, have lost 23 of 30 overall.
With the White Sox trailing 5-4 in the eighth, Padres reliever Jay Witasick (0-1) yielded a single to Tony Graffanino. Thomas followed by hitting 1-1 pitch into the left-field bullpen for a 6-5 lead.
Yankees 13, Cardinals 4
New York -- Jason Giambi hit a pair of two-run homers, and Ruben Sierra and Raul Mondesi also connected as New York roughed up St. Louis. Hideki Matsui drove in four runs, three on a first-inning double that got the rout started.
A day after Roger Clemens earned his 300th career victory and got his 4,000th strikeout, the Yankees won with hitting. New York built an 11-2 lead after four innings, and that let Andy Pettitte (6-6) coast.
Former Yankee Tino Martinez did the only damage for the Cardinals, twice hitting two-run homers and drawing a big cheer from the crowd of 55,174 each time.
Rangers 13, Marlins 2
Arlington, Texas -- Kevin Mench hit a three-run homer and Mark Teixeira added a two-run shot as Texas snapped a three-game losing streak. Juan Gonzalez went 4-for-4 and scored four runs for the Rangers. Gonzalez also drove in two runs, giving him 1,366 career RBIs, the most for a player born in Puerto Rico. He moved past Orlando Cepeda for 57th place on the career list.
Ismael Valdes (6-2) allowed two runs and six hits over six innings to provide a lift to a rotation that had a 6.98 ERA in its last 16 starts.
D'backs 9, Twins 2
Minneapolis -- Luis Gonzalez went 3-for-5 with four RBIs for Arizona in support of Miguel Batista as the Diamondbacks beat Minnesota. Alex Cintron went 3-for-4 with three runs scored, Rod Barajas had two hits and three RBIs and Carlos Baerga added two hits and drove in two runs for Arizona, which tied a season high with seven doubles.
Batista (4-3) allowed four hits, three walks and an unearned run in six innings while striking out seven.
Brewers 8, Orioles 3
Baltimore -- Richie Sexson hit his 21st homer and nearly started a brawl after being hit by a pitch in Milwaukee's victory over Baltimore. After connecting off Jason Johnson in the first inning, Sexson was struck by the first pitch from the right-hander in the third. The slugger took a few steps toward the mound and yelled at Johnson while being restrained by Orioles catcher Brook Fordyce.
Both benches and bullpens promptly emptied. Although dozens of players congregated near the mound, no punches were thrown. Both teams were warned, and there was no more trouble.
Tigers 9, Rockies 7
Detroit -- Eric Munson hit a go-ahead three-run homer in the sixth inning, helping Detroit snap an eight-game losing streak. Warren Morris went 4-for-5 for the Tigers, who tied season highs for runs and hits (15). The teams have split the first two games of the series. The Rockies have not won a road series this year, while the Tigers have not won one at home.
Red Sox 8, Astros 4
Boston -- Derek Lowe pitched into the eighth inning, and David Ortiz hit a three-run double as Boston beat former manager Jimy Williams and Houston for the second straight night. Johnny Damon had three hits one day after his tiebreaking homer sent the Red Sox to a 4-3 win. Boston has won seven of 11 after a season-high five-game losing streak.
Pirates 12, Devil Rays 9
St. Petersburg, Fla. -- Aramis Ramirez drove in four runs with a three-run double and a homer, and Pittsburgh held on to snap a six-game losing streak. Jack Wilson had four hits -- three doubles -- for Pittsburgh.
Dodgers 5, Indians 2
Cleveland -- Andy Ashby gained his first win this season as Dave Ross homered and drove in three runs, leading Los Angeles to its fifth straight win. The game also featured some heated trash talk between Cleveland's Milton Bradley and Los Angeles' Paul Lo Duca, who were wired with microphones for TV. Ashby (1-4) had dropped his past eight decisions and hadn't won since Aug. 18 last season.
Cubs 4, Blue Jays 2
Toronto -- Moises Alou hit a two-run triple and scored on a throwing error as Mark Prior and Chicago ended Toronto's five-game winning streak. Sammy Sosa missed his fourth straight game while serving a seven-game suspension for using a corked bat. The Cubs are 2-2 without their cleanup hitter, who did not accompany the team to Toronto. Carlos Delgado hit his major league-leading 22nd homer for the Blue Jays.
Angels 13, Mets 3
Anaheim, Calif. -- Garret Anderson went 4-for-5 with two homers and four RBIs, and Brad Fullmer hit his fifth career grand slam as Anaheim routed New York. The victory was one of the easiest of the season for Ramon Ortiz (7-5). The right-hander won his third straight start, allowing three runs -- one earned -- and five hits over seven innings while walking none and striking out two.
Athletics 5, Expos 4
Oakland, Calif. -- Scott Hatteberg hit a three-run homer in the eighth inning, and Eric Byrnes also homered as Oakland rallied to beat Montreal. Ricardo Rincon (3-3) struck out two in a perfect eighth for the win. Keith Foulke worked the ninth for his 16th save in 19 chances.
Copyright 2018 The Associated Press. All rights reserved. This material may not be published, broadcast, rewritten or redistributed. We strive to uphold our values for every story published.