Katelyn Petry is at home in a dusty baseball dugout.
It's natural for Katelyn since her father, David Petry, is the Lawrence High School baseball coach and helps with youth baseball camps. After a camp session ended a week ago at Free State High School, Katelyn, found discarded sunflower seed shells on the dugout floor and inserted them in her mouth.
"Hey, get those out of there," David instructed her while using one of his fingers to scoop the shells off the 22-month-old's tongue.
That's the life of a coach's daughter and single parent. With assistance from family and friends, David has been raising Katelyn without a mother for 10 months. David's wife and Katelyn's mother, Kelly, died Aug. 17, 2002 -- a day before Katelyn's first birthday -- after a three-year battle with ovarian cancer.
"Kelly (a former cheerleader and cheerleading sponsor) told me to make sure Katelyn was going to do girl things and not be a tomboy," David said. "That's going to be something I'm going to have to fight. She's going to be at the ballpark and around those boys."
Katelyn does more than hang out at ballparks. She enjoys swinging in her back yard, drawing with sidewalk chalk, going to zoos, trips to the pet store and gymnastics.
"She has a lot of energy," said David, 36, a math teacher at Lawrence High, his alma mater. "I want to be able to get out and do things with her. She's at the age where she's a lot of fun to be around; she's changing every day. Her vocabulary is growing every day. You hear people talk about this time in their life, and you don't want to miss out on it. I'm going to try to spend as much time as possible with her this summer."
David has seen Katelyn's personality develop in the past months.
"She's kind of a neat freak," Petry said. "She'll take off her socks and put them inside her shoes. She'll put her shoes on the mat by the front door. If there's a piece of trash, she'll walk over there, say 'trash.' I'll say, 'Can you throw that away for me.' She'll go to the trash can and put it in there. I don't think she got that from me."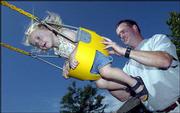 Prepared to be single parent
Unable to have children because of the ovarian cancer that led to her hysterectomy, Kelly was determined to adopt a child. Because of Kelly's condition, David and Kelly were informed David might be raising Katelyn alone.
"Our doctor wanted us to understand that there was always that possibility I could end up a single parent," Petry said. "We both understood that, but it was Kelly who really pursued the adoption. Had Kelly not done it, Katelyn wouldn't be here."
Kelly, a former teacher at Lawrence High School and Free State High School, contacted several adoption agencies in hopes of adopting a child.
"Because of her condition, a lot of agencies turned her away," David said. "Finally we found an agency in Overland Park that was willing to work with us."
In the summer of 2000, David and Kelly came close to bringing home an adopted child.
"Kelly did all the paperwork, and everything was in place for us to adopt that baby," David said. "About three weeks before the due date, the mom disappeared and that fell through. That really upset Kelly a lot."
Through a mutual friend, Kelly and David were connected with a woman who was willing to be a surrogate mother. David is Katelyn's biological father. Katelyn was born Aug. 18, 2001.
With Kelly's condition worsening in the spring of 2002, David began making day-care plans for the upcoming school year.
"My only concern, if something did happen, was what I was going to do with Katelyn when I was going to go back to work," Petry said. "I had a conversation with Kelly's doctor in the spring time when she was in the hospital. Her doctor had told me Kelly had expressed a strong desire to still be here for her first birthday. The doctor, just point-blank told me, she did not think that was going to happen. When she told me that, that's when it really hit me that I needed to figure out what I would do if she wasn't here when school started back up."
'Keep Kelly in her life'
David wants Katelyn to remember Kelly.
"She's constantly saying mama," David said. "She's around day-care kids and, in most cases, they're getting picked up by a mother. I don't know if she gets mama from them. She's done it since she could talk. It doesn't really bother me.
"One thing that's been a big concern of mine is to keep Kelly in her life somehow. We look at a lot of pictures of her, and she knows Kelly is her mom. We try to do that daily. People who are with her throughout the day have pictures of Kelly in the house. We try to make those as visible as possible to her so she doesn't lose that connection."
David has depended on family and friends to help care for his daughter, especially during baseball season in the spring. During the school year, Katelyn spent most days at a day care run by her aunt, Gina Petry. Lois Groh, a retired business teacher; Jo Huntsinger, a Lawrence High School biology teacher; former LHS administrator Mike Browning and his wife, Linda; and Petry's neighbor Jane Rock, a Free State High School teacher, often shared time watching Katelyn during baseball practice in the evening hours.
"There has been an outpouring of people willing to take her and watch her whenever I need it," Petry said. "I've tried to limit it to just a few people so there's not a new face every day coming in, and she gets consistency with the same person watching her in the morning and during the day and evening."
David knows there is a bond between him and his daughter.
"After Kelly died, Katelyn didn't want to be around everybody else and was always kind of hanging on me," David said. "She wraps herself around my leg if I'm standing somewhere and holds on. We want to have as good a relationship as we can as father and daughter. On the other hand, she doesn't have a choice. I'm what she has. We want to make the best of it. She's got a lot of people in her life who are important to her."
Copyright 2018 The Lawrence Journal-World. All rights reserved. This material may not be published, broadcast, rewritten or redistributed. We strive to uphold our values for every story published.