Floyd Landreth's family will gather around him today, help him open Father's Day cards, direct his attention to the balloon bouquets and stuffed animals they picked out especially for him.
He'll sense their presence. He may even acknowledge them by opening his eyes and turning up the corners of his mouth in a momentary smile.
But the fact that it's a special day probably will be lost on the 77-year-old Lawrence husband, father and grandpa.
Landreth has Alzheimer's disease.
The once-vital heavy equipment operator and Kansas University bus driver who "never met a stranger" has been restricted to bed for the past five years. He has dropped from 230 pounds to just more than 100. Atrophy has reshaped his body: His knees are permanently pulled toward his chest, and his arm and hand muscles are clinched from lack of use. He can't talk.
His wife, Donna, hasn't slept in the couple's bed since she moved Floyd to the hospital bed in the family room, near a window overlooking the spacious green yard behind the family's home south of Lawrence. She sleeps on a couch about 10 feet from her husband, who demands attention more akin to an infant than a life partner.
The couple will celebrate their 50th wedding anniversary in October, 15 years after doctors diagnosed the memory-snatching disease in Floyd. He wouldn't be alive if it weren't for his wife's insistence on taking care of him at home, his son-in-law, Marc Bouton, insists.
Donna agrees, but scoffs at suggestions she's some kind of hero.
"I'm not doing any more for him than he'd do for me if it was the other way around," she says.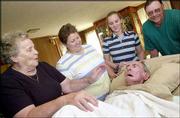 There, but not there
Donna first began to suspect something was wrong in the early '80s, when Floyd would come home from his job with the KU Police and say, "Well, they had me on foot patrol today. I don't know why they didn't want me driving a car."
Another warning signal came on the way home from one of the couple's routine Saturday trips to Lawrence to buy groceries and eat dinner. Floyd asked if there was any place else Donna would like to stop.
"I said, 'No.' Maybe 10 seconds later, he'd ask me the same question. I said, 'Honey, the answer is the same as when you asked me the other times,'" Donna says. "And he looked at me just like I'd slapped him, so I knew then he wasn't remembering."
Looking back, the family can pinpoint other signs.
Floyd was driving a van on the interstate during a family road trip when he looked over at his son-in-law and said, "I don't know what to do." Marc helped him steer to the shoulder and then traded places with him.
Floyd finally agreed to go to the doctor. It was the day of his 62nd birthday in 1987. The physician ran a series of tests and then, in January, said she had eliminated everything but Alzheimer's.
"That's the word I didn't want to hear," Donna recalls. "In the back of my mind, I knew that's what it was."
A second opinion from Menninger's confirmed the diagnosis, and everything changed.
"It has been very hard to see him slip and know that there's nothing that we can do to stop it," says Donita Bouton, Floyd's daughter. "Of course, my mom has gotten as many medications as they can give him that are current to help, but it's really hard. It's a mind game, a really cruel mind game because you can see he still responds and he still kind of recognizes, but he's not there."
Precious memories
The family hangs on to memories of the father and husband they remember before he was devastated by Alzheimer's.
Floyd served in the Army during World War II, working as a clerical worker in Germany.
By the time Donna and her family moved to Lawrence in 1948, Floyd was driving heavy equipment for the city. He caught her eye, and she decided to invite him to an office picnic.
"But I was too chicken to go ask him, so I had my sister go ask him," she recalls, chuckling. "We started dating, and that was it."
The couple married in October 1953.
Donita is their only daughter. They also have two granddaughters, Heather, 21, and Haven, 16. Heather can't recollect much about her grandpa from before his diagnosis. She remembers that he used to talk like Donald Duck when he was around children and that he liked to flex his biceps really fast to make people laugh.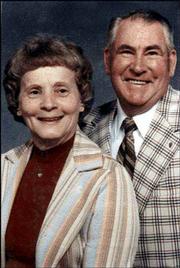 He was the kind of good ol' boy that knew at least one person everywhere the family went, and if he didn't, he'd make a new friend by the time he left.
Floyd loved taking care of the family horse and the bevy of cats in a barn near his house.
His family says his love and commitment to them when he was healthy makes it easy to return the favor now.
But that attitude came at the end of a series of emotions for Donna.
"When he first got sick, I was sure the doctor was going to find out what it was, going to cure it. Then, as he had test after test, I thought, 'Surely she's made the wrong diagnosis.' Then I actually got mad at him for getting sick," she says. "Then I went through this 'Poor me. Why did it happen to us?'
"And I got to thinking one day, 'Donna, sit yourself down. I want to talk to you. You can go on and let this get the best of you, and you won't be able to take care of him. Or you can accept it and go on and take care of him. You have to accept what you can't change."
'About like a baby'
Marc and Donita built a house across the street from her parents in 1995 to help take care of Floyd. Donita drops by at 7 a.m. every day to turn her father and change his diaper. Then Donna takes over. She spoon-feeds him pureed food for breakfast, lunch and dinner, turns him about every three hours to avoid bed sores and changes his diaper frequently.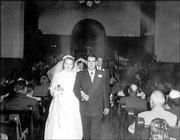 "We use 16 dozen briefs a month," she says. "We change him at least six or seven times a day."
Donna goes to sleep at midnight and gets up at 3 a.m. to repeat the process. During the day, when she's alone with Floyd, she leaves the television on in the background to give them both a little company.
"He sleeps most of the time," Donna says. "Once in a while I'll look over and he'll be sitting there with his eyes open. Most of the time he sleeps, though. As soon as he gets through eating, he'll sleep. He's about like a baby."
An aide comes by once a week to give Floyd a bath. Family, visiting nurses and friends stop in periodically to watch Floyd while Donna takes a much-needed break. Floyd's rigorous care schedule isn't easy -- physically or emotionally -- on his 72-year-old wife.
But she's the picture of strength, and she smiles a lot.
"I have a lot of help from up above," she says. "Have you ever read that 'Footprints in the Sand?' I've seen one set of footprints for a long time now."
'A happy time'
It's a recent sunny afternoon. Floyd's breathing varies from steady to raspy and irregular. He makes occasional grunting sounds, as if startled. A handwritten list of emergency numbers, a 'Do not resuscitate' notice and a living will are taped to the foot of his bed. Stuffed animals from past holidays sit on a nearby table.
When Heather touches his cheek and says 'Hi, Grandpa' in a high-pitched voice, a smile flashes across his face. It quickly fades.
She and the rest of the family will convene at Floyd's bedside again today.
They're not sure how many more holidays he'll be around.
"They told us when he first got this ... (that he had) anywhere from three to 20 years," Donna says. "It's been 15 years now."
Donita tries not to dwell on what doctors tell her is a 50/50 chance she'll develop the same disease that has sapped the spirit out of her father.
Douglas County Senior Services offers a Caregiver's Support Group that welcomes families dealing with Alzheimer's disease. It meets from 2:15 p.m. to 3:45 p.m. the first and third Monday of the month at the Senior Center, 745 Vt. For more information about the group, call 842-0543.
"It doesn't do me much good," she says. "I just trust -- I think there will be a breakthrough soon."
Until then, the family focuses on the positive.
"It's a happy time," Donita says of Father's Day. "I just wish he could be more with us, but it's still a happy time."
¢ Alzheimer's disease is a fatal, progressive, degenerative disease that attacks the brain and results in impaired memory, thinking and behavior. It is the most common form of dementia.¢ Four million Americans have Alzheimer's disease, and 19 million Americans have a family member with the disease.¢ Symptoms of Alzheimer's can include gradual memory loss, decline in the ability to perform routine tasks, disorientation, difficulty learning, loss of language skills, impairment of judgment and personality changes.¢ The time from the onset of symptoms until death ranges from three to 20 years; the average is eight years. Eventually, people with Alzheimer's become completely incapable of caring for themselves.¢ No cure for Alzheimer's is available, though planning can ease burdens on patients and families.¢ More than seven of 10 people with the disease live at home. Almost 75 percent of home care is provided by family and friends.Source: Alzheimer's Assn.
Copyright 2018 The Lawrence Journal-World. All rights reserved. This material may not be published, broadcast, rewritten or redistributed. We strive to uphold our values for every story published.