Ever since a trip through fertile Iowa cornfields in the 1950s, Paul Heitzman has been hooked.
"I was struck by the beautiful cornfields. You'd see rows (of corn) from the car to the horizon," Heitzman said, stretching his arm out in front of him. "I saw that and it impressed me."
Heitzman's love of corn came naturally.
"My dad was raised on a farm," he said. "My dad loved to shuck corn. He was never as happy as when he would shuck corn." Heitzman's father taught him about check-row corn planting. "I heard my dad talk about it," he said. "But I'd never seen it."
Check-row corn is a technique in which the corn is planted in hills that are evenly spaced along the horizontal, vertical and diagonal rows. No matter the angle from which it is viewed, each stalk of corn is equidistant from neighboring stalks in straight rows in all directions. Of course, the best time to appreciate the view is when the corn is young. Once it gets knee high, it can grow at a rate of three inches a night under warm, humid conditions. Soon afterward, the plants become too big and blur the precision of the rows.
Heitzman, whose farm is a half mile north of Kansas Highway 10, between the Evening Star Road and Edgerton Road exits, said farmers used the technique in the 1920s.
"Farmers took tremendous pride in how their fields look," he said.
Check-row corn planting also helps control weeds. Back then, the rows were planted 40 inches apart. The exactness of the rows accommodated the horse and plow that were used for cultivating the fields, he explained. However, once herbicides arrived on the scene, weed control was accomplished chemically and the check-row corn technique went out of style.
In 1964, Heitzman and his dad bought the farm he now lives on. Heitzman farmed for about six years before he gave it up to become a teacher and a part-time sportscaster. "I didn't have time to farm," he said of those years.
Yet, he never forgot the Iowa cornfields. Heitzman knew he wanted to plant a field of check-row corn.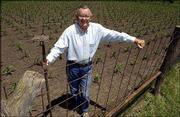 "I turned 72 last year and you think more of what you want to do," he noted. "I wanted to raise corn just once.
"I know it's a crazy idea. I have no need for it."
Nonetheless, he pursued the idea with his friend and mentor, George Abel, who encouraged Heitzman to follow his dream and even supplied the corn seed.
Heitzman plowed up a third of an acre of sod that eventually became his cornfield. "I had forgotten how hard it was to plow up sod," he said. Once the field was ready, he began the precision planting of check-row corn.
"I made all the vertical rows by hand," he said, explaining that he measured the first three rows and marked them with string. As the planting spots were marked in each row, he moved the strings one at a time until he reached the end of the field. Using a Warren hoe, he painstakingly planted the two kernels in each hill in a check-row pattern. "It took me all day," he said. "I thought I was wasting my time."
Lack of rainfall prolonged the germination time. Finally, after 20 days the crop began to emerge.
"I couldn't believe how good a stand I got," he commented. "About 95 percent."
And, true to the image he had in his head, the corn came up in a near-perfect check-row appearance.
"I've never done anything that has been more satisfying than this," he said.
Because check-row corn planting makes cultivation easier, no herbicides have been used to control weeds in his field, although Heitzman has spread tons of manure on the crop. To record the progress, Heitzman has taken pictures of his cornfield every Thursday.
Heitzman said onlookers were welcome to view his check-row cornfield. You will know when you come to it. Look for the sign on the fence that reads "Paul's Field of Dreams."
Copyright 2018 The Lawrence Journal-World. All rights reserved. This material may not be published, broadcast, rewritten or redistributed. We strive to uphold our values for every story published.