Overland Park — It may end up being the classic fish story: The big one that got away.
Overland Park-based CyDex Inc. certainly seems about to become a big fish.
In the first five months of this year, the pharmaceutical company that got its start in Lawrence has signed three deals with major drug companies from around the world.
In late May it hired a new president and CEO who has a track record of turning small pharmaceutical companies into big ones.
And inside the Johnson County offices of CyDex, the talk isn't about if the privately-owned company will list itself on one of the country's major stock exchanges, but when.
CyDex could have landed in Lawrence's boat. The company, which makes a product other companies use to make their drugs more easily accepted by the human body, was hatched at Kansas University. Researchers at KU's Higuchi Biosciences Center on West Campus developed much of the technology behind CyDex's flagship product, Captisol.
In 1993, Peter Higuchi, a son of the researcher after whom the KU center was named, decided to create a business venture out of the drug development research his father had started.
And thus CyDex was born.
Life sciences boost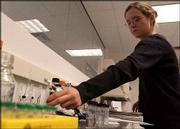 But it was born in Overland Park, not Lawrence. As with most fish stories, it was a little thing that made the difference.
Attempts to reach Higuchi were unsuccessful, but Howard Mossberg, KU's vice chancellor emeritus of pharmacology and toxicology, was involved in the beginnings of the company. He said Lawrence lost the company simply because Higuchi wanted to be closer to home.
At the time, Higuchi was working for Marion Laboratories Inc. in Kansas City and living in Overland Park.
"It was just a matter of convenience," Mossberg said. "Lawrence didn't do anything wrong."
But if a CyDex sign were mounted on some Lawrence office building, the company would provide quite a boost to the city's efforts to attract new life sciences firms and researchers to the area. And industry officials say being able to point to a home-grown success is an important step in trying to build a life sciences industry.
Area technology leaders, though, said they haven't spent much time thinking about why CyDex got away.
"It would have been delightful if they would have stayed here, but you can't be critical about their reasons for leaving," said Don Johnston, chairman of the Lawrence Regional Technology Center. "You know, the other fish analogy is that you never worry about the one that got away. You just keep your lines in the water to catch the next one."
Lawrence boost
Besides, Lawrence officials said they still think CyDex could help boost efforts to build a life sciences economy in the city. That's because many are betting the company is poised to make a splash in the pharmaceutical industry, an event that would draw attention to the research done at KU.
Name: CyDex Inc.Location: Overland ParkFounded: In 1993 by Peter Higuchi, son of the late Kansas University researcher Takeru Higuchi.Employees: 30Business: CyDex's primary product is Captisol, a product used by other pharmaceutical companies to improve solubility of their drugs. The primary purpose of Captisol is to help make drug products more easily absorbed by the body.
In late May, the company hired new CEO John Siebert, who took over from Higuchi. The company said Higuchi left the company he founded to pursue other business interests.
Mossberg, who is on CyDex's board of directors, said Higuchi and the company realized it was time for a different type of leader to take the company to the next stage of its development.
"There is a time for one type of leadership and there is a time for a different type of leadership," Mossberg said. "That happens with companies all the time. Peter did a wonderful job for the company. My guess is the new CEO has the track record and the experience to take the company to a new level."
Siebert came to CyDex after an eight-year stint as president and CEO of Minnesota-based CIMA Labs. Under his leadership, the small, relatively obscure pharmaceutical company blossomed into one now listed on the Nasdaq. The company's value also grew -- from about $20 million to more than $400 million during Siebert's tenure.
Revenue goals
"When I went to CIMA it was very much in the same stage of life as CyDex is now," Siebert said. "We were just getting products into the markets with our partners and we didn't have much money.
"I think that is what I bring to the table. That knowledge and ability to take a company from that development stage to a commercial stage."
Siebert said the company had set a goal of doubling its revenues in the next three to five years. The company doesn't release sales totals but it has not yet turned a profit in its 10-year history. It declined to release a projection for when it is expected to turn a profit.
And CyDex, which has 30 employees, is expecting to expand its work force. Siebert, though, said the firm probably would have fewer than 100 employees for the foreseeable future.
Taking the company's ownership public by listing it on a major stock exchange is definitely on his agenda.
"We have our own internal estimates for doing that, but we're not releasing those yet," Siebert said.
Two drugs now on the market use CyDex's Captisol formula to make them more easily absorbed by the body. Both are manufactured by pharmaceutical giant Pfizer. CyDex also has partnership agreements with eight other major pharmaceutical firms, including recent agreements with Japanese-based Taisho Pharmaceutical Co., Israeli-based Teva Pharmaceutical Industries and Merck & Co.
The first Captisol-enabled product hit the market in June 2002, and Siebert said it had created increasing interest in CyDex because getting a product through the Food and Drug Administration's approval process can be difficult.
"Getting through the FDA approval process with anything is a very important step," he said. "I think it has made people say 'Wow, this company really is going to succeed.'"
And regardless where the company is located, that success means real dollars to KU. The university receives a royalty payment because Captisol grew out of KU research. The deal is structured through an offshoot of the university, KU's Center for Research Inc.
Details of the arrangement aren't public. But Siebert said the payments already have begun and were expected to be significant in the future.
A better position
"The ultimate revenue generation will certainly be in the millions of dollars for KU," Siebert said. "The only question will be how many products end up in the market and how big do those products become."
The university uses the money to fund more research projects, a fact that has some area leaders optimistic researchers will make another discovery that will spawn another company similar to CyDex.
"We had companies like CyDex begin 10 years ago and they (KU) weren't doing as much research as they do now," said Lynn Parman, vice president of economic development for the Lawrence Chamber of Commerce. "So just think of the future. I'm really excited to see what Lawrence will look like 10 years from now."
Johnston also said he thought Lawrence was in a better position to hang on to emerging life sciences companies than it was 10 years ago. There's a greater recognition among area economic leaders that small companies, like the two-person firm CyDex once was, could turn into something much bigger.
"I think the attitude and awareness about these type of companies in Lawrence is better than it has ever been," Johnston said.
Copyright 2018 The Lawrence Journal-World. All rights reserved. This material may not be published, broadcast, rewritten or redistributed. We strive to uphold our values for every story published.