Until a few months ago, Gary Jones had little use for Father's Day.
"It was like I was getting credit for something I didn't deserve," he said. "I didn't feel good about it."
Jones, 40, was bitter because an ex-girlfriend had taken him to court, claiming Jones was the father of her son, then 15, and that Jones hadn't been paying child support.
"They said I owed about $16,000," he said. "I don't deny that he's my son -- I'd had a sexual relationship with her, but I never knew she was pregnant. I was in the military, I'd left for Alaska. She never told me. The first I knew of it was 15 years later."
Eventually, Jones found himself in Douglas County District Court, where he was given a choice: Start paying, go to jail or get help.
With a chip on his shoulder, he turned to Heartland Works, a Lawrence program that helps low-income workers find and keep jobs.
At first, Jones didn't do well. His anger, he said, kept him from listening.
"But after a while," he said, "this lady who works there was talking to me about sports because she knew I liked sports, and then all of sudden she said, 'I know you're not a bad person. That's not why you're here, I know that. And if you'll let us help you, we will.'
"I don't know why, but after that I started to listen," Jones said. "I started doing what they asked me to do."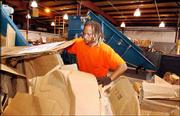 Eventually, Heartland Works helped Jones land a job on a city of Lawrence trash truck.
"That may sound crazy to you, but it's a job I've wanted ever since I was a kid," Jones said. "It's physical. I like that. You're part of a team. I need them and they need me, so we respect each other. There's no politics. You do your job and that's it."
Today, Jones is slowly paying off his child-support debt even though he has no contact with his son.
"I have no idea where he is," Jones said.
His payments -- $89 a month -- have given him a new perspective on fatherhood and Father's Day.
"I feel like I'm doing what I should be doing," he said. "I feel right about myself."
Jones, too, is a single parent, rearing his son, Bijai, 19, from an earlier marriage. His daughter, Bria, 11, lives with her mother in Houston.
Bijai Jones graduated from Free State High School this year. He's expected to enroll this fall at Garden City Community College to play basketball.
More like him
Kansas could use a lot more fathers like Gary Jones.
Every year, thousands of men dodge or fall behind on their child support, causing thousands of single mothers to turn to the state Department of Social and Rehabilitation Services for help because they can't pay their bills.
And every year, a small army of SRS workers, armed with tougher laws and an ever-expanding collection of databases, gives chase.
It's a chase that costs taxpayers about $26 million a year as the agency establishes paternity, pursues court orders and ultimately collects what it can of owed child support.
"We do a lot to hammer these guys," said Jim Robertson, director of child-support enforcement at SRS.
Nowadays, Robertson said, SRS is considering a different approach.
"We're trying to be less draconian in our remedies," he said. "Instead of being seen as always trying to squeeze money out of these guys, we think it makes sense to help them understand their kids have needs that aren't being met and that we've got people who'll help them get jobs so they can start paying.
"We still expect them to pay, but we also want them to be fathers," Robertson said. "There are all kinds of studies and statistics that show kids do better -- less drug use, less pregnancy, less suicide, higher (high school) graduation rates -- when their lives involve two parents instead of one."
Heartland Works, 2540 Iowa, is part of the new approach.
"There's a lot of animosity for these guys to overcome," said Dave Brennan, director of operations at Heartland Works' central office in Topeka. "They care about their kids, but they're angry. They don't like what the ex does with the money. They think they owe too much. They're so far in arrears they don't see any way out. There's a lot of stuff to deal with."
Through a $350,000 pilot-project grant, SRS pays Heartland Works to break down these barriers in 17 counties in northeast Kansas.
Heartland Works has offices in Lawrence, Ottawa, Topeka, Atchison, Junction City and Manhattan.
Since January 2002, 83 noncustodial parents have been referred to the Lawrence program. Of these, 73 followed through on their appointments; 49 are now paying child support.
By May 2003, the program had generated about $62,000 in child-support payments, said Carla Nakata, chief of child-support enforcement at SRS Area Office in Lawrence.
"That's pretty good when you consider that it's money that wasn't coming in before and that some of the 49 haven't been paying in for very long," Nakata said. "The pot's only going to get bigger."
Statewide
Robertson said SRS hoped to have Heartland Works-type services available across the state.
Not anytime soon, however.
Recent budget cuts and a sluggish economy have stalled the state's collection efforts.
"Overall, collections are anywhere from flat to being up 2 or 3 percent," Robertson said. Historically, child-support collections have increased between 5 and 10 percent a year.
In the seven counties assigned to the SRS Lawrence area office -- Douglas, Franklin, Jefferson, Jackson, Brown, Doniphan and Atchison -- 2003 collections were 2.4 percent ahead of last year's, Nakata said.
"Again, I think that's pretty good in light of the economy and the reduction in staffing," Nakata said.
Earlier this year, SRS laid off 140 workers, including 18 in child-support enforcement. Four of the 18 positions were in the Lawrence office; they included an attorney, a program support worker, and two administrative assistants.
Nakata's boss, Arthurine Criswell, said she would fight to get at least two of those positions filled this summer.
"The way I look at this -- this isn't about money or going after somebody. It's about meeting kids' needs," Criswell, director at the Lawrence area office, said. "And all of us, I think, are looking for ways to help these noncustodial parents rather than punishing them all the time. That's a change in mindset.
"If they're in jail, they're not paying. Their kids' needs aren't being met. What good does that do?" she asked.
'System was crap'
Lynisha Thomas, 29, spent three years -- 1994 to 1997 -- trying to get her daughter's father to pay child support.
"Back then, the system was crap," she said. "There's no way it should have taken three years."
Now that her ex-boyfriend has a steady job, she gets about $220 a month, steady.
"That's not a lot of money," said Thomas, a prevention specialist at Lawrence/Douglas County Housing Authority Resident Services office. "But it helps make sure everything (utilities) is on. And my daughter, who's 11, is at that stage where she changes clothes and shoe sizes every three months. It goes for that, too.
"It also allows me to put her in programs above and beyond school -- she gets to do a little of that."
At the Housing Authority, Thomas works with dozens of single mothers.
"I can tell the system is working quicker for them than it did for me," she said. "That's a good thing. There are still a lot of moms not getting child support, but its not because of SRS; it's because their exes can't be found or they're getting paid under the table and there's no way to garnishee it."
Disagreeing with Criswell, she said, "Those guys ought to be in jail."
Copyright 2018 The Lawrence Journal-World. All rights reserved. This material may not be published, broadcast, rewritten or redistributed. We strive to uphold our values for every story published.