Olympia Fields, Ill. — The fans at the 18th hole waited for Tom Watson for hours. Even the threat of lightning couldn't make them move.
"After Watson," they told exasperated marshals.
Like an aging rock star on a farewell tour, Watson was applauded, whistled at and genuinely adored wherever he went Friday at the U.S. Open.
Fans greeted one of the game's all-time greats with standing ovations when he walked onto tees, and they whooped and hollered over a routine putt as if it were his famous chip shot at Pebble Beach when he won the U.S. Open in 1982.
He was the best golfer of his day, winner of eight majors. He showed flashes of his former brilliance in the opening round Thursday, grabbing a share of the lead.
But this feel-good story at his 30th U.S. Open has a sad twist. Watson, 53, may be in the twilight of his career, but his caddie, Bruce Edwards, is in the twilight of his life.
Edwards, 48, was diagnosed in January with amyotrophic lateral sclerosis, Lou Gehrig's disease. His speech is already slurred and he doesn't know how much longer he'll be able to do his job, making every round with Watson that much more precious.
"I almost want him to win more than me," Masters champion Mike Weir said. "It's an incredible story."
Watson and Edwards have been a constant for 30 years, remarkable staying power in a business where caddies are cast aside as easily as dinged-up golf balls. They have shared the good and bad of Watson's career: the five British Open titles, as well as the years he struggled to make an easy putt.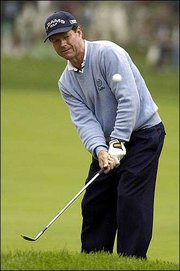 After this much time, they're friends as much as they are employer and employee.
"He's my big brother," Edwards said. "That's all I can say."
Neither was ashamed to say they cried Thursday, when Watson had one of those magical afternoons that create memories for the ages. Twenty years after Watson's last win at a major, he found himself atop the leaderboard at the U.S. Open.
The Champions Tour, for players 50 and over, is more his speed these days, yet the old guy outplayed Tiger Woods and all of the other favorites in the first round.
So as Watson and Edwards walked triumphantly up the 18th fairway in the brilliant glow of the late-afternoon sun Thursday, the tears were flowing freely.
"It evoked memories of the past," Edwards said. "Like I said, you never know when it's going to be the last one."
Few appreciate that better than Edwards and Watson.
Lou Gehrig's disease destroys nerve cells in the spinal cord and brain that control movement, causing a creeping paralysis.
Patients often die within five years of their first symptoms, unable to eat or breathe by the end. There is no cure.
Although the U.S. Golf Association offered Edwards a cart so he wouldn't have to carry a heavy bag the entire Open, Edwards declined.
Watson did what he could to ease his friend's burden. On holes with a long walk to the tee, Watson would grab whatever clubs he needed and send Edwards ahead to the fairway.
Fans did their part, too. Watson was greeted with a thunderous ovation as he moved from the practice green to the first tee Friday, and there was applause for every shot he took.
As he approached the ninth green, someone yelled, "We still love you, Tom!" As Watson smiled and raised his old putter, someone else called out, "We love you, too, Bruce!"
"The galleries were loud and they were genuine," Watson said. "They were pulling for not only me, but also Bruce. There were a lot of comments about Bruce today. 'We're pulling for you. You can beat this, Bruce."'
Watson and Edwards were able to keep their own emotions in check Friday -- largely because Watson didn't have a spectacular round.
He was at 3-under par 137 after two rounds, four strokes behind leaders Jim Furyk and Vijay Singh.
"We're not done," Edwards said. "We've got two days left and I wouldn't count him out."
Watson added: "The next 36 holes, that's what I'd like for my last big run. Then I might just say, 'See you, boys and girls."'
Copyright 2018 The Associated Press. All rights reserved. This material may not be published, broadcast, rewritten or redistributed. We strive to uphold our values for every story published.