Minneapolis — Johan Santana knew that no matter how well he pitched in his latest fill-in start, he still wasn't going to secure a spot in Minnesota's rotation.
Torii Hunter's two-run, tiebreaking single with two outs in the sixth inning gave Santana and the Twins a 3-1 victory over the Arizona Diamondbacks Friday night.
"I just want to win," Santana said, "and that's all."
Minnesota, 7-3 in interleague play, has won three in a row at the Metrodome after five consecutive home losses.
Hunter -- the only right-handed hitter in the Twins' lineup -- ended an impressive duel between two talented young pitchers, Santana and Brandon Webb.
Junior Spivey's sacrifice fly accounted for Arizona's only run off Santana, who gave up two hits and a walk in seven innings.
"He throws well -- his velocity never went down," Diamondbacks left fielder Luis Gonzalez said. "We didn't see a lot of good swings."
Santana struck out seven in the first meeting between these teams and has won each of his three starts this season, yielding only two runs in 18 innings.
"It's tough to send Johan Santana back to the bullpen," manager Ron Gardenhire said, "but we are a better team when we can use him four or five times a week instead of this one time a week when he starts."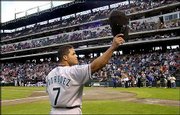 Filling in on the second straight turn for Rick Reed, who has an abdominal strain, Santana (4-1) was as smooth as he's been all year against Arizona's aggressive swingers -- making effective use of his changeup and slider.
"We just didn't make a lot of noise against him," Diamondbacks manager Bob Brenly said. "He was in the strike zone when he wanted to be, and off the plate when he wanted to. We gave him some really easy innings right in the middle, but he pitched well."
Jacque Jones lost Spivey's first-inning soft fly to left in the Teflon-coated ceiling for a single that bounced in front of him. After that, Santana retired 14 straight until he hit Tony Womack on the hand with a pitch in the sixth.
Alex Cintron then singled and Quinton McCracken moved them over with a sacrifice. Spivey put Arizona up 1-0 with a sacrifice fly to left. But the Twins finally solved Webb in the bottom of the inning and took the lead for good.
Athletics 8, Expos 4
Oakland, Calif. -- Ramon Hernandez hit a three-run homer and drove in a career high-tying four runs, and Mark Mulder remained unbeaten at home as Oakland defeated Montreal. Eric Byrnes also homered for the A's, who stopped a two-game skid. Mulder (9-4) snapped his two-game losing streak by improving to 6-0 at home this season. He's 9-0 over his last 13 starts in Oakland dating to July 21.
Marlins 8, Rangers 0
Arlington, Texas -- Ivan Rodriguez had an RBI single and scored twice in his first game as an opposing player at Texas, and caught Florida's third shutout of the season as the Marlins beat the Rangers. Texas was held to five hits and shut out for the second night in a row, and the fourth time this season. The Rangers hadn't gone scoreless in two straight games since September 1992, and had never done that at The Ballpark in Arlington.
Brad Penny (5-4) struck out six and walked four, allowing five hits and throwing 114 pitches in seven innings. Armando Almanza pitched two no-hit innings to complete the shutout.
Rodriguez finished 1-for-4, including the first of three straight RBI singles by Florida in the eighth to extend its lead. Pudge had a leadoff walk in the third and scored to put the Marlins ahead 3-0.
Mets 7, Angels 3
Anaheim, Calif. -- Jeromy Burnitz homered and drove in three runs, and Timo Perez hit his first home run of the season as New York beat Anaheim. Mike Bacsik (1-1) allowed two runs, six hits and no walks in five innings, pitching in place of injured Pedro Astacio. He struck out three in his second start this season. The Mets' third straight victory tied a season high.
Orioles 7, Brewers 2
Baltimore -- Jay Gibbons hit two homers, including his first career grand slam, and Sidney Ponson won his fifth straight start as Baltimore defeated Milwaukee. Gibbons' fifth-inning slam off Jayson Durocher gave the Orioles a 5-0 lead and sent Glendon Rusch (1-10) to his ninth successive defeat.
Red Sox 4, Astros 3
Boston -- Ryan Rupe pitched six strong innings in his rainy debut with the Red Sox and Johnny Damon hit a tiebreaking homer as Boston beat Houston. Rupe was promoted Friday from Triple-A Pawtucket where he went after a poor spring training. The Red Sox claimed him on waivers Nov. 27 from Tampa Bay, where he spent four seasons.
With the score at 3, Damon led off the sixth with his sixth homer. Rupe (1-0) was replaced by Mike Timlin to start the seventh after allowing one earned run and eight hits while striking out four.
Brandon Lyon pitched the ninth for his seventh save in as many opportunities.
Rupe didn't issue a walk, in sharp contrast to Houston starter Jonathan Johnson, who walked eight before leaving with no outs in the fourth.
The Red Sox had 10 walks in all, giving them 24 in two games. They left 11 runners on base after stranding 18 in Thursday night's 8-7 loss to St. Louis.
The start of the game was delayed one hour, 25 minutes and it rained throughout.
Blue Jays 5, Cubs 1
Toronto -- Kelvim Escobar struck out a season-high 10 and nearly pitched his second straight shutout as Toronto beat Chicago for its fifth straight win. Reed Johnson, Chris Woodward and Greg Myers homered for the Blue Jays, who are eight games over .500 for the first time since May 1, 2001.
Escobar (4-3), who shut out Cincinnati last Sunday, worked around 10 hits through eight innings. The Cubs ended his shutout bid when Damian Miller and Tom Goodwin hit consecutive doubles with one out.
Goodwin's double stopped Escobar's scoreless-inning streak at 17 innings. Escobar, who walked none, was pulled after the hit.
After allowing three straight singles in the first, Escobar struck out Eric Karros and Troy O'Leary to escape the jam.
Escobar, shuttled from bullpen to rotation and back again, saved 14 games for Toronto in 1997. He was primarily a starter in 1999 and 2000, was a setup man for Billy Koch in 2001 and saved 38 games last season.
Chicago's Sammy Sosa missed his third straight game while serving a seven-game suspension for using a corked bat. The Cubs are 1-2 without their cleanup hitter, who did not accompany the team to Toronto.
The Blue Jays have won seven straight at SkyDome.
Kerry Wood (5-5) allowed five runs on seven hits in six innings in his career first start against the Blue Jays.
Mariners 2, Braves 1
Seattle -- Freddy Garcia won his fourth straight start and Seattle defeated Atlanta in a matchup between the teams with the two best records in the majors. Garcia (7-6), a two-time All-Star and Seattle's ace, lost his bid for a shutout in the eighth on Marcus Giles' RBI double.
Meeting the Braves (44-21) for the first time in history, the Mariners (44-21) beat Russ Ortiz (7-4), although Ortiz was almost as good as Garcia.
Garcia pitched 71/3 innings and allowed one run on seven hits and two walks, with five strikeouts.
Rockies 7, Tigers 2
Detroit -- Chris Stynes hit a two-run single and Mark Sweeney followed with a three-run homer in a six-run sixth inning as Colorado handed Detroit its eighth straight loss. In the first meeting between the teams in the regular season, the Rockies handed the Tigers their 25th home loss of the season.
Shawn Chacon (9-3) won his fourth in five starts, allowing two runs on eight hits and two walks in 71/3 innings. He struck out four.
Detroit led 2-1 until the Rockies scored six times in the sixth.
Todd Helton led off by slicing a double over the head of left fielder Dmitri Young and Preston Wilson followed with an infield single. After Larry Walker walked to load the bases, Stynes grounded a two-run single past a diving Warren Morris at second base.
Sweeney followed with a long homer to right field on an 0-2 pitch from Nate Cornejo, making the score 6-2.
Juan Uribe homered off Chris Spurling over the shortened fence in left field with two outs in the inning.
Dodgers 4, Indians 3 (10)
Cleveland -- Jolbert Cabrera came back to haunt his former team, hitting an RBI double in the 10th inning to lift Los Angeles past Cleveland. Cabrera, traded by the Indians last July, doubled down the third-base line off Jake Westbrook (3-4) for the Dodgers, who last played Cleveland in the 1920 World Series.
Paul Quantrill (1-2) pitched one inning for the win, Eric Gagne earned his 25th save. The Dodgers, who couldn't push the go-ahead run home from third in the ninth, put two on in the 10th for Cabrera, who pulled his double just inside the bag at third one pitch after just missing an almost identical hit.
Los Angeles catcher Paul Lo Duca extended his hitting streak to 21 games with a double in the first.
Milton Bradley had two RBIs for the Indians.
Devil Rays 7, Pirates 1
St. Petersburg, Fla. -- Victor Zambrano overcome control problems to allow one run over seven innings as Tampa Bay beat Pittsburgh. The Devil Rays snapped a season-high seven game losing streak after manager Lou Piniella said he will dye his hair any "legit color" the players want if the team put together three straight wins.
The first meeting between the teams in the regular season was delayed 18 minutes by a power outage after the top of the fourth inning when lightning hit Tropicana Field -- a domed stadium -- and the lights went out.
Zambrano (3-4) allowed only one hit, but walked five, hit three batters and threw a team-record four wild pitches.
Julio Lugo hit his second career grand slam off of Brian Boehringer in the eighth to make it 7-1.
White Sox 5, Padres 3
Chicago -- Magglio Ordonez, Frank Thomas and Armando Rios each homered as Chicago defeated San Diego. White Sox starter Esteban Loaiza failed in his first bid to become the American League's second 10-game winner this season, leaving with the score tied at 3 after five innings. He allowed six hits, struck out four and walked one. Seattle's Jamie Moyer is 10-2.
Rios hit a go-ahead home run off Padres reliever Scott Linebrink (1-2) in the sixth.
Tom Gordon (3-5) struck out four and gave up two hits in 12/3 innings to pick up the victory.
Billy Koch pitched the ninth for his seventh save in nine opportunities.
Loaiza didn't look sharp. He yielded a leadoff single to Gary Matthews Jr. and a double to Mark Kotsay to start the game. One out later, Ryan Klesko doubled in Matthews and Kotsay.
Copyright 2018 The Associated Press. All rights reserved. This material may not be published, broadcast, rewritten or redistributed. We strive to uphold our values for every story published.