New York — Roger Clemens reached his milestones two at a time.
The Rocket finally reached 300 wins Friday night and entered an even more exclusive club, becoming only the third pitcher with 4,000 strikeouts as he led the New York Yankees over the St. Louis Cardinals, 5-2.
Clemens (7-4) was the 21st pitcher to make it to 300, and did it on his fourth try.
"Four thousand and 300 puts me with some great names that ever played the game, that ever stepped on that mound," Clemens said.
Clemens allowed two runs in 62/3 innings and struck out 10, raising his total to 4,006 on a cool, damp night. He threw 120 pitches before handing a lead to New York's bullpen for his third straight start.
Handed a 3-2 advantage, this time Chris Hammond escaped the seventh-inning jam he created, and Antonio Osuna and Mariano Rivera pitched perfect innings. A sellout crowd of 55,214 cheered while Clemens' teammates hugged him in the dugout after the final out.
Clemens jogged onto the field as Elton John's "Rocket Man" played over the public-address system. He raised both arms, tipped his cap to the fans in right field, then left, then touched his heart.
"I really wanted it to happen here. That's why I signed back here," said Clemens, who could have left as a free agent last winter.
Clemens walked back to near the Yankees dugout and 7-year-old Kody, his youngest son, jumped into his arms as his wife, Debbie, gave Clemens a hug.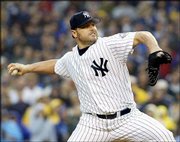 His other three sons -- Koby, Kory and Kacy -- took their turns scooping up dirt from the mound and putting it in bags as keepsakes, followed by Kody, who went out to the mound all by himself.
"That's probably every player's dream, to be out there with your son," said the Cardinals' Joe Girardi, Clemens' former catcher on the Yankees.
As fans chanted Clemens' name, Girardi and Tino Martinez -- another former Yankee -- remained in the St. Louis dugout watching the celebration.
"It's amazing, the hard work, the dedication he put in," Martinez said.
Many family members and friends had followed Clemens from city to city for the past three weeks, wanting to be on hand for his history-making night.
But his mother, Bess, suffering from emphysema and coming off a bout with pneumonia, was well enough to attend only his first try.
Clemens got teary-eyed as he talked about her. After the game, he called her on a telephone.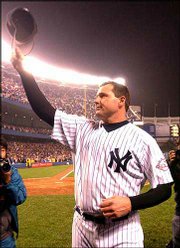 "She sounded great," he said. "Probably pitching every pitch with me."
Flashbulbs popped from Clemens' first pitch. Even though the game was played in a drizzle, the excitement over his quest created a postseason feel for the first game that counted between the Yankees and Cardinals since the 1964 World Series.
Clemens, baseball's only six-time Cy Young Award winner, reached the milestones in his 20th and probably final major league season.
The 40-year-old right-hander (300-155) became the 21st 300-game winner, the first since Nolan Ryan, another Texas fastballer, in 1990.
"I still have my fastball," Clemens said. "I'm still a power pitcher, and I enjoy that."
Phil Niekro was the only other pitcher to win his 300th game while playing for the Yankees. The knuckleballer did it at Toronto in 1985 while wearing a road gray uniform, making Clemens the first to do it in Yankees pinstripes.
Ryan (5,714) and Steve Carlton (4,136) are the only pitchers with more strikeouts.
Clemens started strongly, striking out six of his first eight batters -- his first six outs all came on strikeouts as he relied on his fastball and stayed away from a split-finger pitch that moved so such he called it "violent."
But coming off a 10-day bout with bronchitis, Clemens labored noticeably in the fourth and fifth innings, stranding three runners, and twice failed to protect one-run leads.
Before the seventh, pitching coach Mel Stottlemyre told Clemens he could face just two more batters. And Yankees manager Joe Torre was booed loudly when he walked to the mound to remove Clemens with two outs in the seventh inning and Cardinals' No. 2 hitter, J.D. Drew, coming up.
Clemens, who allowed six hits and two walks, got a standing ovation from the crowd as he walked to the Yankees dugout on the first-base side, twice tipping his cap.
"I told Roger after the game, 'I used to be popular here,"' said Torre, who has led the Yankees to four World Series titles.
"I would have booed, too, if I had been sitting in the stands. They wanted Roger to pitch the complete game, but that wasn't going to happen where his pitch count was," he said.
Torre waited out at the mound, then was booed again as he returned to the dugout.
"You can never question what this man does," Clemens said. "He's so important to why we win."
The booing intensified when Drew bunted for a single on Hammonds' first pitch and Albert Pujols singled him to second. Hammond escaped the jam when Jim Edmonds grounded out.
"It got a little hairy out there, but I got the third out," Hammond said. "To me, it felt like the seventh game of the World Series."
Out of the game, Clemens quickly shaved, then got an eighth-inning visit from Yankees owner George Steinbrenner.
"He was almost choking me up the way he was talking," Clemens said.
Hideki Matsui, Ruben Sierra and Raul Mondesi all homered off Jason Simontacchi (4-4) to provide the offense for New York.
Clemens, who came to New York in 1999 following 13 seasons with Boston and two with Toronto, got his 299th win on May 21 at Fenway Park, but five days later lost 8-4 to the Red Sox at Yankee Stadium. The bullpen then wasted leads June 1 at Detroit and June 7 in his first start at Chicago's Wrigley Field.
Clemens looked pumped at the beginning, throwing fastballs past helpless Cardinals' batters. He struck out his first three batters, moving within one of 4,000. Then after allowing a home run and a double at the start of the second, he got Edgar Renteria to miss a 3-2 pitch.
Catcher Jorge Posada went out to the mound to shake Clemens' hand, and the ball was taken out of play.
Copyright 2018 The Associated Press. All rights reserved. This material may not be published, broadcast, rewritten or redistributed. We strive to uphold our values for every story published.