Palomino Valley, Nev. — Swarms of Mormon crickets are marching across the West, destroying rangeland and crops, slickening highways with their carcasses and leaving disgusted residents in their wake.
"It's yucky," said Amy Nisbet of Elko in northeast Nevada, where this year crickets made their first appearance in recent memory. "You drive down the street and they pop like bubble wrap."
Mild winters and three years of drought have provided ideal conditions for the insects, which hatch in the spring and feed through the summer. Experts say this year's infestation in Nevada, Utah and Idaho could be the worst in decades.
Five million acres are infested in Nevada with the 2 1/2-inch long creeping insects, said Jeff Knight, entomologist with the Nevada Department of Agriculture.
"I've seen them eat weeds in a field but leave the alfalfa," Knight said. "Other times, they'll just strip the crop bare."
Though Knight couldn't provide an economic damage estimate, he said this year's infestation was twice as widespread as last year. The bugs are showing up in places they haven't been seen before, such as Elko's city limits and Palomino Valley north of Reno.
Last week, Elko County commissioners declared a state of emergency because of the worsening two-week infestation. Officials in southwestern Idaho said the infestation there was the worst since World War II.
"They've been building up there on the Boise front for several years, but last year was the first year everything seems to have coalesced and really erupted," said Mike Cooper of the Idaho Department of Agriculture.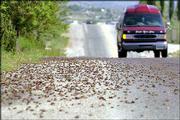 "They're cyclic and they build up over a number of years, kind of peak, and then usually some kind of natural disease comes in and starts taking them down," Cooper said.
In Utah, agriculture officials estimate 6 million acres more than double last year's plague will be infested before the crickets die off.
Dick Wilson of the Utah Department of Agriculture said the dismal predictions were "all true. (My staff) are all out in the field, working seven days a week" fighting the bugs.
Earlier this spring, Nevada treated about 66,000 acres with an insecticide that kills the insects before they mature. But as the treatment reduces their numbers in one area, they pop up somewhere else.
The chief weapon is carbaryl, an insecticide commonly known as Sevin. It is mixed with bran and spread before the crickets as they advance. Crickets lured to the bait quickly die. The poisoned carcasses are consumed by cannibalistic fellow crickets, which also die.
State officials said their priority was to protect public lands, crops and motorists. In Idaho the state has posted warning signs on State Route 55. Crickets smashed by cars create a mush slicker than ice.
"We're doing our best to keep them off the highway," said Martin Larraneta, a state entomologist coordinating cricket controls in Elko. "It can be like a grease slick."
The Mormon cricket actually is a katydid, similar to a grasshopper. It got its name in 1848 when swarms invaded the fields of Mormon settlers in Utah. According to lore, the settlers prayed for divine assistance that arrived in the form of gulls, which ate the insects and saved the crops.Mormon crickets have voracious appetites and will take in anything -- sagebrush, alfalfa, wheat, barley, clover, seeds, grasses, vegetables. At a density of just one cricket per square yard, they can consume 38 pounds of forage per acre. They don't fly, but can hop and crawl a mile in a day and up to 50 miles in a season. And before they die in the fall, they lay eggs that will become next year's swarm.
So far there are no reports of accidents caused by the crickets.
While serious, this year's outbreak isn't the most severe in Nevada history, experts said.
A 1939 state publication noted an infestation in Eureka County in 1882, when trains were unable to travel the main line of the Central Pacific Railroad "due to the rails being so thoroughly greased with crushed crickets," state archivist Guy Rocha said.
Copyright 2018 The Associated Press. All rights reserved. This material may not be published, broadcast, rewritten or redistributed. We strive to uphold our values for every story published.