Kansas City, Mo — With Barry Bonds and the San Francisco Giants making their first trip to Kansas City, fans packed Kauffman Stadium hoping to see home runs.
And they did -- by Joe Randa, Michael Tucker and Desi Relaford.
"The good guys hit them for a change," said Relaford, whose two-run shot in the eighth capped a 6-1 victory Friday night for the Royals. "I think the fans would have liked to see Barry go deep. But they'll take a win for the home team."
Bonds, who had homered in four straight games, was 2-for-4 with a pair of singles and two strikeouts in his first appearance in the stadium where his father was MVP of the 1973 All-Star game.
Randa homered off Jason Schmidt (5-3) leading off the fourth on the night he set the team record by playing his 70th straight game at third base without an error. Tucker hit a two-run homer off Schmidt in the fourth.
The Giants, still fighting a flu bug, stranded 13 runners.
"Not bringing the runners around caught up with us tonight," manager Felipe Alou said. "They looked a little tired. That's tough. But still they're fighting out there."
Chris George (7-4) won for the third time in four decisions. He was relieved after striking out Bonds for the first out of the seventh inning.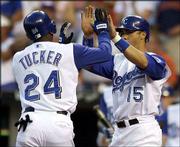 "That was nice," he said. "I hadn't thrown him a cutter all night. I saved it for when I needed it, and it worked out nicely."
George gave up 10 hits with two walks and two strikeouts. Jose Cruz Jr. hit a solo homer in the sixth, the second night in a row he'd gone deep.
"I felt great," George said. "I felt like I was locating my fastball much better than I have been. My goal was to keep the ball in the ballpark. They got a lot of base hits. But as long as they're singles and not home runs, we're in the game.
The crowd of almost 32,000, fifth-largest of the year, did see Bonds reach base for the 35th straight game, the longest streak in the majors.
"Any time you have Barry Bonds in the ballpark, there's a good chance you're going to see home runs," Tucker said. "But fortunately they came on our side, not on their side."
Schmidt (5-3) went six innings, giving up seven hits and four runs, with three walks and four strikeouts.
"I might DH Barry tomorrow," Alou said. "He's one of the few guys who right now is healthier."
With two outs, Carlos Beltran singled and Tucker hit a fastball over the fence in right for a 3-0 lead. Relaford hit a two-run shot in the eighth off Scott Eyre. The Royals made it 4-1 in the sixth when Tucker scored on Mike DiFelice's doubleplay grounder.
During batting practice Giants' shortstop Neifi Perez was hit in the head by a ball hit by Cruz. Trainer Stan Conte said the bump on his head was so big, he had to get a batting helmet that was slightly larger than usual.
"But he's OK," Conte said. "He had no problem."
Perez, a former Royal, was booed every time he came to the plate, but got some measure of satisfaction when he doubled in his first at-bat. Beltran had his fifth straight multihit game. Marquis Grisson doubled leading off the game and added singles in the sixth and ninth for his 24th multihit game.
Notes: Pedro Feliz played first base for the Giants for just the second time in his career. ... Bonds' intentional walk in the first was his NL-leading 28th. ... Right-fielder Cruz made a nifty play on Randa's foul pop in the first inning, running almost full speed for a one-handed catch just in front of the wall. ... The NL was a 10-5 winner in the 1973 All-Star Game in which Bobby Bonds hit a two-run home run. ... Randa broke the third base errorless record that Bill Pecota set in 1991. ... Ray Durham stretched his hitting streak to 15 games. ... Schmidt's ERA went from 2.44 to 2.67. ... The crowd was the fifth-largest of the year for the Royals.
Copyright 2018 The Associated Press. All rights reserved. This material may not be published, broadcast, rewritten or redistributed. We strive to uphold our values for every story published.