EAST RUTHERFORD, N.J. — Expectations for Tim Duncan are so high that when he averaged 21 points in Games 2, 3 and 4 of the NBA Finals, there were actually whispers that he wasn't doing enough for San Antonio.
He left no room for doubt in Game 5.
Duncan had 29 points and 17 rebounds and was a steady presence during a tight stretch early in the fourth quarter as the Spurs beat New Jersey, 93-83, Friday night to get within a victory of their second NBA championship.
Duncan made 10 of 18 shots and, most impressively, was 9-of-10 from the foul line. He also had four assists and four blocks, helping overcome his six turnovers.
"Tim was great tonight from the get-go," center David Robinson said. "That was one of the keys. When he gets started early, our confidence level is just higher. Guys just feel better and play better."
Funny thing is, Duncan's numbers weren't terribly different from the Spurs' Game 4 loss. The change was in his supporting cast.
San Antonio shot 47.8 percent, a quantum leap from the 28.9 percent they made the previous game.
"Good effort," said Duncan, who had his best game since scoring 32 in the opener. "We shot the ball a little better. Our turnovers were still there but we were able to get a lead, and down the stretch we kept it."
The improvement by his teammates was huge because it meant that when the Nets concentrated too much on him, someone else could get the job done.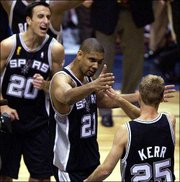 A perfect example was early in the fourth with the Spurs up 72-67. He'd just hit two free throws on the previous possession, and as San Antonio crossed midcourt, New Jersey coach Byron Scott screamed for his team to beware of Duncan around the foul line.
But Duncan stayed in the low post, holding off his defender until Kenyon Martin came over for a double team. When he did, Duncan zipped the ball to Malik Rose for a layup.
"He just really did a great job of making that decision between when he was going to do it, when he was going to trust his teammates, kick it to other people and let them have at it," coach Gregg Popovich said. "I thought his timing was good. He didn't hold it too long or kick it too soon, which is harder than people think."
Next time down, Duncan spun toward the baseline and threw up a sharply angled jumper that banged around the rim and hit the backboard before falling.
The two-time MVP was at his consistent best, scoring eight points in the first quarter, six in the second, nine in the third and six in the fourth. As usual, though, many of them were scored with key baskets.
"I can't say he stepped up. He steps up his game every game all year," guard Stephen Jackson said. "He's the MVP and he plays like it every game. And we're not surprised with Tim's effort."
Now the series is headed back to the Alamo City for one or maybe two games. History is favoring the Spurs.
One more win and Duncan almost certainly will be the Finals MVP, just like he was in 1999.
He'd be only the eighth multiple winner of that award -- which began in 1969 -- joining the elite cast of Shaquille O'Neal, Michael Jordan, Hakeem Olajuwon, Magic Johnson, Larry Bird, Kareem Abdul-Jabbar and Willis Reed.
Copyright 2018 The Associated Press. All rights reserved. This material may not be published, broadcast, rewritten or redistributed. We strive to uphold our values for every story published.