Jim Brothers' sculptures of World War II soldiers will be featured during an event being billed as "the greatest celebration of the Greatest Generation."
The Lawrence artist will be showing off his work during the three-day dedication events at the Dole Institute of Politics, which is set for July 20-22.
"I think it's incredible," Brothers said of the dedication event. "There are so many people I've met over the years coming. I'm glad they're coming to my hometown."
Brothers will have three miniature works on display in the Dole Institute's new building on Kansas University's West Campus:
l A model of a President Dwight D. Eisenhower sculpture that now sits in the rotunda of the U.S. Capitol in Washington, D.C. The sculpture was dedicated June 4 to replace former Gov. George Glick as one of two pieces representing Kansas.
l A model of the sculpture of Omar Bradley that sits in the five-star Army general's hometown of Moberly, Mo. Bradley commanded U.S. involvement in the D-Day invasion.
l A replica of "Across the Beach," one of eight pieces Brothers created for the national D-Day memorial in Bedford, Va. Brothers was the chief sculptor for the memorial, which was dedicated by President George W. Bush in 2001 on the 57th anniversary of the invasion of Normandy, France.
Other events scheduled during the three days include a Memory Tent featuring World War II veterans, a dance July 20 featuring the Glenn Miller Orchestra, an air parade and USO-style show the night of July 21, and the formal dedication on July 22.
Dignitaries expected to attend include former Presidents Jimmy Carter and Gerald Ford, former New York City Mayor Rudy Giuliani and former U.S. Sen. George McGovern.
Brothers said the gathering would be a fitting tribute for a generation that he has worked with extensively in the past few years.
"It's phenomenal," he said. "I'm so thrilled this is happening."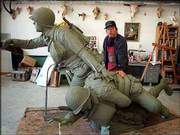 Copyright 2018 The Lawrence Journal-World. All rights reserved. This material may not be published, broadcast, rewritten or redistributed. We strive to uphold our values for every story published.