Kansas University track throws coach Doug Reynolds caught himself daydreaming three years ago while driving to Des Moines, Iowa, for the Drake Relays.
Reynolds, a Phoenix native and standout discus thrower and shot putter from the University of Arizona, predicted finding physically imposing female high-school shot, discus and javelin flingers in Iowa.
"It was my first year at Kansas, and I hadn't spent much time recruiting in the Midwest after being at Boise State in the Northwest where we recruited Seattle, Portland -- all these big metro cities," Reynolds said. "I went out there with this idea of seeing these big, corn-fed Iowa girls -- 6-foot behemoths."
Instead, he found diminutive Abby Emsick, a 5-foot-6, 150-pounder from Council Bluffs.
"I remember this little girl was in line getting ready to throw the discus, and I said, 'Who is this little girl with all these giants? She's going to get killed,''' Reynolds said.
"I watched her get in the ring and saw her draw the discus back, and I saw it fly, and I missed everything in between. It was just a blur. I said, 'That's her. That's her. I've got to go get her.' She just killed everybody in that meet."
Reynolds out-recruited Iowa State and others for Emsick, a five-time Drake Relays discus champion (four high school titles, one college) who has made a major impact in her freshman season at KU.
Emsick, who placed second with a then-personal-best throw of 173 feet, 8 inches at the recent Big 12 Conference championships, threw a school-record 180-10 at last week's regional meet in Lincoln, Neb., again good for second and qualifying her for this week's NCAA championships in Sacramento, Calif.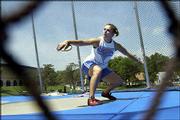 She's also qualified for the USA championships and the Olympic Trials -- all just a year out of high school.
"(At Drake) I saw her compete with a competitive fire, a competitive edge the rest didn't have," Reynolds said. "You can train speed only so much as your athletic ability will allow.
"You can only teach them so much competitively. They've got to have the mindset to win and compete and say, 'I don't care about the rest.' That's enough for me," Reynolds said.
Reynolds simply loves the mind-set of Emsick, who is not satisfied despite beating the old KU discus record throw of 176-4 set by Marlea Woodman in 1998.
"I have high expectations of myself," Emsick said. "As a freshman, I wanted to break the school record, and I wanted to make the NCAAs. I actually expected to throw 180 in the first couple of meets, but it didn't happen. I was trying for it, and when you try for it, it doesn't really come. You have to work for it gradually. I'm not going to stop at 180."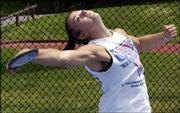 She's not seeking any specific distance when she competes at 10 a.m. Wednesday in the NCAA discus qualifying round at Sacramento, Calif.
"It's not necessarily about a mark," Emsick said. "My goal is to compete well."
Not only at NCAAs, but at the upcoming USA Championships later this month in Palo Alto, Calif., and the 2004 Olympic Trials.
"She's got that out of the way and can now focus on technique and training, everything that goes into a good throw," Reynolds said. "It will make her season next year much more relaxed."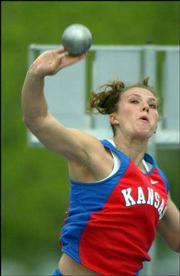 Reynolds -- who will compete at the USA championships in the men's discus -- is looking forward to helping Emsick, a former high-school basketball player, reach her athletic potential. One of the reasons she picked KU was Reynolds' personal achievements.
"Iowa State and KU were pretty equal," Emsick said. "It came down to both schools, and I had to just pick one. I like the coaching staff, and KU was building a strong track program.
"I knew the coaches were really pushing the program. He (Reynolds) is going through a lot of the same things I'm going through, and he's been through a lot of things I will be going through. It's great having him giving me advice."
Other KU athletes at the NCAAs are Leo Bookman (200), Laura Lavoie (1,500), Mark Menefee (5,000), Jeremy Mims (800), Sondra Rauterkus (high jump), Benaud Shirley (triple jump) and the women's 1,600-meter team of Robbie Harriford, Stacy Keller, Shameika McField and Kim Clark.
Assistant sports editor Gary Bedore can be reached at 832-7186.
Copyright 2018 The Lawrence Journal-World. All rights reserved. This material may not be published, broadcast, rewritten or redistributed. We strive to uphold our values for every story published.