Chicago — David Wells warmed up quickly to the party-like atmosphere at Wrigley Field, where the New York Yankees hadn't played since the 1938 World Series.
"You can't get anything better," he said after a 5-3 victory Friday that kept the Yankees perfect at the Chicago Cubs' picturesque neighborhood park. "It's like Yankee Stadium. The people are unbelievable. They were all going crazy in the bullpen."
The left-hander pitched 72¼3 innings in his first Wrigley appearance and doubled for his first hit in three years.
"It's fun for us," he said. "You got two teams with a lot of history. Just the scenery, it's all good. I love it, the more hype the better it is. I heard all the fat jokes, and it's something I heard all my career."
Sammy Sosa's eight-game suspension for using a corked bat was the focus before the game, and then the Yankees took over, helped by three RBIs from Jason Giambi.
Wells, who's never shy with an opinion on a variety of topics, said earlier this week that Sosa shouldn't be allowed to play in the series because of the corked bat.
"We knew he was going to play," Wells said, backing off. "Sammy's a great guy. I don't know him real well but pretty good. It makes for a lot of fun with him in the game."
Sosa went 1-for-4 with two strikeouts and made a diving catch in the sixth inning, and still hasn't homered since May 1, a stretch that included a trip to the disabled list when he missed 17 games. He's 5-for-28 since returning from the DL.
He brought the crowd to its feet in the sixth with a long drive to right that Raul Mondesi caught in front of the ivy on the warning track.
The Yankees had been to Wrigley on just two previous trips, going a combined 4-0 in the World Series in 1932 and 1938.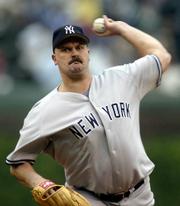 The park and the adjacent rooftops were jammed, and there was a loud contingent of New York fans chanting "Let's Go Yankees!" The crowd was announced at 39,359, the second-largest this season.
"There was a little bit different atmosphere in the stands. I've never seen so many opposing fans probably other than the St. Louis Cardinals," Cubs manager Dusty Baker said. "It was electric."
Astros 11, Devil Rays 8
Houston -- Jeff Kent hit a go-ahead, two-run single in the eighth inning as Houston held off Tampa Bay after wasting a seven-run lead. Houston, which moved past the Chicago Cubs into first place in the NL Central for the first time since April 15, led 7-0 after two innings, then fell behind 8-7 when Marlon Anderson hit an RBI double off Octavio Dotel (5-1) in the eighth.
The hit scored Julio Lugo, released from the Astros May 9 after being charged with misdemeanor assault for allegedly attacking his wife. Lugo was booed every time he came to the plate and went 1-for-5.
Mets 3, Mariners 2
New York -- Cliff Floyd and Jason Phillips homered as New York broke Seattle's nine-game winning streak, beating the Mariners behind a fine pitching effort from rookie Jae Seo.
In the first meeting ever between the teams, the Mets ended Seattle's 13-game road winning string. The Mariners had posted the longest single-season road win streak in the majors since Detroit took 17 in a row in 1984.
Marlins 4, Angels 1
Miami -- Ivan Rodriguez hit a three-run homer and Carl Pavano retired his final 18 batters as Florida beat Anaheim. Rodriguez's sixth-inning home run, which broke a 1-1 tie, was his seventh of the season and first in his last 16 games.
Pavano (5-6) pitched eight impressive innings, allowing only three hits while striking out six. He issued just one walk; it was intentional.
Expos 13, Rangers 10
San Juan, Puerto Rico -- Brian Schneider drove in a career-high five runs with a homer and a three-run double as Montreal sent Texas to its season-high seventh straight loss. Ron Calloway homered for the second straight game in place of the injured Vladimir Guerrero.
A sellout crowd of 18,005 -- the second largest in the 14 games in San Juan -- came to watch local product Juan Gonzalez. The fans got what they wanted when Gonzalez came up with the bases loaded in the first. After a standing ovation, Gonzalez lined a ball off the top of the left-field wall to score two runs. Rafael Palmeiro was thrown out going to third on the play, leaving Gonzalez with a single.
Cardinals 8, Orioles 6
St. Louis -- Albert Pujols capped a four-hit game with a three-run double in the eighth inning as St. Louis beat Baltimore, extending its winning streak to five games. Pujols has seven straight hits, hiking his major league-leading average to .391, and is 19-for-29 during an eight-game hitting streak. He was 4-for-4 with three singles and four RBIs in the first meeting between the former St. Louis rivals.
Brewers 9, Red Sox 3
Milwaukee -- Richie Sexson hit his 19th home run, and Wes Helms and Royce Clayton also homered as Milwaukee beat Boston for its season-high fourth straight win. Boston starter Tim Wakefield left in the third inning after he was hit on the right ankle by a pitch from Wayne Franklin. Manny Ramirez homered for the Red Sox, who lost for the eighth time in 11 games and dropped 11¼2 games behind the first-place New York Yankees in the AL East.
Indians 6, D'backs 3
Phoenix -- Brandon Phillips broke an 0-for-29 slump with a go-ahead single in the sixth inning that helped Cleveland to its first interleague win this year. Jason Davis (5-4) allowed three runs and six hits in seven innings.
Twins 7, Padres 5 (11)
San Diego -- Chris Gomez hit a two-out, two-run double in the 11th inning, lifting Minnesota past San Diego. Gomez had three RBIs and Jacque Jones drove in two runs as Minnesota handed the Padres their 31st loss in 39 games. San Diego dropped to 18-44.
Giants 5, Tigers 3
San Francisco -- Kirk Rueter won his fifth straight decision and drove in a run and Marquis Grissom had two hits as San Francisco defeated Detroit. It was the first meeting of these two franchises. Dmitri Young and Brandon Inge each homered for the Tigers, who have the worst record in the majors (16-42). Young clobbered a homer 438 feet to dead center in the sixth for one of the longest shots at Pacific Bell Park this season and his 12th of the year.
Dodgers 2, White Sox 1
Los Angeles -- Paul Lo Duca extended his career-best hitting streak to 15 games with a pair of hits, including a tiebreaking single that led Los Angeles past Chicago. Brian Jordan homered to help back Kazuhisa Ishii (5-2), who allowed one run and four hits over seven innings and struck out nine. He has not allowed more than three earned runs in his last 11 starts. Eric Gagne, the fifth Dodgers pitcher, got three straight outs for his 29th consecutive save and 21st this season, finishing the four-hitter.
Athletics 7, Phillies 4
Philadelphia -- Miguel Tejada broke out of a slump by tying a career high with four hits and drove in three runs, and Barry Zito took a one-hitter into the sixth inning as the Athletics returned to Philadelphia for the first time since they left after the 1954 season with a win over the Phillies.
Blue Jays 9, Reds 2
Cincinnati -- Roy Halladay won his eighth straight start, matching Roger Clemens' team record, and Carlos Delgado hit a grand slam as Toronto beat Cincinnati. Delgado hit his eighth career slam in the second inning, breaking a tie with George Bell for the franchise record. Vernon Wells added a three-run homer, and Frank Catalanotto had four hits.
Copyright 2018 The Associated Press. All rights reserved. This material may not be published, broadcast, rewritten or redistributed. We strive to uphold our values for every story published.