It's one of the more conspicuous features of Stacy Daugherty's car -- and the most fitting.
Faded and stuck to the lower right-hand corner of his rear window, Daugherty's dream car sports a sticker that reads, "Putting the fun back in funeral."
You can say that again.
Daugherty drives to work in a 1975 Cadillac Superior rear-loading hearse.
"I've had all the cargo room of a Suburban, but it rides like a Cadillac," said Daugherty, 39, of Lawrence. "And it gets a lot more attention than a van."
Indeed. Daugherty's hearse -- which he named Cad-aver because of its Cadillac heritage -- features flames painted on the hood, $1,300 custom wheels, and skull-shaped door locks, gear-shift knob and hood ornament. Of course, there's a coffin in the back.
"It's a steel casket, and it's actually used," Daugherty said. "Some graves had to be moved because of a sinkhole in the cemetery."
Daugherty purchased the coffin from his former father-in-law, who was a minister at a church in Missouri. The church acquired the coffin as part of a Halloween fund-raiser. When the fund-raiser ended, Daugherty bought the coffin for $20, painted it electric purple, and put it in the back of his car.
"It's just for decoration," Daugherty said. "I've thought about building a trailer out of it, or my own version of Grandpa Munster's (of "The Munsters" TV show) 'Dragula.' I thought it would be fun to put it on a Model T chassis with a V-8 engine."
'They love it'
He purchased Cad-aver three years ago from Southwest Professional Vehicles in Shawnee. Since then, the stories are as long as the stares he gets driving to work.
"I've had 17 exotic dancers in the back at a time. That's pretty fun," Daugherty said. "I've been to a lot of parties, picnics, tailgating. Friends have little kids that say 'I want to ride in the hearse,' so I'll drive them around the block, and they love it. It's like driving a Hot Wheels."
And the women like it, too.
"You'd be amazed," Daugherty said. "I've had quite a few different women that have ridden around just for fun. Every walk of life, from the total blacked-out Goths to the sorority girls. Occasionally, they kind of get the creeps, but they think it's fun after riding around in it for five minutes or so."
There are practical reasons for having a hearse, as well. Daugherty owns Big Daddy Cadillac's tattoo parlor, 16 E. Eighth St., and uses the vehicle to travel to trade shows. He needed a car with a wealth of cargo space, and considered purchasing a van.
"Actually, my wife at the time said, 'How about a hearse?'" Daugherty said. "I thought that was perfect."
Other enthusiasts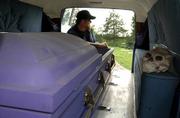 Daugherty enjoyed his hearse so much he started the Grave Intentions Funeral Coach Club to hang out with other fanatics. Now, fellow hearse owners from northeast Kansas gather to compare coaches and socialize.
"One of the fun things we do is get five or six coaches together and head to the drive-in," Daugherty said. "Just back them up to the screen, open them up, and sit in the back."
Grave Intentions has a Web site at formaldehyde.isyummy.com. Such clubs aren't exclusive to Kansas. In fact, there are pockets of hearse owners all over the country. Bill "Chaser" Miller runs a chapter in Joplin, Mo., and his stories are even more surreal than Daugherty's.
"There was this guy who was in the hearse owner's club in Atlanta," Miller said. "He headed out to his car one morning, and it wouldn't start. So he goes around to the front, and the Cadillac logo tells him, 'touch me, and the car will start.' So he did, and it started right up. True story."
Daugherty takes a more wholesome view of hearse ownership.
"I always tell people that I think this car has been through enough death, suffering, and pain in its life," Daugherty said. "It's time for it to have some fun. I think cars kind of have a persona, and it's having some fun now."
Copyright 2018 The Lawrence Journal-World. All rights reserved. This material may not be published, broadcast, rewritten or redistributed. We strive to uphold our values for every story published.