Chicago — Sammy Sosa's corked bat and Roger Clemens' bid Saturday for win No. 300. All part of a wild week at Wrigley Field.
Cubs manager Dusty Baker wanted to make sure his team concentrated on performance instead of the hype, so he met with his players Thursday. Based on the way the team responded, the session was a success.
Sosa got the Cubs started with a first-inning RBI single and also reached on an error in a seven-run third as Chicago routed the Tampa Bay Devil Rays, 8-1.
"It was a great meeting. I feel very happy about it," Sosa said.
"Dusty thought it was slipping away because things have been happening so much with the Sammy incident. It can affect you if you let it bother you," said Chicago's Lenny Harris, who collected his 1,000th hit.
"It's been an emotional week, especially for Sammy. We're behind him all the way. He's going to keep his head up."
The Cubs now face the Yankees in a three-game series, the teams' first meeting since the 1938 World Series. Clemens will face Kerry Wood Saturday.
Sosa went 1-for-4 Thursday while waiting word from the commissioner's office on his punishment. Bob Watson, who's in charge of discipline, wrapped up his Wrigley Field investigation before heading back to New York.
An announcement on Sosa's possible suspension could come as early as today, Cubs general manager Jim Hendry said.
Sosa's corked bat was discovered when it shattered in the first inning Tuesday night after he hit a ground ball.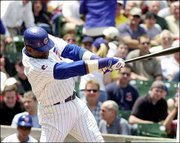 Sosa, No. 17 on the career homer list with 505, claims he mistakenly used a batting practice bat in the game, a contention that has been met with great skepticism across the country. Seventy-six other bats in Sosa's locker and five at the Hall of Fame were tested and found to have no foreign substance.
Sosa, in a batting tailspin since coming off the disabled list Friday, is now 4-for-24 in his last six games. He hasn't homered since May 1.
"It's probably going to take a couple more games before I feel comfortable at the plate," Sosa said.
Just as they did Wednesday night, fans cheered Sosa as he raced to his position in right field to start the game and again in each at-bat.
Matt Clement (3-6), who had lost his previous five decisions, gained his first win since April 18, losing a shutout bid when Aubrey Huff hit a run-scoring double in the sixth. He allowed seven hits in seven innings with two walks and a strikeout.
Expos 8, Angels 7 (14)
San Juan, Puerto Rico -- Ron Calloway was a perfect fill-in for the injured Vladimir Guerrero, hitting a game-ending, two-run single with two outs in the 14th inning to lead Montreal. Calloway also hit a three-run homer as the Expos won for just the second time in 10 games.
Cardinals 13, Blue Jays 5
St. Louis -- Woody Williams held Toronto hitless until Orlando Hudson singled with one out in the eighth inning and St. Louis romped in a game the Blue Jays played under protest.
The Blue Jays lodged their protest in the second inning after an umpire's reversal on a fly ball cost them a triple play. Toronto manager Carlos Tosca was ejected for the first time in his major-league career arguing the call.
Williams (8-1) allowed one hit in eight shutout innings, striking out five and walking one. He dominated the team he played for from 1993-98, allowing only Hudson's clean single to right field on a 1-2 pitch. Williams helped himself with his first career triple, delivering with the bases loaded in the third when center fielder Vernon Wells missed a diving catch.
Mariners 5, Phillies 4
Philadelphia -- Mike Cameron's three-run homer off Jose Mesa in the ninth inning led Seattle to its ninth straight victory. After rallying in the top of the ninth, the Mariners escaped a bases-loaded jam when Kazuhiro Sasaki struck out Jim Thome and retired Bobby Abreu on a fly ball.
The Mariners trailed 4-2 when Bret Boone hit a single to start the ninth and John Olerud walked. Cameron then fouled off two consecutive bunt attempts before hitting an 0-2 pitch into the left-field bullpen.
Pirates 5, Red Sox 4
Pittsburgh -- Kenny Lofton homered and hit a tiebreaking sacrifice fly in the eighth inning as Pittsburgh beat Boston to snap a three-game losing streak. Jeff Reboulet had an infield single off reliever Ramiro Mendoza (1-2) in the eighth, stole second base and moved to third on Abraham Nunez's pinch-hit single. Lofton then delivered a long fly ball to center field.
Marlins 2, Athletics 0
Miami -- Rookie Dontrelle Willis pitched seven impressive innings, outdueling Ted Lilly and leading Florida past Oakland. Willis (4-1), an Oakland native who grew up an Athletics fan, allowed five hits. He struck out four and walked three. The lefty has yielded one run or less in each of his last three outings.
Lilly (3-4) also pitched well for seven innings. He allowed two runs on six hits, with one walk and eight strikeouts.
Rockies 7, Indians 4
Denver -- Bobby Estalella homered and drove in three runs and Larry Walker had three RBIs as Colorado beat Cleveland to complete a three-game sweep. Colorado swept an AL opponent for just the third time in its history and extended its home winning streak to eight games. The Rockies have won four straight overall. Cleveland, which managed just four hits and none after the fifth inning, has lost three straight following a five-game winning streak. The Indians are 6-15 in interleague games the past two seasons.
White Sox 3, D'backs 2 (10)
Phoenix -- Frank Thomas homered and doubled home the go-ahead run in the 10th inning as Chicago snapped a five-game losing streak. Tony Graffanino had a one-out, broken-bat single through the infield in the White Sox 10th. Thomas followed with a drive down the left-field line off Scott Service (0-2), and Graffanino scored from first. Brian Daubach also had a solo homer for the White Sox, who won for the fifth time in 14 games.
Astros 11, Orioles 1
Houston -- Roy Oswalt struck out a season-high 11 and Brian Hunter drove in four runs with four hits as Houston beat Baltimore for a three-game sweep. Hunter matched his career highs in hits and RBIs. Morgan Ensberg homered and drove in four runs for Houston. Oswalt (4-4) pitched seven innings and allowed one run and eight hits.
Padres 5, Tigers 1
San Diego -- Keith Lockhart, making a rare start, hit a go-ahead homer in the sixth inning and San Diego beat Detroit to avoid a three-game sweep. The Tigers (16-41) were once again saddled with baseball's worst record, having given it up for one day to the Padres. San Diego (18-43) pulled percentage points ahead. The Padres also snapped a five-game losing streak to the Tigers dating to the last three games of the 1984 World Series, which Detroit won 4-1.
Yankees 10, Reds 2
Cincinnati -- Slumping Hideki Matsui responded to a batting-order demotion with a two-run homer and three doubles, and New York beat the Reds. The Yankees won the 1961 World Series against Cincinnati, but got swept when they returned in 1976 against the Big Red Machine. Some of the 42,282 fans that showed up for the final game waved brooms with '76 inscribed in red.
Braves 8, Rangers 4
Atlanta -- Javy Lopez returned to the lineup with a flourish, hitting a tiebreaking homer in the seventh inning as Atlanta completed a sweep of Texas. Lopez, who had missed five straight games because of a sore hamstring, led off the seventh by knocking a 0-1 pitch from Aaron Fultz (1-1) into the left-field stands. Gary Sheffield also homered for the Braves, who extended Texas' longest losing streak of the season to six games.
Twins 5, Giants 2
San Francisco -- Kyle Lohse shut down San Francisco for eight innings and Eddie Guardado closed out Minnesota's win over the Giants. A.J. Pierzynski drove in two runs and Cristian Guzman had three hits for the Twins, who won two of three in this interleague series between division leaders. Lohse (5-4) retired the first 11 hitters he faced. Rich Aurilia singled with two outs in the fourth to become the first Giants' baserunner.
Copyright 2018 The Associated Press. All rights reserved. This material may not be published, broadcast, rewritten or redistributed. We strive to uphold our values for every story published.