Jerusalem — The United States accepts a Palestinian plan to persuade militant groups to halt anti-Israeli attacks rather than launch an immediate crackdown, the Palestinians said Saturday ahead of a three-way summit with President Bush.
The security issue has been a main sticking point in starting the U.S.-backed road map to peace -- a three-stage plan aimed at creating a Palestinian state in 2005.
Israel has said that for now it would accept a cease-fire from the militants, though it wants Palestinian officials to act to disarm and disband the groups as soon as possible.
In a goodwill gesture, Israel began easing restrictions on the Palestinians Saturday night. An army statement said a two-week ban on Palestinians entering Israel from the West Bank and Gaza Strip would be lifted at midnight.
Following similar meetings with the Israelis earlier, U.S. officials met Palestinian Prime Minister Mahmoud Abbas to haggle over the road map's first step: declarations by each side recognizing the other's right to statehood and security.
U.S. officials want the declarations ready when Bush meets Abbas and Israeli Prime Minister Ariel Sharon in a summit Wednesday in the Jordanian port city of Aqaba.
In talks Saturday between Abbas and U.S. Assistant Secretary of State William Burns, the Americans accepted Abbas' position that there must first be a cease-fire before militant groups can be dismantled, Palestinian Foreign Minister Nabil Shaath said.
"This is an important goal for us," Shaath told reporters. Neither Burns nor Abbas made a statement. The U.S. Embassy declined to comment on Shaath's statement.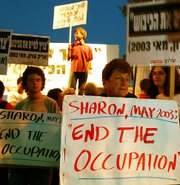 Abbas has said he preferred persuasion to stop suicide bombings and other anti-Israeli attacks, and that within days he could have a cease-fire agreement with Hamas, the main group carrying out attacks.
The Israelis have demanded Abbas wage a crackdown. A Sharon aide said Friday that the Israelis would accept a cease-fire first, but that it must be the first stage of action.
Meanwhile, the militant group Islamic Jihad distributed fliers Saturday saying it has "no intention of attacking the American people and do not consider the American people our enemy" -- a response to a warning the U.S. Embassy posted on its Web site Friday saying it had received "credible reports" of plans to kidnap U.S. citizens in the Gaza Strip.
Hamas issued a similar statement Friday.
The warning still was posted on the embassy site Saturday.
Hamas and Islamic Jihad have claimed responsibility for scores of attacks in Israel that have killed more than 350 people in the past 32 months. Though Americans have been killed through the years in the Mideast conflict, they usually have died in attacks that targeted Israelis, not Americans.
Copyright 2018 The Associated Press. All rights reserved. This material may not be published, broadcast, rewritten or redistributed. We strive to uphold our values for every story published.