Wichita — Two years of second place was enough for Cameron Babb.
The Santa Fe Trail High senior, runner-up in the Class 4A boys high jump in 2001 and 2002, was down to his last jump at 6-foot-8 Saturday in the state track and field meet at Cessna Stadium. After a break for the national anthem, Babb focused on the bar, while the crowd started clapping in anticipation.
And, with that, Babb sailed over the bar, jumped up and thrust his arm into the air.
Turns out, all he needed was a little push.
"That got me over," Babb said afterward of "The Star-Spangled Banner."
Babb entered the event tied with Perry-Lecompton's Spencer Kennedy -- who beat Babb at last week's regional -- and Chanute's Daniel Washburn at 6-6. When Kennedy missed at 6-6, and Washburn and Lansing's Kyle Daveron missed at 6-8, it left Babb a chance for the title.
More impressively, Babb made the jump with a strained left hamstring.
"Honestly, I didn't know if I would be able to do it with the injury," he said. "I worked on it all week in practice."
Babb had missed three weeks earlier this season because of the injury and aggravated it again at last week's regional. But he said it didn't bother him when he went over the bar.
Then again, he might not have noticed at that point.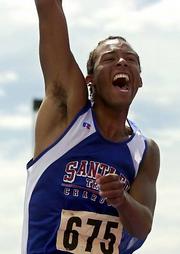 ¢
A fast 400: Baldwin junior Rachel Miles usually has primo lane assignments in whatever she runs. But when she lined up for the 4A 400 finals, she had lane six -- not bad, but not the best.
It didn't matter. Miles started slow, but finished with a flourish, catching Towanda Circle's Kyrie Kinder in the last 10 feet for the title.
"I felt like there was less pressure on me," said Miles, who also medaled in the 200 and 4x100 relay. "Nobody was expecting me to win."
The finish was so close, Miles wasn't sure if she won until Baldwin resident Angie Spielman, who was part of the contingent tracking times for the running events, gave her the good news.
"I had an in," Miles said. "I didn't know if I won until she told me."
¢
Second time even tougher: Wellsville senior Wendy Moore defended her title in the 3A 400, beating Belleville's Bethany Hurley by .21 seconds. Moore, who will attend the University of Missouri at Rolla, said that even though she's a four-time medalist in the 400, she still had major butterflies before the race.
"I was so, so nervous," Moore said. "I was almost sick to my stomach this morning. I don't think you ever get used to this."
¢
I'll take the 1,600: Ottawa junior Lisa Morrisey had a dapper double, taking third in the 1,600 and second in the 800. She doesn't think there's any comparison between the two, though. In fact, she'll take the 1,600.
"I knew this would be fast," she said of the 800. "It's a lot different from the mile. The 800 isn't distance at all. It's just one big sprint."
Copyright 2018 The Lawrence Journal-World. All rights reserved. This material may not be published, broadcast, rewritten or redistributed. We strive to uphold our values for every story published.