Paris — Paris is often called the City of Lights, and rightly so. This is the home of some of the best nightlife and evening activities on the planet, including great sites for vibrant teenagers looking for nights to remember.
Sure, you'll visit the Louvre, Eiffel Tower, Concorde and the Invalides, but that'll be during the day. Make your Paris-by-night experience something different on your next visit, and get a taste of the style that gives Paris its name.
"Paris means party, and having fun all night long, wherever you want, whenever you want," says Daniel Baumann, an 18-year-old high school student who lives in suburban Paris.
It's simple if you know what you're doing. The choice is huge, even for those in their late teens and early 20s.
Venture into the heart of the fashionable Eighth Arrondissement around the Champs-Elysees and stop at one of the "voir et etre vu" ("see-and-be-seen") bars that admit younger people. Experience a lively evening in the Latin Quarter or the areas around Bastille. Relax while listening to some world-class jazz. Or, head up to the rough-and-tumble Pigalle district and spend a fast-paced night dancing at one of the city's biggest discotheques -- a term still common in France, though the night spots are often called dance clubs in the United States and other countries.
Learning the basics
While French-American relations are not at their best right now, Paris remains an incredible magnet for visitors from the United States and dozens of other countries throughout the world. Despite the wave of overwhelmingly negative publicity, English-speaking visitors will rarely feel threatened or discriminated against in the French capital.
Because Paris is chock full of nightclubs, bars, cafes and restaurants, you'll want some more details on the place that's right for you and the all-important dress codes. To supplement this overview, pick up one of the guidebooks that have sections on clubbing.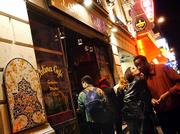 The weekly magazine guides Zurban and Pariscope (available at all newsstands) tell you about everything coming up that week. They're in French, of course, though Pariscope has a handy English-language section in the back of each issue.
The minimum age for getting into most clubs and discos is 18, but it varies. Some places will even let in 16-year-olds, while others won't admit those still in their late teens. Much depends on appearances. If age turns into a problem, you may just want to head to the second choice on your list.
Despite the fun awaiting you during a night on the town, you should know something about drinking in France. The legal age for drinking wine and beer is 16, while 18-year-olds can order harder drinks. So be sure to use plenty of caution and discretion.
Remember, just because you may not be able to drink back home but you can in France doesn't mean you must. Besides, drink prices are steep, and that alone will prevent you from getting carried away on a tourist budget.
Before you get going, be sure to know how you're planning to get back to your hotel. The Metro (subway) stops running for the night between 12:30 a.m. and 1 a.m. This will do if you're only having an evening refreshment but generally not for clubbing, as most discotheques don't open until around 11 p.m. In that case it's easiest and safest to take a cab back to your hotel.
'A fourth dimension'
If you prefer lively pedestrian streets, good food and cultural diversity, consider the Latin Quarter, home of the famed Sorbonne University. The streets around the Boulevard Saint-Michel and up to the Pantheon contain plenty of places to have dinner, a drink or simply a good time. Here you can encounter swarms of students and other people having fun throughout the evening.
Take the No. 10 Metro and get off at Cluny la Sorbonne for Saint-Michel, and at Maubert-Mutualite when heading to the area near the Pantheon.
"Going out in Paris at night is like discovering a fourth dimension. The variety of nightclubs, bars and discos promises fun and amusement for everybody," says Felix von Boehm, a trendy 16-year-old high school student who lives in Paris.
If you want to experience Paris surrounded by real Parisians, try the area around Bastille, on the Nos. 1, 5 and 8 Metro lines. The Barrio Latino bar-restaurant at 46-48 Rue du Faubourg Saint Antoine is a favorite spot for young people.
In the northern part of the city, another "in" place for young people is the discotheque La Locomotive, one of Paris' biggest.
"La Loco," as it's usually called, is at 90 Boulevard de Clichy (18th Arrondissement), right next to the world-famous Moulin Rouge in the dicey Pigalle district. The closest Metro stop is Blanche on the No. 2 line. Words of caution: Head up to La Loco in groups, and arrange for a taxi back to your hotel.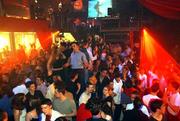 Generally, the dress code at La Loco is casual, but sneakers and baggy pants may be pushing the limits. The entrance price depends on the day of the week and on the occasion, but is $23 on Saturdays. Because of its location, La Loco is best for foreign visitors in their late teens and early 20s.
Champs-Elysees chic
If this is your first night out in a city of Paris' scale and you are not looking for surprises, stick to calm areas like the Eighth or 16th arrondissements. Lots of clubs have differing themes, music styles and cover charges, depending on the day of the week.
Some of the most chic clubs can be found on or around the Champs-Elysees.
As with their counterparts in other major cities, appearance matters at these clubs, so look smart, give it a try and hope for a "C'est bon" from the door attendant.
The Latina Cafe, about halfway down the Champs-Elysees (No. 114), is worth a visit. It 's a restaurant-bar-club fashioned in a Latin American style. Its discotheque opens at 11:30 p.m., so be ready for a late night.
Some last advice for a teenager's night on the town: Take along the telephone numbers of several taxi services. If you forget these, just ask someone at the club to call a cab for you. And if you lose your Metro map during your night of revelry, no worry -- there are public ones posted on signs or walls at every stop.
Copyright 2018 The Associated Press. All rights reserved. This material may not be published, broadcast, rewritten or redistributed. We strive to uphold our values for every story published.