Economic development in Douglas County has had its ups and downs during the past five years.
At times it has created controversies like the debate over wages, tax abatements and land use that ensued when American Eagle Outfitters proposed building a distribution center in Lawrence.
At other times it has created a wave of excitement with announcements like the one by Serologicals Corp. to build a multimillion dollar pharmaceutical facility in Lawrence.
Now, area leaders are seeking input from residents about what direction they would like economic development to take in Douglas County.
For the past two years, the Lawrence/Douglas County Economic Development board -- a group of 15 members appointed by city and county officials -- has been rewriting the economic development chapter of Horizon 2020 that guides economic development in the county.
The board will have a public hearing at 6:30 p.m. Monday at the Douglas County Courthouse, 1100 Mass., to accept comments on the draft version of the plan.
"This plan is a lot like a budget," said Douglas County Commissioner Charles Jones, who also is a co-chair of the economic development board. "It is tedious, but it really is a statement of values and commitments about what our economic development efforts are going to look like over the next 20 years.
"It is an important vision-setting instrument. It is one of the few times the entire community gets to have its say on which direction we should be pointed on economic development."
Plan differences
The plan will replace the current economic development chapter of Horizon 2020, Lawrence and Douglas County's comprehensive plan.
Economic development leaders said there were several significant differences between the two plans.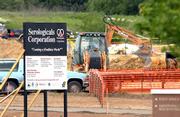 "This plan really puts a lot of emphasis on working with existing businesses," Jones said. "More than we have had in the past. We do a better job of recognizing that 80 percent of new jobs in a community are created by existing businesses."
The current economic development plan was written in 1994 and didn't even mention the retention or expansion of existing businesses, said Lynn Parman, vice president of economic development for the Lawrence Chamber of Commerce.
The proposed chapter calls for an annual survey of existing businesses. The survey would help determine how the chamber and area governments could help the businesses prosper.
The proposal also places a greater emphasis on helping budding entrepreneurs in the area, Parman said. Specifically, the plan calls for improving access to capital.
The plan says area governments ought to consider using public money to create a seed capital fund, which would invest in high-risk startups that potentially could grow into major employers.
Governments in Douglas County have never made such investments, and some board members are questioning whether they should.
"I think that is fraught with potential problems," Jim Martin, a Eudora business owner and co-chair of the board, said. "I don't mind controversy, but I'm just concerned that our community isn't in the mode to think about that type of public investment in private enterprise."
Looking for land
The proposed plan also tries to send area governments a clear message about the need for more industrial land in the county, Parman said.
The plan has an entire section on the development of more business and industrial parks.
"Business park development wasn't addressed in the last plan at all," Parman said. "But the board feels very strongly that we need to start emphasizing that we are running out of inventory."
A public hearing is scheduled for 6:30 p.m. Monday at the Douglas County Courthouse, 1100 Mass. The hearing won't be the last opportunity for the public to comment on the proposed economic development plan. The plan also must be approved by the Douglas County Commission and the Lawrence City Commission.The plan is available for viewing on the Lawrence Chamber of Commerce's Web site at www.lawrencechamber .com. The plan also is available for review at the reference desk of the Lawrence Public Library, 707 Vt.
Parman said there were no sites in the county of 100 acres or more that were ready for industrial development, and she said the number of small lots available in the city had shrunk to about 250 acres.
"That's not very much for a city our size," Parman said. "What we're saying is that we'll quickly be running out of those sites."
The plan stops short of saying where new sites should be or how they should be paid for. A previously appointed chamber of commerce group, ECO2, had called for the creation of a new sales tax to fund the development of new industrial lands. The board's proposed plan doesn't specifically address that proposal.
Instead it calls for planning commissions in the county's four cities -- Lawrence, Eudora, Baldwin and Lecompton -- to begin designating areas that would be suitable for industrial or business park development.
The proposed plan also doesn't get specific about what type of businesses the community ought to attract to those business parks.
The plan keeps the current list of targeted industries that are mentioned in Horizon 2020. Those industries are life sciences/research, information technology, aviation/aerospace, value-added agriculture, and light manufacturing/distribution.
But the plan also says a new study is needed to identify the best industries for the area to recruit. It calls for that study to be completed by the end of 2005.
Not mentioned
The proposed plan doesn't touch on several of the hot-button issues surrounding the area's economic development.
The plan doesn't get into the issue of using incentives to attract new companies or keep existing companies in the community. The use of tax abatements and other incentives was at the center of the debate over the American Eagle project.
But since that project, which ultimately moved to Ottawa, the Lawrence City Commission has adopted a new tax abatement policy. Jones said he believed board members decided not to specifically discuss the tax abatement issue because they thought it was best for each city to set its own policies.
The proposed plan also doesn't touch on the living-wage issue, a big topic during the recent Lawrence City Commission elections. Supporters of a living wage have proposed that any company receiving a tax abatement would be required to pay its employees a wage that would keep a family of three at least 30 percent above the poverty level. Currently that wage would be $9.53 per hour, plus benefits.
Even though the plan doesn't address the issue, Jones said it did make it clear that the community was focusing on attracting high-paying jobs.
"What we have heard time and time again across the county is that we don't really need more jobs, but we do need more good jobs," Jones said. "We need more jobs that have career opportunities, that have more wage and benefit opportunities."
Copyright 2018 The Lawrence Journal-World. All rights reserved. This material may not be published, broadcast, rewritten or redistributed. We strive to uphold our values for every story published.