A New Orleans-style wake Saturday evening brought a little Cajun flavor to Louisiana Street and paid homage to a beloved Old West Lawrence pooch.
Neighbors gathered at 6:30 p.m. in the alley of the 700 block between Louisiana and Indiana streets to mourn the death of Sam, a 15-year-old schnauzer. Sam, who belonged to Bill and Kathryn Tuttle, died of cancer in December.
Neighbors honored Sam's memory by staging the wake with a parade around the block, Sam's favorite walking route. Neighborhood children glued pictures of the dog to sticks for parade participants to carry, and all wore Mardi Gras beads.
"A little part of our neighborhood has passed on," said neighbor Wint Winter Jr. "It was the least we could do to honor him."
The Tuttles had had Sam since Christmas Eve, 1987.
"He was so intelligent," said Kathryn Tuttle. "He was loving and just a real presence in our lives."
Before the parade began, Sophie Tate, 8, and Rich Brown, 8, presented Bill Tuttle with a statue they had made of Sam. They covered two shoe boxes with duct tape and attached it to a paper towel roll to make the dog's body. They then glued marbles to paper they had shaded black for eyes, cut ears out of pictures of Sam, and added a long red tongue sticking out of the mouth.
"Since he died and we were having a parade, we thought we'd make something special for him," Sophie said.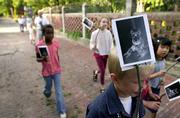 The event began with Tim Clark, 12, playing "When the Saints Go Marching In" on his French horn. Tim had been playing the instrument for less than a year and learned the song just to play it at the parade.
The neighbors then walked around the block, holding up pictures of Sam and talking together. Many brought their own dogs.
The parade ended back in the alley, where the group gathered for an annual block party. Tables and couches were set up behind the Tuttle residence for the potluck dinner.
This is the fifth year for the party, but the first to include a wake. Michel Loomis said she and Bill Tuttle came up with the idea to combine a remembrance service with the party after she heard a few days ago about Sam's death. The Tuttles did not tell neighbors about Sam until this month.
"I felt like it would be a wonderful thing for all of us who loved this dog," Loomis said.
They decided the best way to remember Sam would be to walk along his favorite route, and the parade evolved from there.
Copyright 2018 The Lawrence Journal-World. All rights reserved. This material may not be published, broadcast, rewritten or redistributed. We strive to uphold our values for every story published.