Minneapolis — Division leaders Seattle and Minnesota each had a great May. But the Mariners finished theirs on a better note.
Edgar Martinez and Ichiro Suzuki hit solo home runs and Ryan Franklin became the latest Mariners pitcher to frustrate the Twins as Seattle beat Minnesota, 5-2, Saturday for its fifth straight victory.
The Mariners beat Minnesota for the third straight day. They'll go for a four-game sweep at the Metrodome today when Freddy Garcia pitches against Kenny Rogers.
The Mariners went 19-8 in May and remained five games ahead of Oakland in the AL West.
"We'll take 19 wins in any month," manager Bob Melvin said with a chuckle.
The Twins also finished with 19 wins, but they've lost three straight for the first time since losing six in a row to the New York Yankees and the Kansas City Royals in April. Minnesota failed to extend its 31¼2-game lead over Kansas City in the AL Central.
Twins manager Ron Gardenhire thought his team played well, but, "(the Mariners) are getting the hits when they need them and they're pitching pretty good. We seem to be hitting a lot of hard balls at people."
Franklin (4-3) allowed two runs and seven hits in seven innings. He held the Twins to a single run through six innings before Dustan Mohr's homer in the seventh.
"I'm happy with the way I battled and kept it to one run. It could have been a lot worse," he said.
Kazuhiro Sasaki pitched the ninth for his ninth save in 13 chances.
Suzuki homered, tripled, singled and scored twice as the Mariners won for the 12th time in 15 games. Suzuki had 44 hits in May.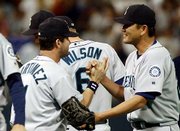 "He's so consistent," Martinez said. "We knew he's going to come through. ... I think he's going to keep doing better."
Said Melvin: "He's not swinging that differently. He's just now getting results. Success breeds confidence. ... I don't see a whole lot different in what he's doing."
Martinez's home run came in the fifth inning off Rick Reed (3-6) and made it 4-0. Suzuki homered in the seventh for a 5-1 lead.
Reed, who entered the game with a 1.82 career ERA against Seattle, allowed nine hits and five earned runs over seven innings.
"I got my ground balls, they just found holes," Reed said.
"I didn't think I threw all that bad, I just had some pitches up and they hit them in good spots."
Mohr, batting .396 this month, went 2-for-3 with a solo homer in the seventh for the Twins. He extended his hitting streak to a career-high 12 games.
But the last three losses to Seattle have made the personal accomplishments less enjoyable for Mohr, who had 42 hits this month. Gil Meche held the Twins in check Thursday night and Joel Pineiro shut them out Friday.
"We've been hitting a lot of balls hard, they've just been right at people," Mohr said. "They're swinging hot bats right now and pitching really well and it's tough to beat the combination and we haven't had very many opportunities to get things going."
Tigers 4, Yankees 2
Detroit -- Dmitri Young hit a tiebreaking RBI single in the seventh inning to lead Detroit past New York. The loss was New York's second in its last 11 games against the Tigers and ended its three-game winning streak.
Adam Bernero (1-6) ended his team-record 17-start winless streak, allowing two runs on three hits and a walk in seven innings. He matched a career high with seven strikeouts in his first win since beating Montreal June 10, 2002.
Franklyn German pitched the ninth for his third save.
Jeff Weaver (3-4) faced the Tigers for the first time since going from Detroit to the Yankees in a three-way trade last July. He allowed three runs on 10 hits and a walk in seven innings, striking out two. He also hit two batters.
The score was tied going into the bottom of the seventh. Ramon Santiago led off with a double over the head of Hideki Matsui in center and took third on a groundout.
Joe Torre chose not to walk Young, Detroit's hottest hitter, and he lined an RBI single up the middle. Young, who went 3-for-4 with a home run and two RBIs, has 25 RBIs in 29 games in May.
Angels 6, Devil Rays 1
St. Petersburg, Fla. -- Kevin Appier came within one strike of his first shutout since 2001, pitching Anaheim past Tampa Bay. Travis Lee hit an RBI double on a 2-2 pitch with two outs in the ninth inning for Tampa Bay's only run.
Appier (4-2) improved to 8-0 lifetime against the Devil Rays, allowing eight hits while walking four and striking out one.
Appier came close to his first complete game since Sept. 25, 2001, when he beat the Montreal Expos 2-0 while pitching for the New York Mets.
After Lee doubled, Francisco Rodriguez relieved and recorded the final out.
Benji Gil had two RBIs, while Chone Figgins went 2-for-4, drove in one run, stole two bases and scored three times for the Angels.
Orioles 7, Rangers 1
Baltimore -- Rick Helling stymied his former team over seven innings, and Luis Matos went 3-for-4 with two runs scored as Baltimore beat Texas. Geronimo Gil homered for the Orioles, who reached .500 (27-27) for the first time since May 10 with their eighth victory in 10 games. Four of those wins have come against Texas. Einar Diaz homered for the Rangers, who have scored only two runs in their last two games.
The Orioles benefited from Alex Rodriguez's third error of the year at shortstop, a dropped popup that produced two unearned runs. Rodriguez also went 0-for-3 with a walk and is 13-for-65 (.200) over his last 17 games.
Blue Jays 10, Red Sox 7
Toronto -- Dave Berg homered and tied a career high with four RBIs as Toronto set a franchise record for victories in any month with a win over Boston. Mike Bordick hit a two-run homer in a five-run sixth inning for the Blue Jays, who went 21-8 in May. Toronto had twice won 20 games in a month.
Manny Ramirez and Kevin Millar homered for the Red Sox, who lost their season-high fourth in a row.
Copyright 2018 The Associated Press. All rights reserved. This material may not be published, broadcast, rewritten or redistributed. We strive to uphold our values for every story published.