Few companies last more than 100 years.
The Wurtemberg Electroplate Co. of Geislingen, Germany, has been making decorative metalwares since 1853. Back then, many companies in the area were manufacturing metal goods. Cast iron, copper, tin, bronze-nickel-silver and silver plate were being shaped into housewares and industrial products.
By the turn of the century, Wurtemberg's Art Nouveau designs were popular worldwide. When World War I began, the firm had factories in Germany, Poland and Austria, plus showrooms in cities across Europe. Wurtemberg remained in business and continued making pieces in the Arts & Crafts and Art Deco styles. The company is still making metalwares today. Look for the mark "WMF." It is probably better-known than the company's German name, Wurttembergische Metallwarenfabrik.
I have been searching all over for information on a partial set of children's dishes marked "Germany" on the bottom. The dishes picture cats playing instruments, dancing and having fun. The dark-violet edges of the plates are scalloped and trimmed in gold. I have the sugar, creamer, five plates and six saucers.
Your dishes are made of fine porcelain. The set is known as "Cat Band." A complete tea set includes a teapot with cover, sugar, creamer and six cups, saucers and plates. The set is one of many sets of children's dishes imported from Germany between the 1870s and World War I. Many of the early sets were not marked. Later sets were marked "Germany" or "Made in Germany." A complete set of Cat Band dishes sells for $300 to $400.
When I was stationed with the Army in West Germany in 1960, I bought a felt doll in the city of Darmstadt. My doll is dressed as a pharmacist and holds a mortar and pestle in his hands. His body is stitched, and his facial features are painted. Inside his coat is a tag that reads "Roldan, Barcelona, Espana." What can you tell me about my doll?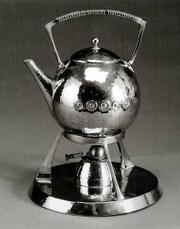 Two companies in Barcelona, Spain, made dolls like yours, with felt bodies over wire frames. Klumpe, founded in 1952, made dolls until the mid-1970s. Roldan made dolls from the early 1960s until the mid-'70s. The dolls manufactured by both firms represented professionals, dancers, historical characters and people doing daily tasks, such as walking a dog. A doll by either maker sells for about $100 if it's in near-mint condition.
My uncle worked for the U.S. Post Office in the 1930s. He left me a Lindbergh kidnapping reward poster displayed as a "confidential notice" for postal employees. The poster is 20 inches by 30 inches and tells employees to look out for correspondence with handwriting that matches the ransom notes. The reward promised is $25,000. Does the poster have any value?
There are history buffs who read and collect everything they can about the 1932 kidnapping of Charles Lindbergh's son. Your poster would be of interest to this group. Some Lindbergh reward posters sell for $20 to $25.
¢
The Kovels answer as many questions as possible through the column. By sending a letter with a question, you give full permission for its use in the column or any other Kovel forum. Names and addresses will not be published. We cannot guarantee the return of any photograph, but if a stamped envelope is included, we will try. The volume of mail makes personal answers or appraisals impossible. Write to Kovels, (name of your newspaper), King Features Syndicate, 888 Seventh Ave., New York, NY 10019.
Current prices are recorded from antiques shows, flea markets, sales and auctions throughout the United States. Prices vary in different locations because of local economic conditions.¢ Buck Rogers Solar Scouts badge, Cream of Wheat premium, 1936, on original card, $165.¢ Ostrich-skin handbag, royal blue, marked "Made in USA for Lucille De Paris," c. 1960, 10 1/2 inches, $220.¢ Daum Nancy pbte de verre dish, leaf shape, salamander center, yellow, aqua green and violet, 5 inches, $275.¢ Simon & Halbig swimmer doll, bisque, open mouth, bandana on head, cork torso, floats on water, arms and legs move, key wind, 16 inches, $550.¢ Zenith Model 1005 radio in wooden cabinet, 1939, floor model, $700.¢ Hooked rug, figural, kittens, calico, pink, bluebirds, brown ground, c. 1810, 28 x 35 inches, $775.¢ Andy Warhol Souper throwaway dress, 80 percent cellulose, 20 percent cotton, 1960, $1,175.¢ Pepsi-Cola tip tray, Gibson-type girl in green dress and hat with white feathers, holding glass of Pepsi, 1909, $1,430.¢ Chippendale side chair, maple, serpentine crest, pierced splat, trapezoid rush seat, Spanish feet, 1780, 40 inches, $1,880.¢ Cut-glass rose bowl, Hobstar & Strawberry Diamond pattern, c. 1900, 7 1/2 inches, $2,450.
Copyright 2018 The Lawrence Journal-World. All rights reserved. This material may not be published, broadcast, rewritten or redistributed. We strive to uphold our values for every story published.