New York — When Hau Tang Tom's English-speaking husband died in 1993, she was left without anyone to translate her mail.
Now, at 71, the retired chef and factory seamstress brings her letters to case managers with a social service program right in her public housing development. They help her identify and handle any mail that could affect her Medicare and Social Security benefits. And, since she never learned to read and write in her native Cantonese, they help her send letters to her family in China.
Many of the seniors in the Vladeck Houses complex are illiterate in their own language and speak no English.
"They're inundated with mail," said Evie Hurtado, a supervisor for the Naturally Occurring Retirement Communities program. "They don't know what to do with it, so they throw it away. Then they get their funds cut."
Mail they can't read and checks that mysteriously don't arrive are just a few of the daily hurdles for the Vladeck seniors. Most speak only Spanish or Cantonese, and as their communication problems combine with the difficulties of aging, advocates say they need a link to connect them with services and aid.
Expanding on senior centers
NORC programs serve neighborhoods or areas with high concentrations of seniors living independently. Like the program at Vladeck Houses, they were formed to expand on the social and daycare activities offered by traditional senior centers.
Staffed by social workers, these programs help seniors stay out of nursing homes by connecting them to home aides, health care and social activities, as well as government-funded benefits and aid.
"As people age, many lose the social connections they've had," said Anita Altman, deputy managing director for resource development with the UJA-Federation of New York, a Jewish philanthropic organization that originally spearheaded the drive to gain public funding for NORC programs. "These programs have helped create the reweaving of the social fabric in a community. ... They've helped enable seniors to remain living in their own homes."
And that is where the economic sense of the programs lies, say some advocates, who argue that keeping people out of nursing homes translates into a significant savings for Medicaid. Unlike Medicare, which only partially covers medical costs for those older than 65, Medicaid covers most medical costs for low-income people.
Uncertain financing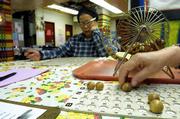 But economic concerns are always present when programs depend on public funding.
The Vladeck NORC program expected to lose 77 percent of its $214,000 annual budget in city and state cuts this year.
Some seniors were resigned to the news. "You have to humble yourself to your situation," Marcela Fernandez, 72, said through a translator.
Fernandez relies on the staff for help with the essentials. If the program were to lose its funding and close, "God would find a way to send me someone to help me," Fernandez said. "I don't know how to advocate for myself."
Others have resolved not to leave the matter to any higher powers.
Tom, the seamstress, approached strangers on the street and at bus stops with an English-language petition to stop the cuts, giving explanations in Cantonese. Tom had never before taken on a political cause. She enlisted members of her Buddhist temple in the effort, and together they gathered more than 200 signatures.
Other seniors joined in, attending rallies and flooding politicians' offices with calls, often in Spanish and Chinese. It is quite a change for a community Fischer says is usually difficult to coax to the polls.
Recently, 30 Vladeck seniors traveled to the state's capital, Albany, many for the first time. They cheered as New York Assembly Speaker Sheldon Silver told them the state Legislature had restored the last of this year's funding to New York's NORC programs.
For at least another year, the staff in the program's three offices will continue to open their doors.
Copyright 2018 The Associated Press. All rights reserved. This material may not be published, broadcast, rewritten or redistributed. We strive to uphold our values for every story published.