Kansas City, Mo. — No matter how far his hitting streak goes, Oakland's Eric Byrnes never will forget game No. 21.
Royals shortstop Angel Berroa probably wishes he could.
With two outs and two on in the ninth and Oakland still going because of Berroa's second error, Byrnes hit a three-run home run off closer Mike MacDougal.
It stretched his career-long streak to 21 straight games and led the Athletics to a 7-6 victory over error-plagued Kansas City.
"This was one of the most exciting moments in my baseball career, for sure," said Byrnes, who was 0-for-4 until the ninth.
"At that point, the streak is not even crossing my mind. I'm just trying to figure out a way to get the runners in so we could take the lead."
Berroa, whose fielding error allowed an unearned run earlier in the game, fumbled a potential double-play grounder with one out in the ninth and the Royals ahead 5-4.
Berroa insisted he got the force out at second before he dropped the ball.
continued from page 1c
But the runner was called safe.
"This is tough, but it's not too tough because I know I got the out," he said.
MacDougal (1-3) has blown four of 16 save chances. He struck out Billy McMillon for the second out in the ninth before Byrnes came to the plate.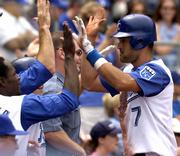 "I threw the ball pretty well, but Byrnes just got me today," MacDougal said. "It was a fastball and he connected."
Berroa's troubles were highlighted even more when Oakland shortstop Miguel Tejada made a great diving catch for the final out with the tying run at third. Tejada also had a three-run home run.
"With young players, you have to be patient," said Royals manager Tony Pena. "I will tell Angel that he was my shortstop today and he will be my shortstop tomorrow. The kid has been playing well but he had a tough day today."
Jim Mecir (1-0) pitched one inning of hitless relief for the win. Keith Foulke pitched the ninth and got his 13th save despite allowing a triple and two singles, including Joe Randa's RBI single.
Mendy Lopez, making a rare start in left field as Raul Ibanez got a day off, pulled off just the sixth straight steal of home in Royals' history, giving Kansas City a 4-0 lead in the fourth.
With runners at the corners, Ted Lilly made an easy pickoff throw with Michael Tucker at first. Lopez took off and came sliding home under catcher Ramon Hernandez's sweeping tag.
After the A's tied it 4-all with four runs in the sixth, Carlos Beltran scored the go-ahead run in the bottom half on Tucker's sacrifice fly.
An outstanding play by Tucker and catcher Brent Mayne helped the Royals get away with a blunder and keep their one-run lead in the eighth.
Scott Hatteberg reached second when center fielder Beltran collided with Lopez on a fly ball. With two outs, Hatteberg tried to score on Ramon Hernandez's single, but was out after a violent collision at the plate with Mayne, who took Tucker's two-hop throw from right field.
Lilly had retired eight straight batters and not allowed a hit until Mike Sweeney, Harvey and Beltran grounded singles through the infield to load the bases in the fourth.
When: 1:05 p.m. today.Where: Kauffman Stadium.Television: Sunflower Broadband Channel 15.Pitchers: Chris George (5-4) vs. Barry Zito (6-4).K.C. record: 27-26.
Runs came home on an RBI single by Lopez and an infield single by Tucker and Berroa's sacrifice fly. Lopez then stole home.
Frank Menechino led off the Oakland sixth with his first home run of the year and Byrnes reached on Berroa's first fielding error.
Hatteberg walked before Tejada unloaded a three-run homer that barely cleared the fence in right field.
Notes: A's hitting coach Thad Bosley was called back to Oakland for a meeting with general manager Billy Beane. Bosley has been quoted recently as saying he expected to be fired. Manager Ken Macha declined to speculate. ... Eric Chavez, whose 5-for-59 average against left-handers is the worst in the majors, did not start against lefty starter Darrell May. ... The last Royal to make a straight steal of home was Sweeney last Aug. 14 against the Yankees. ... Sweeney's streak of reaching in 32 straight games is the current longest in the majors.
Copyright 2018 The Associated Press. All rights reserved. This material may not be published, broadcast, rewritten or redistributed. We strive to uphold our values for every story published.