Los Angeles — The Los Angeles Sparks' 70-62 loss to the San Antonio Silver Stars left coach Michael Cooper critical of the two-time defending WNBA champions.
"We didn't want it as bad as they did," Cooper said after the Sparks lost Wednesday for the third time in their last five games. "We think teams are going to roll over and give it to us just because we are at home."
San Antonio improved to 2-0 under interim coach Shell Dailey, who took over Saturday after Candi Harvey was fired. The Silver Stars (8-16) had lost six in a row and nine of 10 before beating Cleveland 64-55 Sunday in Dailey's first game.
The team has "a renewed spirit" since the coaching change, Dailey said.
"You can feel it," Dailey said. "You could have felt it after our last game."
The Silver Stars squandered a 22-point lead in their last meeting with Los Angeles as the Sparks tied a league record for the biggest comeback in a 67-58 victory at San Antonio June 26.
"It was on our mind," said San Antonio's Marie Ferdinand, who scored 16 of her 20 points in the second half in this game. "We talked about it in the locker room and we weren't going to let it happen tonight. If we got any type of lead, we were going to hold on to it."
Jennifer Azzi's three-pointer with 56 seconds left gave the Silver Stars a 62-57 lead, and Los Angeles wasn't closer than four points thereafter.
Mabika had 17 points for the Sparks, who again played without leading scorers Lisa Leslie and Kansas University product Tamecka Dixon, each sidelined because of knee injuries.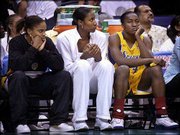 Copyright 2018 The Associated Press. All rights reserved. This material may not be published, broadcast, rewritten or redistributed. We strive to uphold our values for every story published.