Minneapolis — If the Minnesota Twins are going to stay in the American League Central race, they'll need more starts like the one they received Wednesday night from Brad Radke.
Radke won for just the second time in 13 starts and Jacque Jones drove in three runs as the Twins beat the Baltimore Orioles 5-1 to stop a three-game losing streak.
Radke (7-9) took a four-hit shutout into the eighth and wound up allowing one run and six hits in 71/3 innings with five strikeouts and one walk. It was the fewest runs he allowed since opening day.
"I'm throwing quality strikes," Radke said. "It's not just throwing pitches over the plate. The key is keeping the ball down and having a good changeup."
It was Radke's third straight strong start in a season marked by inconsistency. Radke has anchored the Twins rotation since his 20-win season in 1997 but got off to a horrible start this year, ending April with a 7.48 ERA. He won four starts in a row between April 30 and May 16 but had won just once since, beating Oakland July 19.
Minnesota (52-54) moved within 5 1/2 games of first-place Kansas City in the AL Central.
Radke earned a standing ovation when he departed after Luis Matos' RBI single broke up his shutout bid. Juan Rincon relieved and struck out Jeff Conine with two on. J.C. Romero then retired Jay Gibbons on a grounder to first to end the inning.
Eddie Guardado completed the six-hitter as the Twins won for just the second time in their last eight meetings with the Orioles.
"Brad gave us all a shot of confidence," Twins catcher A.J. Pierzynski said.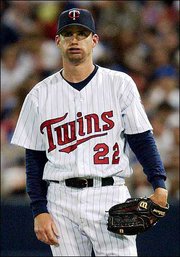 Jones gave Radke the offense he needed with a two-run single in the first inning and a sacrifice fly in the third. Luis Rivas had two hits and scored twice.
Sidney Ponson (14-6), the subject of trade rumors, gave up five runs and seven hits in seven innings.
He struggled with his control early, walking three in the first three innings, and threw a wild pitch that helped lead to a run.
"I couldn't get in my rhythm right away," Ponson said. "It took about four innings.."
Ponson, who had won his last four starts, lost for the third time in 13 starts. He had entered the game with a 6-1 record and a 2.21 ERA against Minnesota.
The Orioles right-hander was quick to dismiss the trade rumors as a distraction.
"I'm not going to sit here and worry that the team's going to trade me," Ponson said. "I might as well just tell (manager Mike Hargrove) to let me sit on the bench and let another pitcher start. ... I'm an Oriole right now. I'll give everything I got."
Devil Rays 5, Blue Jays 3
Toronto -- Jeff Liefer hit a go-ahead two-run homer after being recalled from the minors earlier in the day.
After Toronto starter Cory Lidle (11-9) walked Travis Lee in the fourth, Toronto left fielder Reed Johnson robbed Damian Rolls of extra bases with a spectacular diving catch. But Liefer hit the next pitch for his first homer, giving Tampa Bay a 4-3 lead.
Lidle, who is eligible for free agency after the season and could be dealt before the trade deadline, allowed five runs on seven hits in seven-plus innings. Lidle is 1-5 in his last seven starts.
Rangers 9, Red Sox 2
Arlington, Texas -- Laynce Nix, Mark Teixeira and Hank Blalock each hit home runs.
Nix drove in four runs, including a two-run shot in the second off Ramiro Mendoza that put the Rangers ahead to stay. He later drew a bases-loaded walk and hit an RBI double.
Teixeira, who was 3-for-4 and scored three times, put the Rangers up 5-0 with his three-run homer in the third. It was his 15th homer, matching Detroit's Eric Munson for the most among major-league rookies.
Bill Mueller, a night after becoming the first player to hit grand slams from both sides of the plate in the same game, went 1-for-3 with a walk.
Yankees 8, Angels 0
Anaheim, Calif. -- Roger Clemens pitched his first complete game in more than three years, shutting out Anaheim on five hits.
Clemens (10-7) ended a string of 104 consecutive regular-season starts without a complete game, the longest such drought in Yankees history.
Clemens pitched his 46th shutout and his first since June 29, 1999, against Detroit. His previous complete game came on May 28, 2000, when he lost to Pedro Martinez and the Boston Red Sox.
Jason Giambi went 3-for-3 with three RBIs and his 30th homer.
Indians 4, Athletics 2
Oakland, Calif. -- C.C. Sabathia pitched seven innings for his first victory in nearly four weeks, and Angel Santos hit his first major-league homer.
Sabathia (9-6), a native of nearby Vallejo, allowed nine hits as the Indians snapped a five-game losing streak in Oakland.
Milton Bradley and Victor Martinez drove in runs as the Indians won in Oakland for the first time this season.
David Riske pitched the eighth, and Danys Baez finished for his 23rd save in 29 chances.
Copyright 2018 The Associated Press. All rights reserved. This material may not be published, broadcast, rewritten or redistributed. We strive to uphold our values for every story published.