MONROVIA, Liberia — An advance inspection team of a long-promised multinational peacekeeping force flew into Liberia's besieged capital Wednesday, as explosions and gunfire rocked Monrovia despite a new rebel pledge to cease fire.
Pressure built to get a peace force on the ground. The United States asked the U.N. Security Council to authorize what would be a west African-led force, quickly followed with a U.N. force by Oct. 1.
Nigerian military commanders and other west African and U.S. team members arrived in a Ghanaian military flight to the Liberian capital, where authorities said the team would assess conditions for a peace force promised after rebels opened their attack on the refugee-crowded capital in early June.
Greeted by Liberian and American officials, Nigerian Brig. Gen. Festus Okonkwo, who would oversee any west African deployment, said on arrival that the first peace forces would follow him in days -- a time frame repeatedly held out by west African officials in recent weeks.
U.S. Ambassador John Negroponte introduced the draft resolution at a closed security council meeting and made clear the United States wants African nations to lead the multinational force.
"At the moment what we're talking about is providing support ... to bring peace to Liberia and to enable us to deal with this desperate humanitarian situation."
In Washington, Pentagon spokesman Lawrence Di Rita said it was "too early" to say whether U.S. Marines, expected to arrive off Liberia's coast in warships by Saturday, would take part on the ground.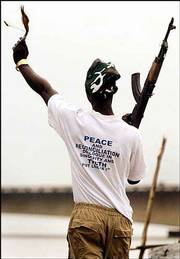 In Monrovia, residents in rebel-held parts of the bloodied capital held a rally to urge rebels to hold their ground until a peace force arrives -- and to appeal to American forces to hurry.
"Uncle Sam must come at once," declared the slogan on one banner, among the crowd of hundreds of participants.
Residents said they feared looting and reprisal attacks on civilians if rebels withdrew from the city ahead of peacekeepers. Taylor's forces, largely unpaid and notorious for rights abuses, have robbed homes nightly during the two-month siege of the capital.
A rebel commander, Maj. Gen. As Shaeriff, promised ralliers "we'll not move an inch from Monrovia until peacekeepers arrive."
The 10- to 12-member assessment team will work in Monrovia at least through Friday, West African bloc spokesman Sunny Ugoh said. Two Nigerian battalions, on standby as a vanguard force, will deploy only after the assessment, he said.
Six African countries -- Nigeria, Ghana, Mali, Benin, Senegal and Togo -- have promised a total of 3,250 troops for an eventual 5,000-strong peacekeeping force, according to a statement issued Wednesday by the Economic Community of West African States, the regional bloc arranging the force.
Copyright 2018 The Associated Press. All rights reserved. This material may not be published, broadcast, rewritten or redistributed. We strive to uphold our values for every story published.